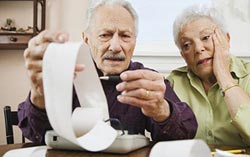 If you are like most people in the U.K you are probably not saving enough money for your pension. Dwindling wage increases - lower than inflation- along with high unemployment and poor performing pension schemes are some of the reasons for the looming pension's crisis. 
The pressures of the recession are evident in the fact that has been a slow wage increase; companies are being cautious and keeping their fixed costs low. Employees have to accept a pay freeze, or at best, an increase lower than inflation according to HR service provider Mercer.
The Office of National Statistics measured a 52% decrease in private sector pension contributions which were 6.2 million workers making contributions in 1995 with only 3 million workers in 2010.
Even the biggest contributors to pensions – the self-employed – have stopped investing in a pension scheme. The ONS figures show that only 37% of self-employed workers are still contributing to a pension scheme. Why is that?
 The possible reasons for that could the poor performance of the U.K pension schemes. Research conducted BNY Mellon's reveals that the average UK pension fund achieved a woeful weighted average return of 4.3% for the year ending 31 December 2011.
Enough of the doom and gloom
There are options available to you; money can be reinvested from stagnant underperforming areas of ones pension into other investment opportunities placed within a Self-Invested Pension Plan (SIPP).
Investors have flocked to commercial property investments such as hotel room investments delivering up to 10% Net yields with guaranteed exit strategies to fit within your preferred investment period.
Commercial Property like French Chateau Hotel Suites qualify as SIPP property investment that provides those seeking good income a really solid rental investment return and a 150% guaranteed buy back.
 Unregulated collective investments (UCIS) have received some bad reports in the press lately. Shady IFA's have advised people to place their entire saving in one investment. Having a balanced mix is always good and UCIS have their place in anyone's investment portfolio especially when you consider that one can get started with as little as £27,500.
Returns on investments

Lots of investors are enjoying 10% returns from commercial storage investments in the U.K.
After undergoing a free pension review, investors like Mr Alan Jones, realised that he had £ 40,000 worth of investment that had achieved negative growth over the past two years.
He took decisive action to make his money work for him by placing a small initial investment of £ 11,500 in commercial self- storage.
Within 2 months he was receiving monthly income into his SIPP which property him to expand his investments into other high yield and low entry commercial property investments.
If someone had to ask you what percentage returns your pension fund had earned you this past year, would you have an answer? Maybe it is time you found out…