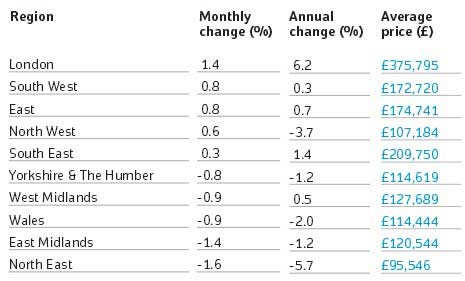 If U.K house prices increase less than inflation, then homeowners are worse off in real term and their wealth is being eroded. Can you still find inflation beating investments?


U.K House Prices - Growth Statistics 2012 -2013

The U.K house price index figures that were released by the Land Registry for April 2013 show that all regions of the U.K had growth figures that were less than inflation. London property prices increased by an average of 6.2% between April 2012 and April 2013 and have been seen as a safe haven for property investors – from the UK and abroad.

The West Midland average house price increased by only 0.5% over the past year; if we consider for a moment that the consumer price index (CPI) increased by 2.4% during the same period, it means that homeowners were worse off by almost two percentage points (0.5% - 2.4% = -1.9%) in real terms. With average house prices in the West Midlands of £127,689 X -1.9% it means that owners lost out on £2,426.09 in real terms in just one year.

For some regions, such as the North East of England, things were a lot worse. The average house price declined by 5.7% and is compounded by inflation of 2.4% means that a capital reduction in real terms of 8.1% in just one year.

Investing for Income

Some investors are making light of the situation and seeing the house price decline as an opportunity for investing for income because where house prices are reduced and rental income stays the same - the rental yield increases.

More pleasing news came from The Mortgage Works last week launches their lowest Buy-to-Let rate in the market at 2.49% for a 2 year fixed rate up to 60% LTV with a 2.50% arrangement fee.

Employment figures were typically underwhelming with only 5,000 more people in work in the three months to April 2013.

Inflation beating investments

One area that more and more investors have opened their eyes to has been student property investment because the rental yields are typically 9% per annum and the capital growth when we outstrip inflation should still be positive.

Based on research taken over 20,000 student beds across the country; the future looks bright with 'rental income increasing by 5% across the regions' according to the Knight Frank 2012 review.

Another big student property management company called Unite Group (which manages 42,000 student beds) noted a in their third quarter interim report for 2012 that they predict 'we're still expecting the 3% to 4% rental growth for the full year'.

Student accommodation appears to be an inflation beating investment based on the evidence provided by two nationwide companies who have expert knowledge of the student property sector.

It is important to bear in mind that student property is commercial property and that the price of commercial property is a function of its income. This is the most popular method used and commonly known as the capitalisation pricing model.

Logically, if the price is a function of income and income is going up by 3%-5% per annum then the purchase price should do so go up in the same percentage, right?

In real terms, after the subtracting inflation of 2.4%, there is still marginal capital growth in student accommodation investment.

Investment director Arran Kerkvliet at One Touch Property said "We have been sourcing student accommodation investments, for busy professionals and retirees, over the past two years and have received very positive feedback from buyers who feel safe because their capital is not being eroded while they enjoy steady income of 9% and a very low vacancy rate".