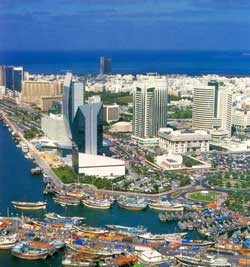 Trend: Dubai house prices fell by 7.63% y-o-y in Q2 2018
Dubai house prices fell by 7.63% during the year to Q2 2018, worse than the prior year's 2.51% decline, amidst weak economic growth, low investor sentiment, and an oversupply of housing. During the latest quarter, house prices in Dubai dropped 1.33% q-o-q.
Dubai's property market has been one of the world's most volatile. Dubai saw one of the world's worst housing crashes from Q3 2008 to Q3 2011 with house prices plunging by 53%.
Analysis: Demand is falling. In the first half of 2018, the total value of real estate transactions in Dubai dropped 15.9% to AED 111 billion (US$ 30.2 billion) from the same period last year, according to the Dubai Land Department.
UAE's economic growth in 2017 was recently revised downwards from an earlier estimate of 1.3% to just 0.5% - its slowest growth since 2009, mainly due to a fall in oil output.
Rents, rental yields: good yields in Dubai at 5.19%
Dubai apartments are costly at around $5,918 per sq. m.
UAE: city centre apartment, buying price, monthly rent (120 sq. m)
Buying price
Rate per month
Yield
Dubai
$ 710,160
$ 3,070
5.19%
Recent news. Abu Dhabi's oil-rich economy is projected to expand by just 0.5% this year while Dubai will grow by about 3.7%. For the country as a whole, UAE is expected to grow by 2% this year and 3% in 2019, according to the IMF, on the back of firming oil prices, a pick-up in global trade, investment for Expo 2020 and easing fiscal consolidation.