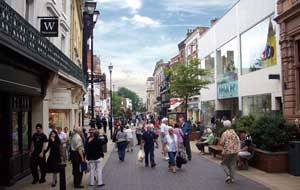 When it comes to property Mark Twain had the right idea when he said; "Buy land, they're not making it anymore". His point remains true and as such, property prices will ultimately always increase. 
That being said the UK commercial property market, like many of its siblings around the world, has gone through a sluggish period over the past few years as economies struggle to recover from the ongoing financial crisis. 
It would seem that the situation is taking a turn for the better now with the IPD UK Property Index reporting a real estate returns increase of 1.9% over the past three months (the highest growth rate since June 2011). 
Greg Mansell of IPD told the Financial Times that; " Commercial property performance will always mirror that of the wider economy, and it's the UK's return to growth, more than anything else, that's driving occupier demand and improving market sentiment".
According to Guy Glover from Every Investor, the latest RICS Commercial Property Survey indicates that tenant demand has turned on a positive balance and both JLL and Knight Frank have reported "increased take-up in the regional office markets".  
Neil Singer, CEO of Singer Vielle Sales, notes that the demand for Central London property remains strong from both UK and overseas investors.  The strong demand continues with more cash chasing limited opportunities, resulting in increasing prices.  Foreign investors know this and want to be in 'London'.
UK Business Property notes that market up take in the City is up 28% year-on-year, largely due to sizeable transactions from the insurance and technology sectors. 
The London commercial property market has largely continued to fare well during the recent economic downturn, something that can't be said for other areas in the UK. That is now changing in that; "The weight of money in the investment market is forcing investors to start looking further afield than London and the South East, where the flow of investor interest has continued to drive down yields to low levels", says Singer.  "As a result, investors are starting to clearly look outside London and the South East; we have seen this already start a downwards movement in investment yields on property outside the South East".
The main focus for sellers now needs to be on marketing their properties properly. Singer advises them to embrace the internet and ensure whoever markets the properties does so in a manner which will attract potential investors effectively, including those overseas.  Singer believes that, "the investment market has become noticeably more cross-border and the days of making a few phone calls to sell a property are gone.  Now, effective cross border marketing is required".