Inflation-adjusted house prices were up by 5.5% during 2021
The UK's real house prices rose by a healthy 5.5% y-o-y in 2021, at par with the previous year's 5.56% growth. Quarter-on-quarter, real house prices increased slightly by 0.37% during the latest quarter.
In London, while nominal house prices rose by 4.2% y-o-y in 2021, real prices were more or less steady.
All other regions saw real house price rises during 2021.
Wales recorded the strongest growth, with real house prices rising by 11% (inflation-adjusted) y-o-y in 2021, followed by Northern Ireland (7.4%), South West (6.8%), Outer South East (6.6%), North West (6.6%) and Yorkshire and Humberside (6.1%). Strong to modest house price rises were also recorded in East Anglia (5.8%), East Midlands (5.7%), Scotland (5.5%), West Midlands (4.8%), Outer Metropolitan Area (4.2%), and the North (3.2%).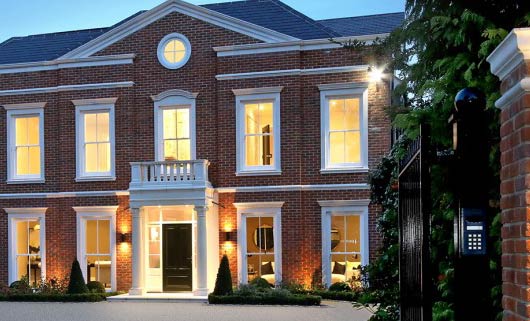 Demand remains robust, construction activity falling
Residential property transactions (seasonally-adjusted) in the UK rose by 2.1% y-o-y to 1,196,160 in 2021, according to HM Revenue & Customs.
In England, which accounts for about 85% of all transactions, residential property sales rose by 2.5% to 1,014,070 in 2021. Property sales in England have been rising in recent years mainly due to a transaction tax holiday, with zero stamp duty leviable till June 2021 on purchases up to £500,000. The move was aimed at helping buyers whose finances were affected by Covid and to boost a property market hit by lockdown. It has meant a saving of up to £15,000 for people buying homes.
Before the pandemic, demand was weak, falling by 1.2% in 2019 and 2.3% in 2018, due to volatile political and economic environment surrounding the Brexit deal.
Coupled with strong demand, the UK's chronic housing shortage is driving the country's strong house price growth, aggravated by a decline in residential construction activity in the past two years due to coronavirus-related restrictions. In 2021, there were 216,490 new additional dwellings in England, down 11% from a year earlier, according to the Ministry of Housing, Communities & Local Government.
Rents, rental yields: London yields are poor, at around 2.6%
London apartment costs are very expensive, at €18,057 per sq.m.
UK: typical city centre apartment buying price, monthly rent (120 sq. m)
Buying price
Rate per month
Yield
London (Prime Central
$2,166,840
$4,715
2.61%
Recent news. The UK economy grew strongly by 7.5% in 2021 from a year earlier, rebounding from its historic 9.4% plunge in 2020 when pandemic-related restrictions stifled economic activity. However due to high inflationary pressures, the government recently slashed its GDP growth forecast this year to 3.75%, instead of the 5% previously projected.
In February 2022, the Bank of England (BoE) raised its key rate by 25 basis points to 0.5%, in an effort to meet its inflation target of 2%. The twelve-month CPI inflation rose to a record 5.5% in January 2022 – the highest level in the National Statistic series which began in January 1997. The BoE expects inflation to breach 7% by spring of 2022, amidst the continued rise in energy prices and the prices of imported goods.
The UK voted to leave the European Union (EU) in 2016 and officially left the trading bloc, its biggest trading partner, on January 31, 2020.