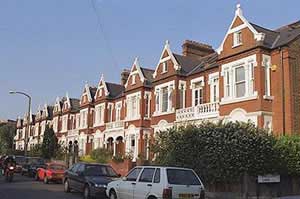 Trend: inflation-adjusted house prices were down slightly by 0.09% during the year to Q2 2018
House prices in UK are still rising, though not in inflation-adjusted terms. The average UK house price rose by 2.19% (but actually dropped 0.09% when adjusted for inflation) to £214,578 (US$ 277,258) during the year to Q2 2018, based on the figures from Nationwide. It was actually the lowest y-o-y rise in five years. Quarter-on-quarter, house prices increased by a meagre 0.42% during the latest quarter.
London was the worst-performing region, with house prices falling by 1.94% y-o-y in Q2 2018 (-4.14% inflation-adjusted). Some high-end London districts have experienced significant price-falls.
Analysis: housing market to slow further during the remainder of the year, but the chronic housing shortage will prevent a significant drop in prices, according to the Royal Institution of Chartered Surveyors (RICS). Property transactions are expected to fall slightly from 1.2 million in 2017 to 1.15 million this year, mainly due to the political and economic uncertainty surrounding UK's Brexit referendum, with buyers taking a more cautious stance.
Rents, rental yields: London yields are poor, at around 2.6%
London apartment costs are very expensive, at €18,057 per sq.m.
U.K.: city centre apartment, buying price, monthly rent (120 sq. m)
Buying price
Rate per month
Yield
London (Prime Central)
$ 2,166,840
$ 4,715
2.61%
Recent news. The economy grew by 0.4% in Q2 2018 from the previous quarter, up from the 0.2% expansion in Q1 2018, thanks to better weather that gave a boost to retail and construction, according to the Office for National Statistics. On an annual basis, the UK economy grew by 1.3% in Q2 2018, slightly up from the previous quarter's 1.2% growth. The Bank of England expects the economy to expand by 1.4% this year and by 1.8% in 2019. In August 2018, central bank raised the benchmark interest rate by 25 basis points to 0.75%, the highest level since February 2009.