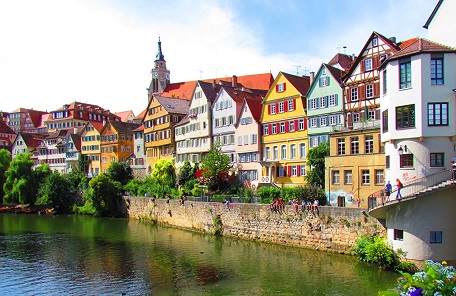 The past decade has seen nearly unprecedented growth in many sectors of Germany's real estate market, with some pockets of the country enjoying soaring appreciation rates.
International property investors are fueling much of the boom as Europe's largest economy continues to be seen as a safe bet in an often unsteady global investment landscape.
While savvy home buyers from across Europe, Asia, and the Middle East have long embraced Germany's expanding real estate market, American investors are also increasing their numbers.
This especially true in locations such as Berlin and Frankfurt, two thriving German metropolises that have seen their profiles rise considerably in recent years.
While both locations have expanded their international appeal to Americans, the cities real estate success is being driven by two very different economic dynamics.
Frankfurt has long been a stable financial hub for Germany hosting to growing list of global financial giants. It is also the headquarters of the eurozone's banking supervisor, the European Central Bank. But Britain's exiting from the European Union is bolstering Frankfurt's place on the global stage.
In the wake of Brexit, a number of global financial firms have been shifting business to Frankfurt, a central German city on the river Main with an affluent, English speaking population and 17 international schools and 200 private schools.
Goldman Sachs recently announced that the US investment bank will use Frankfurt as a  European hub as it prepares to shift jobs out of the UK. The move comes after Citigroup, Morgan Stanley, Nomura and Standard Chartered all opted to beef up their operations in the city.
"Just left Frankfurt. Great meetings, great weather, really enjoyed it," Goldman Sachs' chief executive Lloyd Blankfein tweeted after a visit in November. "Good, because I'll be spending a lot more time there."
Berlin meantime is transitioning from a thriving hub for artists and musicians to an established location for luxury living. The city now ranks near the top of several global surveys for prime residential investment, outpacing the appreciation potential of places such as London and Paris.
The city's fast-growing tech sector is leading the boom. Tech is attracting major domestic and international firms like Google, Siemens, and Samsung which have all opened startup accelerators in the German capital. They join Microsoft, German software giant SAP SE and networking firm Cisco Systems in making up part of Berlin's expanding tech landscape.
"American investors new to European property markets typically have looked at London and Paris before Germany," says Thomas Zabel, Head of Residential Development Germany at JLL, the go-to consultant for international investors in Germany. The firm manages the entire property investment process from financing to renting out investment objects as serviced apartments. "But these days Germany appears more attractive to many Americans given uncertainty in the U.K. and elsewhere."
Beyond its investment appeal, Americans will find virtually no restrictions on foreigners buying property in Germany. The home buying process follows European Union standards which allow for a transparent and well-organized process.