It seems th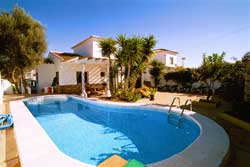 at it's not all doom and gloom for real estate agencies operating in Spain as the Real Estate Agency, the Spanish division of Fastighetsbyrån, Sweden's leading real estate firm experienced a 58% increase in requests in Q1 2012 compared to Q4 2011 with June looking set to be the second best month for 2012 so far.
"We at The Real Estate Agency have experienced excellent success of late after a huge increase in requests back in Q4 2010 converted into sales helping increase our transactions by 34% and our revenues by 42% YTD compared to 2011. With this in mind, we must point out that while we have pushed our efforts to target UK buyers, Swedes are still our biggest market with 78.5% of our leads from March this year deriving from Sweden," notes Daniel Nilsson, regional manager of the said agency.
The strong European nations such as Sweden are really beginning to push hard into the Spanish real estate market.
"Given Sweden's healthy economy and strong krona, Swedes are extremely realistic about the current economic climate in Spain and recognise that they can buy at a good price. Swedish buyers in Spain have risen by a massive 138% according to recently released figures by Fastighetsbyrån so it is important we continue our efforts in this market," explains Mr. Nilsson.
Further success for The Real Estate Agency in Spain comes from the resale segment. In 2011, the agency sold almost 1 in 4 of all resale properties in Spain to Swedes.
"While we had tremendous success in the resale arena last year, this year, if the Swedish market is the same, our share of the total Spanish resale market in Sweden will be around 40%. Our success in this area highlights that Swedes are happy to tap into the somewhat neglected resale market which affords more variety than the new build sector," he adds.
Meanwhile, one of the core aspects that sets The Real Estate Agency apart from others and key to its success is its 'back to basics' approach - placing great emphasis on face-to-face selling.
"We at the Real Estate Agency ensure that our personal approach, one that has been forfeited for solely online communication by many other real estate agents, is at the heart of everything we do, giving clients as much information as possible every step of the way," Mr. Nilsson further shares.
Real estate selling, according to the regional manager, during these challenging times, it requires not only heavy online marketing and web activity, it involves personal interaction.