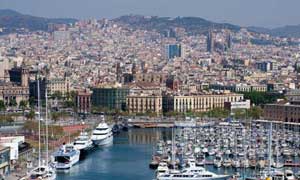 The year 2013 will see increased demand and trading for Spanish property, according to a new analysis of the Spanish property market by a Barcelona-based luxury property realtor, Lucas Fox International Properties.
Lucas Fox International Properties releases half-yearly property market reports for Barcelona, Costa Brava, Mallorca and Ibiza. 
Latest reports – being published this week – summarize property sales and rental statistics from government and independent sources alongside their own sales figures and other key indicators impacting on demand, such as tourist data.
"Luxury property sales in the best locations of Barcelona, Ibiza, Mallorca, and along the Costa Brava coastline were much better than expected in 2012," said Lucas Fox Director, Alex Vaughan.
"In the second half of 2012, prices began levelling off and international buyers were quick to pick up the best-value properties: whether they were luxury lifestyle villas or bank-owned stocks that will require renovations in order to take advantage of their prime location."
Lucas Fox began publishing the market reports in order to provide a more finely tuned analysis of local factors impacting on the property markets in Northern Spain.
"Each of our market reports shows that a significantly different set of factors influence demand than can be seen in national averages," said Mr Vaughan.
"In Ibiza, for example, foreign investors are reacting quickly to changing price signals, and this has pushed property prices slightly upwards in the final quarter of 2012.
"In Costa Brava, the unfavourable French tax system and forthcoming high-speed rail link are driving increased French and Northern European demand for a holiday home along the coast."
Average property prices in Ibiza's capital of Eivissa ended the year on €2,955 per square meter, a full €1,000 per square meter higher than the national average.
Properties along the Costa Brava ranged from €1,295 per square metre in Cadaques to €2,721 per square metre in Platja d'Aro.