House prices were up slightly by 0.7% y-o-y in Q1 2020
After several years of lacklustre performance, South Korea's housing market remains sluggish. House prices increased slightly by 0.7% during the year to Q1 2020, from a y-o-y decline of 0.53% in Q4 2019, and annual rises of 0.83% in Q3, 0.91% in Q2 and 1.98% in Q1. During the latest quarter, house prices increased slightly by 0.91% from the previous quarter.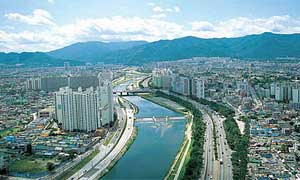 Housing restraint, economic stimulus
Elected on the promise of ending cosy ties between business and government, South Korea's new government has launched a fiscal plan that President Moon Jae-in has called 'a complete paradigm shift' based on US$9.85 billion extra spending, especially on social security, health, and small businesses, which will raise growth to 3%.
High housing costs are a political issue, so the government is targeting the "overheated speculative zone", comprised of the capital Seoul (all 25 districts) and two other areas -- Gwacheon and Sejong City. For those areas they've re-introduced increased capital gains tax (CGT) on property investors, originally introduced 2005-2014. Investors who own two houses pays an extra 10% in capital gains tax upon the sale of a property. Three-house owners can expect an extra 20% tax, in addition to baseline CGT of between 6-40%, depending on the size of the gain and the holding period.
Rents, rental yields: data unavailable in S. Korea
Recent news. South Korea's trade-reliant economy contracted by 1.4% in Q1 2020 from the preceding quarter, in contrast to a 1.3% expansion in Q4 2019, according to Bank of Korea. It was the steepest quarterly decline since Q4 2008. The setback was mainly due to sharp fall in both exports and private spending, amidst the coronavirus outbreak.
Recently, the Ministry of Economy and Finance revised down its 2020 economic growth outlook for the country to a miniscule 0.1%, sharply down from its previous estimate of a 2.4% expansion. The economy grew by 2.7% in 2018 and by 2% in 2019.