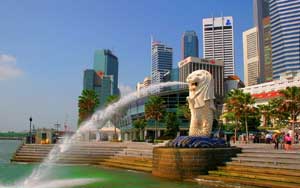 A recovery in prices and a better leasing environment is expected to boost foreign investment in the Singapore residential property, according to Bank of Singapore (BOS).
Singapore property prices have fallen for four years, before they finally began to rise recently. This has made Singapore relatively affordable compared to Hong Kong, for instance.
"The recent bullishness in the housing market has so far been largely driven by domestic buyers. Foreign buyers seeking relative value are expected to return and kick the upturn into higher gear, particularly in the prime residential segment," said BOS' head of strategy Eli Lee.
Foreigners bought an average of 3,600 properties per annum when the Singapore residential real estate market was bullish between 2010 and 2013. Sales started to tumble when the government imposed restrictions on foreign buyers. Property transactions involving overseas buyers hit a record low in 2017 at 1,600, making up only 5.6% of transactions.
Home prices have fallen 12% since their peak in 2013, but they have rebounded recently.
"This stands in contrast to major peer cities such as Hong Kong, Tokyo, Sydney, London and San Francisco, where home prices have instead increased and housing affordability has worsened over the same period. We believe Singapore residential property now presents attractive relative value," said Lee.
BOS also expects rental market to bottom out in view of a decline in completion rates. Oversupply of rentals has been blamed for falling rents in Singapore since 2013. Around 50,000 new units (including public housing) entered the market each year from 2014 to 2016, causing vacancy rates to increase from 5% in 2013 to 8% in 2017.