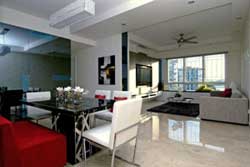 To encourage bigger, family-friendly spaces for residential living, Singapore's Urban Redevelopment Authority (URA) will disallow the size of no less than 500 square feet for residential condominium living.
Residential units that had gotten the moniker of "shoebox" homes, known for the very limited space of 50 square metres or less for a typical household with 4 to 5 members, are now being discouraged by the Singaporean government.
Beginning on November 4, the URA will be strict on the number of apartments of any size on non-landed, private-residential projects outside Singapore's central area. A minimum floor area of 755 square feet (70 square metres) will be imposed.
These non-laded areas located at the city's outskirts should have high-rise, high-density residential development and homes that should be designed for bigger families and households, the URA said.
National Development Minister Khaw Boon Wan said in his official blog that based on the new guidelines by the URA, developers could still build smaller spaces based on the preference of a buyer, but the typical floor area of 50 square metres or less could not be the standard size of apartments they sell.
Data from the URA has indicated that there were 2,400 "shoebox-sized" apartments completed as of end 2011. By 2015, pipelined projects with shoe-box sizes will reach 11,000.
Some Singaporean nationals are blaming the influx of foreigners for rising prices across all segments of the local housing market. The Singapore government received grave criticisms for allowing the shoebox-sized apartments, the congested subways and roads and policy revisions are seen as responses in the next few months.