House prices up by 4.59% y-o-y in Q1 2020
Russia's house prices rose by 4.59% during the year to Q1 2020, a sharp improvement from last year's 1.96% increase and its best showing since Q4 2012. During the latest quarter, nationwide house prices increased 3.16%. Despite this, Moscow's prices were down by 5.85% y-o-y in Q1 2020, following a miniscule growth of 0.39% a year earlier. In contrast in St. Petersburg, house prices continue to rise strongly by 11.28% over the same period.
Nationwide house prices plunged 29% (inflation-adjusted) from 2011 to 2018. The housing market started to show improvements last year.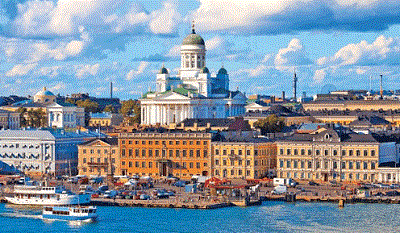 Demand is rising strongly.
Residential investment in Russia totalled RUB 55 billion (US$802 million) in 2019, up by a whopping 70% from RUB 33 billion (US$481 million) worth of deals in 2018, according to the CBRE. In May 2020, total housing loans outstanding rose by 13.9% y-o-y to RUB 7.83 trillion (US$ 114.17 billion), following a growth of 17% during 2019, based on figures from the Central Bank of the Russian Federation.
Residential completions rose by 6% last year from a year earlier, after three years of declines, according to mortgage provider Dom.RF.
Rents, rental yields: yields are poor both in Moscow and St Petersburg, at around 3% to 4%
Moscow apartment costs are high, at around €11,866 per sq. m.
Russia: typical city centre apartment buying price, monthly rent (120 sq. m)
Buying price
Rate per month
Yield
Moscow
$1,423,920
$3,820
3.22%
St. Petersburg
$ 586,320
$2,129
4.36%
Recent news. The Central Bank of Russia (CBR) cut its key interest rate by 50 basis points to 5.5% in April 2020, its seventh rate cut since June 2019 and its lowest level since February 2014, in an effort to buoy the slowing economy amidst the coronavirus outbreak. The key rate peaked at 17% in December 2014.
Russia's economic growth slowed sharply to 1.6% y-o-y in Q1 2020, down from the previous quarter's 2.1% expansion. However, the second quarter result is expected to be much worse as the full effects of the coronavirus lockdown and low oil prices are felt, with the government expecting a 9.5% contraction. For full year 2020, the Russian economy is projected to contract by about 5%, following expansions of 1.3% in 2019 and 2.5% in 2018.