House prices up 9.14% during 2020
Russia's house prices rose strongly by 9.14% in 2020 from a year earlier, a sharp improvement from last year's 3.01% increase and its best showing since 2012. During the latest quarter, nationwide house prices increased 3.21%.
Moscow's house prices were up by a huge 16% y-o-y in 2020, after a meagre increase of 0.51% in 2019. In St. Petersburg, house prices rose by 20.07% during 2020, the biggest annual increase since 2006.
Nationwide house prices plunged 29% (inflation-adjusted) from 2011 to 2018. The housing market started to recover in 2019 and strengthened last year despite the pandemic.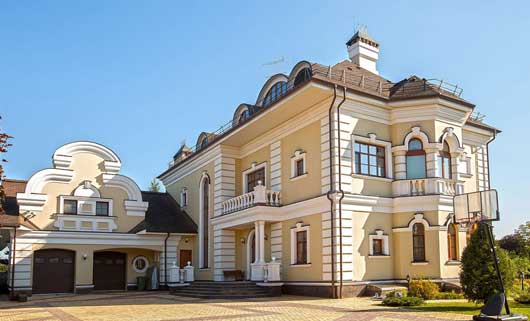 Demand is rising strongly
Residential investment in Russia totalled RUB 96 billion (US$1.29 billion) in 2020, up by a whopping 75% from RUB 55 billion (US$737.8 million) worth of deals in 2019, according to the CBRE. During 2020, total housing loans outstanding rose strongly by 21.2% y-o-y to RUB 9.1 trillion (US$ 122.19 billion), following a growth of 17% during 2019, based on figures from the Central Bank of the Russian Federation.
Rents, rental yields: yields are poor both in Moscow and St Petersburg, at around 3% to 4%
Moscow apartment costs are high, at around €11,866 per sq. m.
Russia: typical city centre apartment buying price, monthly rent (120 sq. m)
Buying price
Rate per month
Yield
Moscow
$1,423,920
$3,820
3.22%
St. Petersburg
$ 586,320
$2,129
4.36%
Recent news. In February 2021, the Central Bank of Russia (CBR) kept its key interest rate unchanged at an all-time low of 4.25%, after four rate cuts this year in an attempt to buoyed the slowing economy amidst the coronavirus outbreak. The key rate peaked at 17% in December 2014.
The Russian economy contracted by 3.1% last year, smaller than the central bank had predicted but still the sharpest decline in 11 years, as the country took a severe hit from the COVID-19 pandemic and related lockdowns, as well as a plunge in oil prices. The economy is now expected to grow by around 3% to 4% this year, based on estimates released by the CBR.