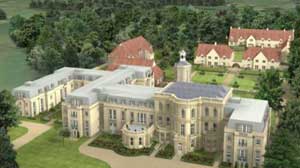 A new free-to-use property and lifestyle website called Retiremove.co.uk has been launched for the over 50s.
Jane Slade, the former property editor of the Sunday Express, founded the site as a result of struggling to find up-to-date information and well-researched advice for her mother when she was seeking to downsize from her home on the south coast last year.
Jane also found that many of her friends were in the same position with older parents looking for quality accommodation that would see them through the third stage of their lives; but having nowhere to go to for impartial advice.
It is for them and her own parents that she established www.retiremove.co.uk as a free-to-access helpful haven offering information and case-study based articles on all aspects of retirement living including retirement villages, second homes, moving overseas, choosing a care home and investment property.
Retiremove is also for influencers like doctors, lawyers and religious preachers who want to offer well-informed advice to their clients, patients and parishioners.
"As we are an aging population it is more important than ever that we are well-informed about our options when it comes to how and where we want to live when we retire," says Retiremove editor Jane Slade.
"Retiremove can be a huge benefit to people as it provides so much useful information in one place accessed by the click of a mouse; and while the special subject is property it covers many other related subjects too.
"I know from helping my own parents that there are so many issues and complexities involved as people get older and that it can be a very depressing exercise trying to fathom what to do. The process can also be incredibly emotional. When I was researching nursing homes for my father after he had become immobile through Parkinson's Disease I nearly gave up until I found one that had a library, conservatory and a bar where he could entertain his friends - I literally cried with joy."
Retiremove.co.uk helps to cut a swathe through some of the psychological problems older people face too such as loneliness, disability and finding love in later life.
But it is also for people who want to grow old disgracefully and to discover that ageing is not all downhill; the Mick Jagger generation is now 70 plus and there are all those baby boomers who want a different retirement from their parents.
And with more and more silver surfers discovering the joys of the Internet an easy-to-navigate website means it is accessible to everyone 24 hours a day.
Retiremove is updated daily so users are the first to know about new property launches, exclusive deals and analysis from industry experts.
Retiremove employs top-flight journalists and experts to provide up-to-the-minute information, exclusive tips and lots more photographic imagery than newspapers and magazines can provide.
A wide spectrum of lifestyle issues are also featured including finance, gardening, travel and technology - not to mention a What's On page of upcoming events and free ticket offers.