Nationwide house prices up 2.89% during the year to Q3 2020
After a lacklustre performance in the past three years, Norway's housing market growth is now gathering pace. The inflation-adjusted nationwide house price index rose by 2.89% in Q3 2020 from a year earlier, an improvement from a y-o-y growth of 0.69% in Q3 2019 and its best performance since Q2 2017. Quarter-on-quarter, house prices rose slightly by 0.62% in Q3 2020.
The housing market's slower growth in recent years can be partly attributed to the implementation of stricter mortgage rules on January 1, 2017, which were focused on restraining house prices in Oslo.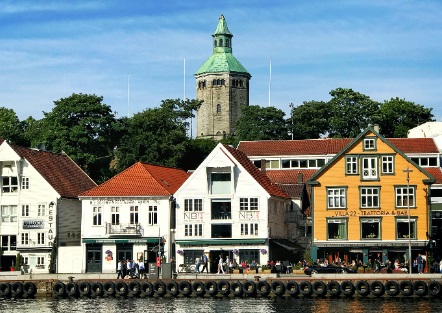 Demand rising again, construction activity remains weak.
Demand is rising again, after a temporary slowdown in Q1 2020 due to pandemic-related restrictions. In Q3 2020, residential property sales in Norway rose by 6.1% to 27,039 units from a year earlier, according to Statistics Norway. Despite this, dwelling starts fell by 13.9% y-o-y to 21,396 units in the first nine months of 2020 while completions dropped 8% to 20,684 units.
Rents, rental yields: rental yields are low at 3.13%
Oslo apartment costs are expensive at around €8,162 per sq. m.
Norway: typical city centre apartment buying price, monthly rent (120 sq. m)
Buying price
Rate per month
Yield
Oslo
€ 979,440
€ 2,556
3.13%
Recent news: In November 2020, Norges Bank held its key rate unchanged at a record low of 0%, following four consecutive rate cuts since March, after economic activity has fallen abruptly as a result of the COVID-19 pandemic, aggravated by the severe decline in oil prices.
Norway's economy rebounded in Q3 2020, with GDP expanding by 4.6% from the previous quarter, in contrast to a 4.7% contraction in Q2 and marked the biggest quarterly growth since at least 1990. This was mainly driven by an improvement in domestic demand, following the gradual easing of pandemic-induced restrictions. The country's mainland GDP, which excludes the volatile oil and shipping sectors, expanded by 5.2% in Q2 2020 from the previous quarter, a sharp turnaround from the previous quarter's 6% decline. On an annual basis, the overall economy fell slightly by 0.2% in Q3, an improvement from the 4% contraction recorded in Q2.
The overall economy is projected to shrink by 1.9% this year while mainland GDP by 3.2%, according to Statistics Norway.