Nationwide real house prices were down 3.77% during 2022
Norway's housing market is cooling fast. The inflation-adjusted nationwide house price index fell by 3.77% in 2022 from a year earlier, in stark contrast to a y-o-y growth of 3.62% in 2021 and its worst showing since 2008.
Quarter-on-quarter, house prices declined 5% during the latest quarter.
Real house prices rose by an average of 4.7% annually in 2020 and 2021. But in the three years prior, the housing market had been more or less steady, with house prices rising by a meager 0.95% in 2019, and falling by 1.05% in 2018 and 0.6% in 2018, after the implementation of stricter mortgage rules on January 1, 2017, which were focused on restraining house prices in Oslo.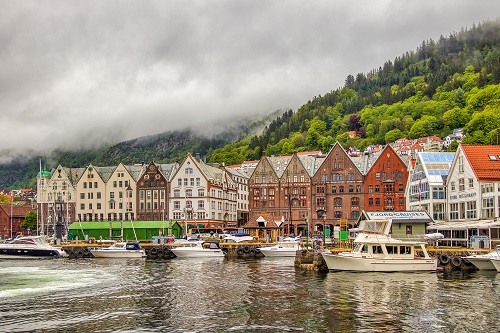 Demand is now falling
During 2022, new residential property sales in Norway fell by 10.3% to 91,417 units from a year earlier, in contrast to year-on-year increases of 2.9% in 2021, 7.1% in 2020 and 2.6% in 2019, according to Eiendom Norge.
Rents, rental yields: rental yields are low at 2.28% to 4%
Norway: city centre apartment buying price, monthly rent (2-BR apartments)
Buying price
Rate per month
Yield
Oslo
€ 532,445
€ 1,334
3.01%
Recent news: In January 2023, the Norges Bank kept its key interest rate unchanged at 2.75%, following eight straight rate hikes since September 2021 when the key rate was 0%, in an effort to curb rapidly rising inflation. With the recent central bank decision, the borrowing costs in the country remain at its highest level since February 2009.
Norway's economy grew by a modest 3.3% during 2022, a slight slowdown from a 3.9% expansion in 2021, amidst supply chain disruptions and the adverse impact of the Ukraine crisis, according to Statistics Norway. The International Monetary Fund (IMF) expects the Norwegian economy to grow by 2.6% in 2023 and 2.2% in 2024.