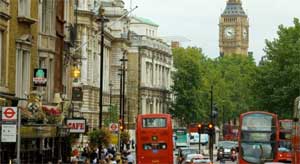 When many people think about renting a property they are doing so with a view to the long term and to finding somewhere to set up as a home for themselves or their family. In the increasingly transient modern world, with people having to move around countries and even continents to find the work they need, more temporary lettings are becoming much more widespread.
The economic power that a capital city offers means that short term apartments in London are in demand more than they've ever been before.
There are many reasons why you might be visiting London for a short period of time. You may be studying a course or taking some training.
You might have been offered a temporary, short term contract of employment or it could be simply that you want to spend a month or so catching up with old friends and socialising amidst the bright lights of the big city.
Whatever your motivation, you'll require short term accommodation in London and, if your budget doesn't stretch to a month or more in a London hotel, then your first thought may be to start looking for a cut price hostel in which to bed down.
There is another option, however, for short term visitors who wish to rent a property temporarily but find that most flats to rent in London offer neither rent nor tenancy agreements which fit the bill.
The range of rooms to rent in London is broader than it's ever been, and means that you can find somewhere to stay which costs less than a hotel whilst offering much more in the way of privacy and comfort than a budget hostel.
The best way of finding the room or rooms that are perfect for your needs is to go through a professional agency. They will ensure that you get a thorough service, that everything is done perfectly legally and safely and that any problems will be dealt with quickly and easily.
An agency of this kind will have its reputation to think about, and will make sure that your experience is the kind of happy one which you're willing to recommend to others looking to rent a property.
Despite this, however, it's vital to have an idea of what a landlord should and should not offer, and by adhering to a few simple do's and don'ts it should be possible to ensure that your experience is a happy one.
Make sure that you do ask your landlord any questions which occur to you. A good landlord will want to make sure that your mind is at ease before you take up your tenancy, not least because this is likely to minimise the chances of any problems further down the line. Questions you might think about asking include the following:
What is the postcode? – having this will enable you to look up the location on a map, and thus ascertain exactly how close it is to local amenities such as public transport links:
Has VAT been included in the rent?
Does the property have – a phone, linen, furnishings, bath, shower, crockery, utensils etc.?
What bills are covered in the overall rent?
Is there a 24 hour number to call in case of problems?
How is the property heated?
Write down any questions as they occur to you to ensure that you don't forget them whilst speaking to your landlord or letting agent.
Check the going rate for rooms in the area to ensure that you are not paying more than you should.
Make sure you have a full understanding of the rental arrangement – i.e. whether a deposit is payable, whether any deposit will be returned, whether the rent needs to be paid in advance, what date it will be due on and so on.