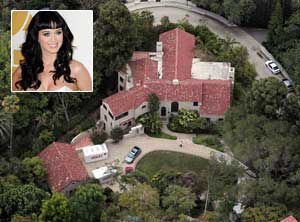 As her divorce from celebrity husband, British actor Mr. Russell Brand gets finalised, Ms. Katy Perry gets the home in Los Angeles, California, but has no intentions of keeping it for good.
Ms. Perry had had listed the mansion for auction recently, said realtor.com
The 4-storey home, which was originally built in 1922, has four bedrooms and 4.5 baths and an outdoor pool.
Renovated by the then couple to suit their needs, the home now has modern kitchen, a spa tub, a den, a balcony, downstairs reception area, walk-in showers, breakfast bar and other luxury amenities.
The ownership of the said property, which occupies 4,706-square feet of lawn, had been transferred with no further contention to Ms Perry. Former husband, Mr. Brand surrendered the full ownership to his former wife early this year.
According to showbiz news provider TMZ, a quit claim deed was filed in Los Angeles court regarding the property shared by the couple.
"It indicates that Brand had handed over the full rights of the property to the American pop star, Katy Perry, and will not get anything from it in case she decides to sell it."