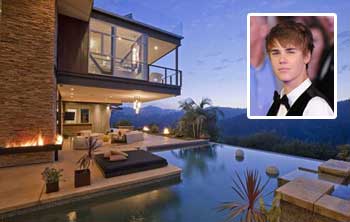 Pop star Justin Bieber is willing to pour his earnings into Hollywood properties as he prepares to move out and live on his own after turning 18 recently.
Reports from entertainment portal TMZ and dailymail.co.uk have confirmed that the teen singing sensation with some 18 million twitter followers is currently choosing among three pieces of property in Los Angeles, California.
Justin Bieber is most likely to give one of the properties as a gift to his mother, Patti, and keep the other one as his bachelor pad.
Two of the properties are located in Calabasas, CA and are reported by TMZ to cost $6 and $8 million. While the other one, a $10.8-million mansion, is in Hollywood Hills.
The contemporary home, overlooking Lake Hollywood, is sitting on a 9,385 square feet property that has 5 bedrooms and has breathtaking views of the city and nearby hills.
Reports from the dailymail.uk said the property eyed by Justin Bieber was recently occupied by actor Ashton Kutcher, who rented it for $50,000 a month.
The modern home, which was designed by Jeffrey & Rochelle Mills of Mills Studio and completed in 2007, has a living room with surrounding walls of glass offering a view of the landscape. The mansion also has other amenities including a private movie theatre, a gym and spa room, gourmet kitchen, and 8 bathrooms.
Sources: TMZ.com, dailymail.co.uk