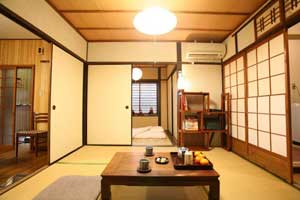 Rentals units in Japan are becoming a stable source of income for families and couples to keep themselves afloat these days.
The so-called chintai heiyo, which literally meant rental combined, are actually previously acquired residential homes partly made into rentals to be a source of additional income for retirees and even regular wage earners.
The difficult times in Japan had made citizens wise enough to take advantage of the higher rents especially in Tokyo's Meguro, Shibuya and Setagaya districts where rents could cost more than $800 a month.
A chintai heiyo, compared to other rentals, is still a part of a family's home, but some boundaries were built to accommodate the tenants and they live within the same premises as the landlords.
A report from the International Herald Tribune (IHT) also notes the popularity of the chintai heiyo that one of the biggest residential builders—the Asahi Kasei Homes—had orders rising to 395 in 2011 compared to 225 in 2009.
This kind of rental had been favourable to retirees in Japan, who could not take out home loans at the age of 60 to repair their existing home, says the IHT.
Banks in Japan do not grant mortgage loans to retirees, but with rental units, the retirees get to qualify for a loan, Mr. Toshiaki Watanabe, a senior manager for housing sales based in Tokyo explains to the IHT.
Whether retirees or not, homeowners in Japan are advised, however, to assess the offer of home builders for a chintai heiyo.
Tokyo Kantei, a provider of property data in Japan, warns homeowners to make thorough analyses of the rental market to determine mid- to long-term profitability.
Mitsugu Shiraiwa, an owner of 60 chintai heiyos across Tokyo tells IHT that proposals from home builders should be analysed whether the total costs could be squeezing the future margins.