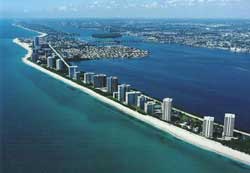 Florida's real estate industry is on the rise and savvy investors are snapping up properties.
So why Florida & why now?
Both investors and those looking to relocate are eyeing Florida at the moment for a number of reasons.
Pricing. Medium to lower income houses are still under priced and offer great value to investors.
Buyers' Market. There is plenty of good value property on offer, meaning conditions are perfect for homebuyers to find their dream home. This won't last forever as investors and buyers snap up these properties the supply will decrease. Solution: Buy now.
Mortgage rates. Mortgage rates are reasonable and buying power still high. Buyers get more for their money, allowing first time buyers to enter the market and many home owners to upsize.
Federal and state incentive packages. There are numerous Federal and state incentive packages offered to homebuyers, in particular first time buyers. Take advantage if you can.
Best place to retire in. Yes, Florida is the best place to retire in, once you move there you never leave. A fantastic climate and wide array of amenities make this a hugely desirable location for all, not just retirees.
No Income Tax. There is no personal income tax in Florida; that means more money in your pocket at the end of each month.
Leader in innovation. Florida was ranked as the 5th largest cyberstate in the country employing the 5th most employees in the hi-tech industry.
Well positioned. Florida is the strategic and economic centre of the Americas due to its geographic location, economic and political stability, and multi-cultural and multi-lingual.

Florida also has one of the world's most extensive multi-model transportation systems, with international airports, deep-water shipping ports and an extensive highway and rail network. They also have two of only eight commercially licensed spaceports in the U.S.
Entrepreneurial Environment
The state is home to a number of tech incubators, accelerators and university-based research hubs and ranks in the country's top 10 on the Small Business Survival Index.
Business-Friendly Government. The state is pro-business and pro-technology and has definite agenda for policy-making and business climate improvement.