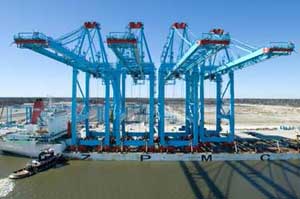 Property investment will continue in the US industrial real estate sector, with economic growth and an increase in global trade helping to sustain demand. According to the CBRE Group, Inc, warehouse and distribution space market segments will continue their recovery into 2013, with availability rates falling to 12.2 per cent across the country. By the end of 2014, this will reduce further to 11.3 per cent.
Latest industry property figures show that in the penultimate quarter of the year, availability of stock in the US stood at 13.1 per cent. This is a marked improvement from the Q2 2010 peak of 14.6 per cent. The CBRE claim this improvement has been helped by the absence of new industrial facilities being built. Industrial construction has slowed over recent years, as rent growth has not been strong enough to support it. By the end of the year, only 41 million square feet of warehouse and distribution space is expected to be constructed. This is considerably below pre-recession historical norms of approximately 150 million square feet per annum.
However, the rate of construction is likely to change in 2013, with rental growth gaining momentum. It is predicted that next year rents will rise to more than three per cent from the 2.4 per cent rate recorded this year. This will increase to nearly five per cent in 2014. According to the CBRE, this means that industrial rents will grow above the rate of inflation in 2013 for the first time since 2006.
Arthur Jones, senior managing economist, CBRE econometric advisor, stated: "US industrial markets continue to struggle against a residual overhang of space stemming from the last recession and weak economic fundamentals, which has limited demand. Nevertheless steady absorption over the past two years has finally reduced available space to the point where property owners in select markets can now command higher rents. While economic and fiscal policy uncertainty continues to constrain demand, we expect the recovery of industrial real estate to accelerate over the next two years."