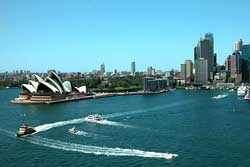 Home prices in Australia have been falling for the past 11 months. Sydney reported a drop of 5.6% over the year, while Melbourne saw a decline of 2% in the past three months - the worst drop since Christmas 2011.
Economists have warned that home values could slide by 12% over the next four years. The situation is expected to worsen in Sydney and Melbourne where prices may decline 15% by 2020, according to Shane Oliver, AMP Capital's chief economist.
The drop in home prices in major Australian cities is largely attributable to stricter lending standards introduced by the financial regulator Apra in March, and the work of the banking royal commission in exposing banks' lax lending standards. Australian borrowers have a mountain of debt, which is among the world's highest, at 190 percent of income.
Several restrictions on mortgage loans which have driven prices down - especially the restrictions on interest-only loans, which have long powered property investors in Australia. Only 30% of mortgage loans granted can be Interest-only loans.
Regular buyers are however optimistic that the decline in housing prices will give them an opportunity to finally enter the market.
The Reserve Bank of Australia said a slowdown in housing market was unlikely to hit banking stability. RBA assistant governor Michele Bullock told the press recently, "While lending standards were not bad to begin with, they have nevertheless tightened over the past few years. Overall, arrears rates on housing loans remain very low."
Bullock said it appeared that average households had "some ability to absorb some increase in required repayments".
Bullock, however, said an adverse shock to the economy could see households struggling to meet repayments.