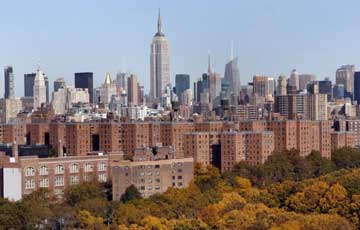 The amount of money invested by US Real Estate Investment Trusts tripled in the 12 months ending the final quarter of 2010 according to data compiled by Bloomberg.

Meanwhile, commercial property transactions in general doubled in 2010 compared to 2009. These are yet more signs that investors are turning bullish on the US market. This is hardly surprising; a series of major purchases by big players has fuelled a confidence surge in the investment community.

Deals like the aquisition of Centro's US Mall portfolio by Blackstone for 9.4 billion, and the 5.7 billion USD buyout of the Nationwide Health Properties Inc. REIT by Ventas Inc, the biggest ever deal of its kind.

Experts believe that deals like this, combined with activity in other areas, such as the Probis-AMB merger in January could trigger a surge in commercial transactions this year as investors regain confidence. Commercial property transactions totalled $140 million in 2010, doubling the low of $69 billion seen in 2009, but still well below the 579 billion USD seen at the peak in 2007.

Speaking in a telephone interview with Bloomberg Fasulo said: "Both these deals are a great signal that liquidity has returned to the commercial real estate space. It certainly will have ripple effects on the entire industry." Healthcare and retail are big money industries… The Centro portfolio purchased by Blackstone consisted of 588 strip-malls and related properties, including Vallejo's Gateway Plaza and Pleasanton's Metro 580.

According to a source with inside knowledge of the deal who couldn't be named because of its privacy, Blackstone is anticipating a recovery in US property values, and plans to hold the Malls until prices rise. Ventas's $5.7 billion purchase of Nationwide Health Properties Inc. Is not only the biggest ever among health-care real estate investment trusts, but will also make Ventas Inc the largest health care REIT in the US. Meanwhile, in a deal announced yesterday the third largest health-care REIT: Health Care REIT Inc. agreed to buy substantially all the property assets of closely held Genesis HealthCare for $2.4 billion.

Healthcare and retail are big money industries, but not only that they are two sectors which tend to recover fastest in a recovering economy. So, for the Real Estate Investment Trusts to be on a buying spree now, when asset values are severely depressed is far from surprising, in fact it makes perfect sense.

These are well respected names, and one should expect that their managers know what they are doing. However, an alarm sounds when everyone starts turning bullish, and given the massive growth in commercial transactions in the US in 2010, it definitely warrants careful inspection of any investment.