Total transaction costs in Saudi Arabia
Process of buying property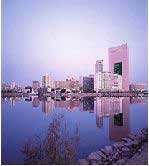 Foreigners are allowed to own real estate, subject to approval of the licensing authority. However, foreign ownership is forbidden in Mecca and Medina, except through inheritance, Non-Saudi Muslims are can obtain leases of up to two years in these cities. Leases are renewable for the same period.
Foreign investors can also purchase private land for construction and investment, but also prior approval is required, and projects (buildings) must be valued more than SAR30 million (US$8,000,000), including land and construction costs.
Two towers have been offered, one by the well-respected Bin Laden Group, which claimed 60% commitments at launch.
The price is negotiated between buyer and seller and facilitators, including land brokers and lawyers, who tend to arrange for private land sales. Once a private purchase agreement has been negotiated, an investor must go to the local Sharia Court to ensure that the land in question is really owned by the seller, and must record transfer of title. The Court will stamp the title document to indicate the legal transfer of ownership.
The process of registering property in Saudi Arabia has three procedures and it will take around six days to complete.
Saudi Arabia - More data and information