Official total transaction costs are low in Paraguay
How high are realtors´ and lawyers´ fees in Paraguay? What about other property purchase costs?
Transaction Costs

Who Pays?
Registration Fee
0.74%
buyer
Real Estate Agent´s Fee
5.00%
buyer
Notary Fee
0.75% - 2% (+10% VAT)
seller
Municipal Tax on Transfers
0.20% - 0.30%
seller
Costs paid by buyer
5.74 %
Costs paid by seller
1.025% - 2.50%
ROUNDTRIP TRANSACTION COSTS
6.765% - 8.24%
See Footnotes
Source: Global Property Guide
How difficult is the property purchase process in Paraguay?
There are no restrictions on the ownership of property by foreigners, who may also engage in commerce or industry without limitations.
For a property to be titled in Paraguay, the following procedures are normally followed: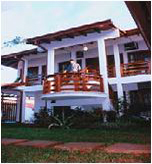 The Notary Public obtains the following certificates in order to prepare the Transfer of Deed:
Tax Compliance from the Ministry of Finance;
Non-Encumbrance and Free Disposability of Assets from the General Direction;
Tax Clearance from the Municipality; and
Cadastre or Zoning Certificate from the National Service of Cadastre
Once the Transfer of Deed has been notarized, a Municipal Tax on transfers will be paid. It is 0.3% of the property price, if the property is located in Asuncion or 0.2% if located in other cities in the country.
The last step in the titling of the property is the registration of the notarized documents at the Public Registry by the Notary Public.
The whole process of registering a property can be completed in around 46 days.
---
Footnotes to Transaction Costs Table
The round trip transaction costs include all costs of buying and then re-selling a property - lawyers´ fees, notaries´ fees, registration fees, taxes, agents´ fees, etc.

Currency:
Paraguay uses Paraguay Guarani. Exchange rate is at US$1=PYG5,791.62 as of 22nd June 2006.
Notary Fee
Notary fees are levied according to the following schedule, plus 10% VAT:
NOTARY FEE

Property Value, PYG (US$)
Rate
Up to 1 million (US$175)
5 times the minimum wage (jornales)
1 million - 50 million (US$8,772)
2.00%
50 million - 75 million (US$34,158)
1.75%
75 million - 100 million (US$17,544)
1.50%
100 million - 150 million (US$26,316)
1.25%
150 million - 200 million (US$35,088)
1.00%
Over 200 million (US$35,088)
0.75%
Paraguay - More data and information