Total transaction costs are moderate in Honduras
How high are realtors´ and lawyers´ fees in Honduras? What about other property purchase costs?
Transaction Costs

Who Pays?
Transfer Tax
1.50%
buyer
Notary Fee
3.00% - 5.00%
buyer
Registration Fee
0.15%
buyer
Agent´s Fees
5.00%
seller
Costs paid by buyer
4.65% - 6.65%
Costs paid by seller
5.00%
ROUNDTRIP TRANSACTION COSTS
9.65% - 11.65%
See Footnotes
Source: Global Property Guide
How difficult is the property purchase process in Honduras?
Restrictions on the ownership of land located in the Honduran border and coastal areas are regulated by Article 107 of the (1982) Honduran Constitution. It prohibits foreign ownership of property in Honduras that lies within 40 kilometers of the Caribbean Sea, Gulf of Fonseca or the international borders of Nicaragua, El Salvador and Guatemala and on any of the islands belonging to Honduras.
Recognizing that the constitutional prohibition of foreign property ownership in Honduras acted as a barrier to development, the Honduran National Congress passed Decree Law 90/90 in 1990, which permits foreign ownership of coastal areas for two purposes:
Residence: Foreigners can acquire a single property not exceeding 3,000 sq. m to build a private residence. The foreign buyer must register the purchase with the Ministry of Tourism and complete construction of the residence within 36 months from the date of purchase or pay an annual penalty worth 20 percent of the value of property until the construction is complete.
Tourism: Foreigners may purchase as much land as they want for approved tourism projects.
All foreigners should be aware of the risks inherent in purchasing real estate in Honduras and exercise extreme caution before entering into any form of commitment to invest in property, particularly in coastal areas, on the Bay Islands and near international borders.
There have been claims of widespread corruption in land sales including registry and dispute resolutions. Squatter activity, spurred by earlier land reforms, has also been a problem.
In Honduras, not all land is legally titled. Make sure the land you are buying is legally clear and that it is not in an ownership dispute. The National Chamber of Real Estates (Asociacion Nacional de Agencias de Bienes Raices de Honduras), fixes the agent´s fee as 5% of the final selling amounts for sales transactions, and a complete monthly rent for rental transactions.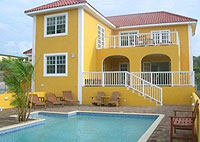 A real estate agent and a local lawyer are essential in purchasing property. Initial steps before having any property titled, include the verification of the property background in the registry and making sure that municipal taxes such as the Real Estate Property Tax have been paid. Then the notary, who charges around 3% to 5% of the market value of the property, issues the preliminary deed. After which the 1.5% transfer tax and 0.15% registration fee are paid at a bank. Registration at a property office and the change of ownership in the Cadastre office follow.
The whole process of registering a property can be completed in around 22 days.
---
Footnotes to Transaction Costs Table
Transfer Tax
Property transfers are subject to transfer tax at a flat rate of 1.5%.
Notary Fee
Notary fee is around 3% to 5% of the property value.
Registration Fee
Registration fee is around 0.15% of the property value.
Real Estate Agent´s Fee
Real estate agent´s fee is set at a flat rate of 5% of the property value or selling price.

The round trip transaction costs include all costs of buying and then re-selling a property - lawyers´ fees, notaries´ fees, registration fees, taxes, agents´ fees, etc.

Currency
Honduras uses Honduran Lempira. Exchange rate is at US$1=HNL19.657 as of 22nd June 2006.
Honduras - More data and information