Crimes and political violence thwart Guatemala's property market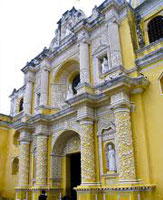 Guatemala is the Mayan heartland of Central America, and its indigenous culture is alive and well. That culture survives in the ancient ruins of Tikal, in the Mayan-Catholic rituals of Chichicastenango, and the blazing colors of everyday Mayan dress.
Guatemala does not have a great variety of 'purchase destinations' to offer. There are no good beaches. Foreigners who buy properties in Guatemala typically settle in the city of Antigua (different from the Antigua island in the Caribbean), and on Lake Atitlan.
However in recent years, Guatemala has been thrown into international limelight due to several occasions of high-profile killings and violence, and corruption scandals inflicting politicians and highly influential people. In 2009, then President Alvaro Colom was accused of ordering the assassination of an opposition lawyer, Rodrigo Rosenberg. In March 2010, Guatemala's police chief and anti-drug tsar were fired over the theft of cocaine. In March 2014, ex-President Alfonso Portillo was found guilty of accepting millions in bribes from Taiwan in return for a promise of continued recognition by Guatemala.
Then in April 2015, Guatemala has been gripped by a corruption scandal following revelations of a massive customs fraud network known as La Línea (The Line) operating at the highest levels of the government. The scandal, which was considered as the greatest political crisis in the country's recent history, led to the resignation and arrest of former President Otto Pérez Molina and his vice president, Roxana Baldetti, and dozens of other public officials. The revelations sparked a nationwide wave of protests and a widespread hostility towards the current political system.
These events highlight the growing problem of corruption and political violence in the country. Politicians, journalists, businessmen and even bus drivers are routinely killed in broad daylight in the capital, Guatemala City.
Worse, Guatemala continues to face a deteriorating peace and order situation, with escalating crime involving maras (gangs) and drug syndicates.
Jimmy Morales, a former TV comedian without any experience in government, surprisingly won the country's presidential elections in October 2015 as he effectively managed to portray himself as "un-corruptible" and a "political outsider" amidst a wave of popular anger against the current political system. Morales pledged to fight graft and corruption.
Charming Antigua
Antigua (pop 22,000) is a charming Spanish colonial town and, though earthquakes have done much damage over the centuries, there is much Spanish heritage. It is a refuge for elite Guatemalans, being only 45 minutes' drive from Guatemala City, the capital, which is highly polluted and congested.
Despite the violence, and Guatemala's other defects, Antigua is an extraordinary historic environment which attracts many tour groups, and therefore also people settling to do business.
Pre-crisis, in Antigua prices had been rising strongly - perhaps by around 20% per annum - until the recession in the US, and the current increase in violence. After several years of falling house prices, the property market is recovering again with modest price rises.
Residential properties located in the centre of Antigua are priced up to six times more than similar properties in other locations.
An authentic 3-4 bedroom colonial home in central Antigua with a fountain and yard in the central area with 1-2 kitchens, 2 living rooms and 2 bathrooms plus maids' quarters, would cost about $600,000.
For a well-maintained, larger footprint, greater scale home, the price tag could rise dramatically to around $2,000,000. A newly built, slightly out of town starter home would cost about $300,000.
Stable high-end market
Most of the high-end residential properties in Guatemala are located in the Eastern region of the metropolitan area. A 200-sq. m. residential property is priced from US$150,000. On the other hand, two-bedroom houses can be bought at US$250,000.
Of the 5,600 housing projects currently available in the market, 2,000 units belong to the high-end market, according to the Guatemalan Chamber of Construction. Some of the recent high-end residential developments include the Origo Group project located in Zone 14 and the newly opened exclusive residential project Las Gemas, which was built in Las Majadas.
"This type of housing is stable because it is less sensitive than the medium-priced type, which depends on formal employment, while the premium range units are acquired by consumers who have capital to invest. This sector is changing a bit in the sense that there is much more vertical housing or high-rise buildings than there used to be," said Oscar Sequeira of the Guatemalan Chamber of Construction.
Residential construction activity rising
In Guatemala's metropolitan area, the total area of housing construction rose by 20.8% to 1.2 million square meters in the first ten months of 2015 from the previous year, according to the Guatemalan Chamber of Construction.
Guatemala's residential construction sector is expected to grow by between 3% and 3.5% this year, mainly driven by the construction of high rise housing in urban areas, according to the Guatemalan Chamber of Construction. On the other hand, the Bank of Guatemala projects a slightly higher growth of 3.8%.
Recently, the former Hotel Ritz in the capital city's Zone 1 was started to be developed as a mixed complex that combines residential and commercial spaces. The development, which will consist of two towers with 180 apartments each, needs an estimated investment of US$10 million. Property prices will range between US$47,ooo and US$105,000, according to Peter Garavito of Revive Guatemala.
In June 2015, Fidler Sociedad Anónima plans to build a 17-storey residential development with 46 apartments in Zone 14 of Guatemala City. The development, which requires an estimated investment of US$11.5 million, primarily targets the high-end market. The residential property market also saw various smaller projects this year, with estimated investments between US$488,000 and US$1.5 million.
Acute housing deficit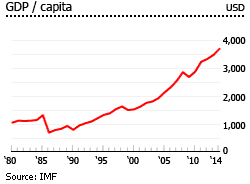 Currently, Guatemala has a housing deficit of more than 1.6 million units, according to the Central Housing Association Guatemala Chapter (ACENVI). The shortage is expected to reach 2.1 million dwellings by 2020.
The total demand for housing in the country increases between 55,000 units and 60,000 units every year but only about 20,000 new houses are built per year, according to the Guatemalan Chamber of Construction (CGC). Majority of the housing deficit are in the low-end market, mainly caused by lack of financial guarantees that would enable the population to have access to credit.
To abate the situation, ACENVI proposes a series of legislative reforms to promote housing development in the country. "The initiatives have been presented in a document so that they can be implemented over the next four years gradually and steadily, helping to generate up to 200,000 new housing solutions in the year 2020, with the expectation that as a result of interventions the total deficit falls to 1.2 million for the year 2020.&
A national housing policy that meets the current needs of the population is needed to solve the acute housing deficit in the country, said ACENVI president Juan Francisco Asturias.
Foreign buyers beware
Under Guatemalan law, foreigners can acquire, maintain, and dispose of real property with very few restrictions. Foreigners cannot own land directly next to rivers, oceans or international borders.
Foreign investors must realize that corruption is a fact of life in Guatemala and be prepared to encounter it at all levels. The registered value of properties is typically a tenth (or less) of the real selling price, this is done to minimize the 12% sales tax and the annual property tax.
In 2001, Congress passed a law allowing the use of foreign currencies in all transactions. Most real estate transactions are quoted and concluded in US dollars.
Mortgages are expensive and difficult to get, especially for foreign homebuyers. In addition, loan-to-value ratio is also low, at just 50% of the appraised value of the property. Interest rates are also high. Mortgage loans denominated in local currency, the Quetzal, have average interest rate of 9% while U.S. dollar-denominated mortgages have an average interest rate of about 7.5%.
Low rental yields
Rental yields in Guatemala are generally low especially for new residential properties, at about 2.9%, according to local real estate experts.
Two-bedroom properties are rented out for just US$600 per month. Condominium units are offered at a monthly rent of US$500. On the other hand, three-bedroom townhouses outside the city centre can be rented for more than US$700 per month.
Violence and crime
Years after the end of the civil war in 1996, the rising level of violence and crime hounds Guatemala. Many former rebels and combatants (the army was halved after the war) joined criminal gangs or drug and crime syndicates, engaging in extortion, kidnapping, robbery and prostitution.
"Guatemala's current agony, though of a diverse and disparate nature, has its roots in U.S. policy in the region for much of the last 40 years," notes journalist Michael Deibert in the World Policy Blog.
"Through skills learned from counterinsurgency campaigns, and particularly during the regimes of dictators General Romeo Lucas García (1978-82) and his successor General Efraín Ríos Montt (1982-83), elements of Guatemala's military intelligence services were able to create complex criminal networks that exist more or less intact to this day.
"Two of the biggest crime syndicates in the country, La Cofradía (The Brotherhood) and El Sindicato (The Syndicate), are both made up of current and former military officers, according to Guatemalan and U.S. government officials.
La Cofradía is said to be chiefly directed by two former generals, Manuel Callejas y Callejas and Luis Francisco Ortega Menaldo, while the dominant force in El Sindicato is alleged to be ex-president Otto Pérez Molina, who was also a former army officer and head of the Partido Patriota.
Former president Colom's people are the same Ortega Menaldo's people, explains Diebert. They are one side of a two-sided, mutually hostile, narco-crime-dominated political establishment.
Some experts estimate that up to 40% of the country is dominated by drug traffickers and organized crime syndicates. In 2008, more than 130 bus drivers were killed in Guatemala City, the capital. The drivers were apparently assassinated after bus operators and bus union leaders refused to pay protection money.
Casa Nova Real Estate's Wilson says that "as far as crime is concerned, it centres around certain areas of the capital were poverty is rampant. As more and more unregistered Guatemalans are being deported from the US, and with little or no employment possibilities, crime is just a natural way to exist when there is no money available to support yourself. Thankfully, this problem has not filtered down to the main tourist areas such as Antigua, Lake Atitlan and Tikal.
"Tour groups are still visible on the streets of Antigua, and have actually increased somewhat, due to influx of cruise ship visits. The casual tourist seems to be a bit less, and we attribute that to the economy in general worldwide."
"As far as Antigua is concerned, it's life as normal. There has been no exodus to greener pastures, and the city is peaceful with good police protection."
House of drugs
Unlike other Latin American countries, remittances from US did not create a housing boom in Guatemala. For instance, demand for properties from US-based Salvadorians led to construction of new exclusive subdivisions in several areas in El Salvador. This was not the case in Guatemala.
Remittances from Guatemalans in the US and other countries, which reached US$5.54billion in 2014, were used to gradually improve self-built housing units. Most houses in Guatemala are constructed by cementing one wall at a time.
Any flagrant display of wealth (such as acquisition or construction of a brand new house) is an open invitation to robbery and/or kidnapping. Hence, most recipient households prefer to keep a low-profile carefully try to hide their wealth.
Guatemala has an unusual number of high-end real estate purchases often paid in cash. There was also a noticeable boom in high-rise apartments and office buildings in Guatemala City, says Sigfrido Lee in an article published in the Time Magazine. However, this real estate boom was likely financed by money laundering committed by drug cartels and crime syndicates. Lee, a former economic minister and now an analyst in a private think tank, notes that there are entire condominium complexes that never sold any units.
Modest economic growth, robust remittances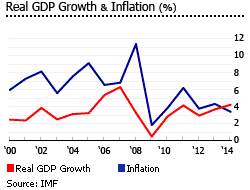 To say that Guatemala's economy is reliant on the US is an understatement. More than 50% of Guatemala's exports are sent to the United States. Remittances, at about 10% of GDP in 2014, plus other transfers and grants provided as much foreign currency earnings as the entire export industry.
Remittances are vital to the economy as it support millions of families. It provides money for food, shelter and basic health care. Remittances are also one of the major drivers of the housing market in Guatemala.
In 2014, remittances from workers abroad rose by 8.6% y-o-y to US$5.544 billion, mainly due to strong economic growth in the U.S., the main destination of Guatemalan migrants. In July 2015, remittances soared by 12.5% to US$573.7 million from the same period last year.
Higher remittances combined with increases in exports and earnings and investment pushed GDP growth to 5.4% in 2006 and 6.3% in 2007. However, economic growth slowed down to 3.3% in 2008 and to 0.5% in 2009 due to the global crisis.
In 2014, the economy posted a robust economic growth of 4.2%, up from the real GDP growth rates of 3.7 in 2013 and 3% in 2012 and the highest in seven years, thanks to infrastructure projects and spending increases ahead of the presidential elections.
The economy is projected to expand by 3.8% this year and by another 3.7% in 2016, according to the International Monetary Fund (IMF).