Puerto Rico's housing market is showing signs of recovery, after several years of house price falls.  During the year to end-Q2 2018, the seasonally-adjusted purchase-only house price index rose by 4.88% (3.88% inflation-adjusted), in sharp contrast to a y-o-y decline of 8.97% a year earlier, according to the Federal Housing Finance Agency (FHFA).

However during the latest quarter, house prices fell 5.73% (-6% inflation-adjusted) in Q2 2018 - so things are still volatile.

Nevertheless demand is rising again, thanks to new initiatives, including tax incentives and other housing stimulus measures.  Insurance and federal aid money is coming in, coupled with growing interest from Americans looking for a bargain. During the first three quarters of 2018 the number of houses sold rose by 9.9% y-o-y to 8,072 units, according to the Government Development Bank (GDB), with the value of home sales rising by 9% to about US$1.14 billion.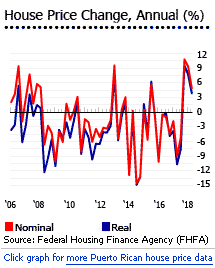 However, construction remains weak. In 2017, the value of residential construction fell 16.7% y-o-y to US$507.9 million, according to the Puerto Rico Planning Board - far below 2007's US$2.33 billion. That's because the economy is weak, there is massive debt, and continuing population loss.

Foreigners can freely buy property in Puerto Rico. It is important to hire a real estate agent as knowledge of Spanish is essential. A foreigner can alternatively buy through a corporation (US$300 for Corporate Resolution). Registering a property by a corporation can be completed in around 15 days.


Analysis of Puerto Rico Residential Property Market »
Rental incomes in San Juan, Puerto Rico are good
Average rental yields on apartments in San Juan, Puerto Rico, are again slightly down on last year, at 7.1% on 2 bedroom apartments, and 7.3% on 3 bedroom apartments.

This year, like last year, we were unable to gather sufficient data on apartments in coastal areas of Puerto Rico such as Condado, Miramar and Dorado, but two years ago they had much lower rental returns at 3.8%.

Round trip transaction costs, i.e., the costs of buying and selling a property, are very low in Puerto Rico. See Property transaction costs analysis for Puerto Rico and Puerto Rico transaction costs compared to other counties.
Taxes may be high
Rental Income: Nonresidents earning rental income effectively connected with business are taxed at progressive rates. Income-generating expenses are deductible when computing taxable income.

Capital Gains: Capital gains taxes are imposed at a flat rate of 29% for nonresidents.

Inheritance: Inheritance taxes are levied on the net asset's value, and imposed at progressive rates from 18% to 50%.

Residents: Residents are taxed on their worldwide income at progressive rates.
Buying costs are low to moderate in Puerto Rico
Roundtrip transaction costs range from 6% to 10.50% of property value. The real estate agent's fee, at around 4% - 6%, accounts for the greater part of the costs. Maximum notary fee allowable is 1% of the property value for the first US$500,000 plus 0.5% of the amount in excess of $500,000.
The law is pro-tenant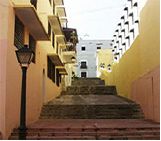 Rent: Rents and rent increases can be freely negotiated. The tenant must pay the rent on time and the landlord must maintain the property for the tenant's use.

Tenant Security: Expiration of rental agreement, non-payment of rent, breach of contract, and misuse of the premises are grounds for eviction in Puerto Rico. The renewal of the contract is one year for yearly rental agreements and one month for monthly rental agreements.
Puerto Rico continues to struggle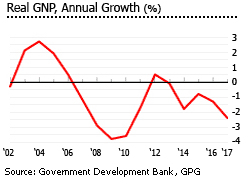 Historically, Puerto Rico's economy has closely mirrored trends in the United States. However the latest economic downturn has been more intense and has lingered longer in Puerto Rico.
Puerto Rico's recession began in the fourth quarter of 2006. GDP has grown very little or declined over the past decade, contracting every year from 2007 to 2017, with an exception in 2012 when the economy grew slightly by 0.5%.
There's been high unemployment, massive emigration, and a near-catastrophic national debt crisis and credit rating downgrades. In 2017, Puerto Rico's real GNP growth was -2.4%, after falling 1.3% in 2016, 0.8% in 2015, 1.8% in 2014 and 0.1% in 2013, according to GDB.
Puerto Rico has lost about 20% of its jobs since 2007. The population has shrunk by about 10% in the past decade. The poverty rate is now at 45%. And public health and retirement systems are insolvent.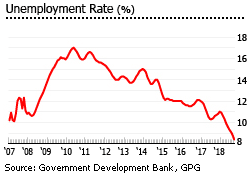 Puerto Rico filed for the equivalent of bankruptcy protection in May 2017, unable to pay its massive debt or provide its citizens effective services. With US$70 billion in debt and US$50 billion in pension liabilities, Puerto Rico's bankruptcy filing is the biggest in the history of the United States, dwarfing Detroit's US$18 billion bankruptcy filing in 2013.
The housing market has suffered tremendously. After huge annual house price increases in the early 2000s, the housing market came crashing down in 2008. House prices fell 31% (38.6% inflation-adjusted) from Q1 2008 to Q2 2017.
While unemployment has fallen, gradually reaching 8.4% in September 2018 - down from 16.4% in 2010, and 15.9% in 2011 - it remains far above the United States' 3.7% jobless rate. Many of the new jobs are in rebuilding, which has created many construction jobs. These additional jobs, however, are temporary.
The loss of net worth among Puerto Ricans from real estate price falls has been close to USD30 billion, according to economic consulting firm Estudios Tecnicos 's director, Jose Villamil.
Puerto Rico's banking sector is also in crisis, with nonperforming loans at elevated levels. Most of the problem is in the housing market, which accounts for about 2/3 of total loans, according to Scotia Bank. At the start of 2006, before the crisis, the prime interest rate was at 7.26%. It fell to 3.25% in 2009 and interest rates remain very low, but despite this around 80,000 families have been unable to refinance their loans and risk losing their homes.
To remedy the situation many new initiatives have been introduced, including tax incentives and other housing stimulus measures. But demand, though now rising, remains far below pre-crisis levels, and residential construction remains very weak.