Saint Lucia is still a buyer's market, despite its beauty and increasing buzz
St Lucia's property market is still recovering at a gradual pace from the global economic crisis more than ten years earlier. Contributing to St. Lucia's slow recovery are extreme weather conditions in the Caribbean including a spate of hurricanes in 2017, the uncertainty caused by the ongoing Brexit negotiations, and the wider global economic slowdown.
Property prices fell 20% to 30% from 2009 to 2014, due to the global crisis. The housing market started to pick up only at the end of 2014.
"The market has been very depressed since the 2008/2009 recession," said Doubloon Real Estate's Managing Director David Farrin. "It's been a struggle, and each year we think that there's a light at the end of the tunnel, which then tends to go out."
Overall, the property market remains a buyer's market. "It's a good time to buy, because it is obviously a buyer's market," added Farrin.
Prices of residential properties in the range of EC$1.1 million (US$407,000) to EC$1.6 million (US$592,000) fell by as much as 25% last year, according to Farrin.
The continued decline in prices has however recently prompted increased buying interest. Farrin noted that his agency received more inquiries in January and February of 2019 than in the first two months in any of the last nine years.
St. Lucia's bustling north is packed with new luxury homes and condominiums, while the quieter south is relatively undeveloped – though that is set to change with the development of a 700-acre mixed-use project in Vieux Fort, according to Walter Zephirin of 7th Heaven Properties. A single-family home can be bought at US$160,000, while villas in high-end resorts are priced at around US$9 million.
In The Landings, in Rodney Bay on St Lucia's northwest, two-bedroom condominiums are priced at US$550,000. St Lucia´s first residential private yacht harbour, The Landings opened in December 2007. About 70% of buyers are British.
In Cap Estate Development, an upscale residential area on St. Lucia´s northern coast, a four-bedroom villa in the gated Allamanda community is on the market for US$2.75 million, according to The New York Times.
In the Tradewinds Golf Villas development, Gros Islet, high-end villa prices start at US$1.1 million.
In Mount du Cap estate, Gros Islet, a three-bedroom luxury home was sold last year for US$2.7 million.
Windjammer Landing, Gros Islet, a two-bedroom villa is currently on the market at US$425,000.
The Ocean Breeze development on Mount Layau has 78 villas and 70 townhouses. Three bedroom villas are priced at US$765,000, four-bedroom villas at US$930,000.
"Tourism is the engine that drives real estate" in St. Lucia, says St. Lucia Sotheby's International Realty CEO Christos Poravas.
However "it is still very much an up-and-coming destination, a much smaller market in its early stages of development" compared to other Caribbean countries like Barbados, St. Martin and Antigua.
Most foreign homebuyers in St. Lucia come from the United States, Canada, and the United Kingdom.
In 2018, the total number of visitor arrivals in St. Lucia rose by 10.2% y-o-y to a record high at 1,228,718 people, following growth of 11% in 2017, according to St. Lucia Board of Tourism.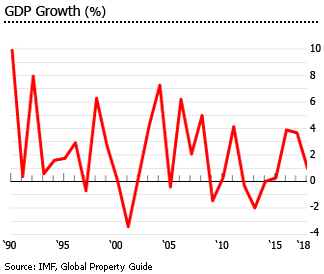 In addition, in January 1, 2016, St. Lucia started to accept applicants to its Citizenship by Investment program, joining Dominica, Grenada, Antigua & Barbuda, and St. Kitts & Nevis. The program was expanded in January 2017 when the 500-applicants cap per year was removed; and in May 2019, a dependent was allowed to make an application for citizenship within five years after the grant of citizenship by investment to a main applicant.
"The Helen of the West Indies"
St Lucia is often called "The Helen of the West Indies" for its captivating beauty. With a total land area of about 620 square miles, St Lucia is one of the most beautiful islands in the world.
Residential property prices have risen only minimally over the past several years. Despite this, there have been numerous residential developments over the past decade, a notable feature being attractive tax incentives. St. Lucia has a somewhat odd economy, highly dependent on tourism, and with more than 20% unemployment. Yet there is an increasing 'buzz' about St. Lucia.
The island has excellent beaches, scenic waterfalls, mountains, rainforests, orchids and exotic plants. The twin mountain peaks of Les Piton drop dramatically to the water's edge on the west coast. In the south, visitors get close to bubbling pools of lava and steaming sulfurous spouts at Sulphur Springs Volcano, or splash in the sulfur-infused waters of the Diamond Waterfall and Mineral Baths.
Despite sluggish house price rises, St. Lucia is increasingly seen as one of the world's most interesting property markets, in many ways comparable to neighbouring Barbados, but with prices about 40% to 60% lower.
A note of caution. Yields on condos are some of the lowest in the world, at 2.3% gross. So if you are looking for income from your property, you need to be selective. Houses in St. Lucia, on the other hand, can earn reasonable rental returns, at 3.57% gross, according to Global Property Guide research.
Reasons for the rising buzz about St Lucia:
The island is one of the most accessible in the region, with direct flights from the US, Canada, Germany, and the UK. British Airways recently increased direct flights from Gatwick to St. Lucia.
St. Lucia has recently introduced its Citizenship by Investment program
One of the region's lowest crime rates.
A tax haven with no VAT, no capital gains tax, no inheritance tax and no estate tax.
Top destination for weddings and honeymoons
St. Lucia boasts a world-class casino, plus a multi-million pound shopping mall with a multi-screen cinema, and new restaurants and bars.
St. Lucia celebrates unique events every year such as the Caribbean20 Cricket Tournament (January), Nobel Laureate Week (January), St. Lucia Jazz & Arts Festival (May), St. Lucia Carnival (July), Creole Day (October), Oktoberfest En Kwéyòl (October), and the Atlantic Rally for Cruisers (December).
St. Lucia has a new niche—health and wellness. With the support of the government and other private institutions, St Lucia's Health and Wellness Retreat, an annual event where guests can enjoy an array of health and wellness activities, workshops, and other treatments, was launched in November 2011.
St. Lucia's currency is pegged to the US dollar at EC$2.7 to US$1.
French patois culture
French influence is deeply felt in St. Lucia today, in the names of its cities, towns and bays, in the architecture and in the French-inflected patois spoken by the islanders. However, English is spoken at all major hotels, major tourist attractions and restaurants. The UK and France spent almost two centuries fighting to control the island.
French music, arts, and dance have had a strong influence on St. Lucia's culture.
St Lucia's world-class annual events add to its appeal to tourists and holiday makers. Popular events include the Atlantic Rally for Cruisers (ARC), the Rose Festival and the Jazz Festival.
St. Lucia expands its Citizenship by Investment programme
In January 2016, St. Lucia's government introduced the Citizenship by Investment (CBI) program. Foreign investors are offered four distinct investment paths:
Minimum investment of US$300,000 in any approved real estate project;
Minimum investment of US$100,000 in the country's National Economic Fund;
Minimum investment of US$3.5 million in any approved enterprise project that creates at least three permanent jobs, and;
Minimum investment of US$500,000 in a non-interest bearing government bond held for 5 years.
A year later, significant changes were implemented:
Lowering the minimum qualifying investment in the National Economic Fund to US$100,000 from US$200,000 in 2016;
Eliminating the requirement of providing a sworn affidavit to declare at least US$3,000,000 worth of financial resources;
Having the option for successful applicants to sign the oath of allegiance before an attorney-at-law, a Consular Officer of Saint Lucia, an Honorary Consul of Saint Lucia, a Notary Royal or a Notary Public;
Including a non-refundable fee of US$50,000 to bond investors buying non-interest bearing government bonds; and
Abolishing the cap of 500 applications per year.
Successful applicants do not need to renounce their citizenship in another country since St. Lucia permits dual citizenship.
In just three years, the program has yielded positive results. In September 2018, collections from the CBI increased more than sevenfold to US$60.2 million from US$7 million in the same period a year earlier.  St. Lucia offers the fourth best citizenship by investment programme in the world according to the Professional Wealth Management's 2019 CBI Index – up by one notch from the previous year, overtaking Antigua and Barbuda.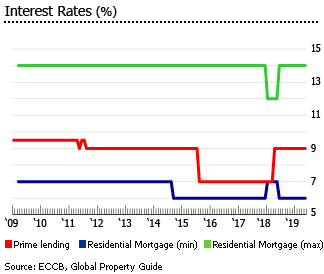 St. Lucia has now expanded the program to "allow a qualifying dependent to make an application for citizenship within five years after the grant of citizenship by investment to a main applicant." This will help spouses of a citizen who marry after the citizen's application was made, and children of a citizen who are born after the citizen's application was made, to more easily attain citizenship in St. Lucia. The changes apply to citizenship applications from January 1, 2016.
It is expected that the program will boost property demand in the coming years.
Underdeveloped mortgage market
Property in St. Lucia is usually bought for cash in US dollars. Because of this, the mortgage market remains smallish, even though St. Lucia's banks offer mortgages to non-residents, but has risen from 14% of GDP in 1997 to 26.2% of GDP in 2018.
This can be partly attributed to high interest rates. In May 2019, St. Lucia's prime lending rate stood at 9%, up from 7% between August 2015 and March 2018. Interest rates for residential mortgages range from almost 6% to 14%. Maximum loan to value (LTV) ratios range from 60% and 70%, with terms up to 25 years. Non-residents can borrow up to US$1.5 million.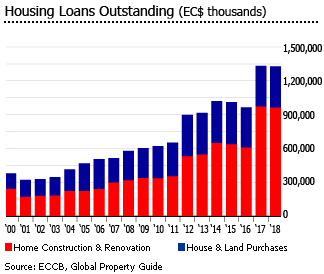 During the first quarter of 2019, loans for property acquisition in St. Lucia slightly rose by just 1.26% y-o-y to EC$1.34 billion (US$ 497.14) million, according to the Eastern Caribbean Central Bank (ECCB). Of the total, 28% was for house and land purchases, while around 72% was for home building and renovation.
Most landlords prefer to rent to short-term vacationers
The supply of long-term private rental properties in St Lucia is limited, as most landlords prefer to rent to short-term vacationers. Rental properties are concentrated on the northwestern coast, especially in Castries.
In the Cap Estate Development, the monthly rent for a one-bedroom Bougainvillea Condo in Gate Park is currently EC$2,700 (US$1,000). At Poinsettia Villa Apartments, situated near Vigie Beach and overlooking the Vigie Cove, a one-bedroom residence is rented for EC$2,250 (US$US$833) per month while a two-bedroom residence with a terrace has a montly rent of EC$3,450 (US$1,277).
There is no tax on rental income for the first 10 years of property ownership.
There were about 58,919 housing units in St. Lucia, up by about 25% a decade ago, according to the 2010 Census conducted by the Central Statistics Office. Of which, more than 80% were detached houses while 8.8% were flats and apartments.
Economic slowdown; high unemployment
St. Lucia's economy grew by just 1% in 2018 from a year earlier, sharply down from expansions of 3.7% in 2017 and 3.9% in 2016, according to the International Monetary Fund (IMF). However the economy is expected to strengthen this year with projected GDP growth of 3.3%, buoyed by construction.
Inflation accelerated to 1.9% in 2018, up from 0.1% in 2017, -3.1% in 2016 and -1% in 2015.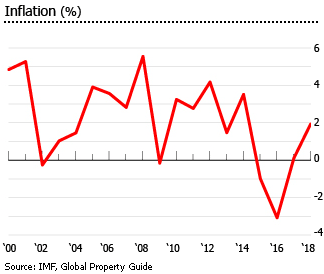 Unemployment remains high at 20.2% in 2018, unchanged from a year earlier, according to the Central Statistics Office (CSO). Youth unemployment is even higher, at 36.3%.
Construction & tourism - St. Lucia's economic pillars
Economic growth in St. Lucia is driven by tourism and construction. Following the robust growth of the tourism sector from 2013 to 2015, tourism dropped in 2016 due to weaker cruise ship arrivals. But tourism recovered quickly, with a significant rise in cruise passenger arrivals combined with strong growth in stay-over arrivals in the past two years.
In 2018, the total number of visitor arrivals in St. Lucia rose by 10.2% y-o-y to a record high at 1,228,718 people, following a growth of 11% in 2017, according to St. Lucia Board of Tourism.
Out of the total visitors in 2018, around 61.9% were cruise passengers, 32.1% were stay-over visitors, 5.2% were yacht passengers, and 0.8% were excursionists. The stay-over visitors mostly came from the United States (44%), other Caribbean countries (20%), the United Kingdom (19%), and Canada (10%).
St. Lucia's construction sector slowed sharply last year, mainly due to delays in private and public sector construction projects. The construction sector recorded a steep decline of 17% in 2018, after rising by 10.8% in 2017, 5.1% in 2016 and 14% in 2015, according to the CSO.
Though, the construction sector is expected to recover this year, with the development of several new hotels in the island. Recently, two new high-profile all-inclusive hotels – AMResorts brands Dreams and Zoetry – part of a larger hotel project Canelles Resort, are slated to break ground later this year. Together, the two hotels will consist of 330 rooms and 380 residential units.
The properties will add to a burgeoning hotel pipeline in St. Lucia, from Range Developments' Black Bay to a new Courtyard Marriott in Castries to a Hyatt-branded 400-room hotel coming to the northwest part of the island.
Sources:
St. Lucia - More data and information