Montserrat seeks a comeback after volcanic crisis
Since the Soufrière Hills volcano began erupting in 1995 and eventually buried Montserrat's capital, Plymouth, the real estate market in Monserrat has been in the doldrums.
However the once-thriving British territory is now hoping to regain its position as a world-class tourism destination through a comprehensive development project. The public-private Montserrat Development Corporation has unveiled a master plan to build a new capital in Little Bay, on the northern end of the island.
The tourism industry is one of the plan's main focuses, with a plan to build a hotel along with luxury residences, condominiums and other accommodation. In December 2013, the construction of the new ferry terminal at Little Bay was completed. In the coming years, several bars and restaurants are expected to open in Marine Village, a four-unit development project located in Little Bay.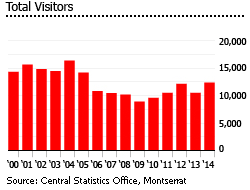 The development project is expected to be completed in 2020 at a total cost of about US$300 million, according to Ivan Browne, CEO of Montserrat Development Corp.
"We're getting Montserrat back on the map," said Ayiesha de Coteau-Sammy of Montserrat Development Corp. "People have forgotten that the island exists, so we're trying to get the word out that Montserrat is open for business. We're ready to get people and get back to sustainability. What we're hoping to do is get back to 50% self-sustainability by 2016," de Coteau-Sammy added.
Foreigners can freely buy property without restrictions. Montserrat uses the East Caribbean Dollar at a fixed exchange rate of US$1=ECD2.7. However, real estate is generally bought and sold in US dollars.
Tourist arrivals increasing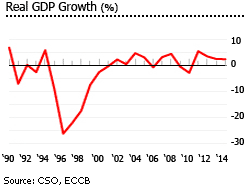 In 2014, total visitors to Montserrat rose 17.9% to 12,334 persons, according to the Central Statistics Office (CSO). Most tourists come from the United Kingdom, United States, Canada, and other Caribbean states. Visitor expenditure rose by 21.1% y-o-y to US$8.22 million.
During the first half of 2015, total visitor arrivals rose again by 11.2% to 7,320 persons from the same period last year, based on figures from the CSO.
Despite the threat of volcanic eruptions, the island's rugged beauty, friendly people, old fashioned values and peace and quiet make some tourists return year after year. In the words of so many property owners in the island, "where else can you leave your door unlocked without fear?"
Volcano economy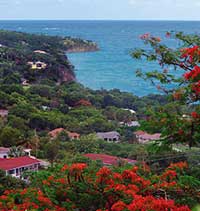 Montserrat, a British colony in the Caribbean, is a small island rising in a series of mountain slopes to Soufriere Hills volcano, its highest point.
In 1997, the newly active volcano turned angry and began spewing out huge quantities of molten lava and hot ash, filling the sky with sparks and detonations. Eventually the lava covered two thirds of the island. Entire villages were buried by the flow, including the Georgian-era capital, Portsmouth.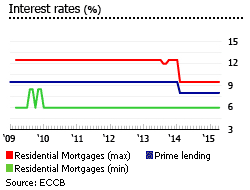 Only around 5,000 people are left on the island, half of them foreign workers, supported by the UK government.
The government has battled the odds, promoting volcano-related tourism. The capital Plymouth was relocated in 1996, and with British help a new airport was built in 2005.
Mortgage market slowing
From about 12.3% of GDP in 2004, the size of the mortgage market expanded to 32.1% of GDP in 2013. However last year, total housing loans outstanding fell for the first time by 1.8% in 2014 from a year earlier.
In April 2015, the prime lending rate in Montserrat stood at 8%, unchanged from a year earlier, according to the ECCB. Likewise, interest rates for residential mortgages stayed steady, with a range of between 5.99% and 9.5%.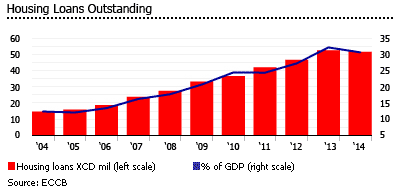 Loans for house and land purchases dropped 11.2% y-o-y in March 2015 while loans for home construction and renovations rose by 6.7% over the same period. About 67% of the loans were drawn for home construction and renovation while the remaining 33% were used for house and land purchases.
Montserrat - More data and information