In the BVI, cradle of the rich, rising demand for high-end properties
More visitors, more foreign buyers. Tourist visitor arrivals are strongly up, and the British Virgin Islands (BVI) has seen an uptick in residential home buying, especially at the high end. In the first half of 2016, the median sales price of villas in the BVI was around US$ 1.9 million, more than double the median price of US$ 665,000 during the same period last year, based on figures released by the Land Registry.
Sales of residential properties over US$ 500,000 were up by 133% in the first half 2016, to US$ 16 million. Villas costing between US$ 1 million and US$ 3 million accounted for 52% of all properties listed for sale in 2016. Sales to non-belongers - i.e., foreign homebuyers - rose by 25%.
In other words - there's something of a buzz in the market.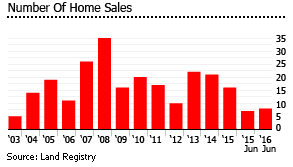 The BVI's luxury market is dominated by non-belongers, and European buyers account for 60% of luxury sales, according to Knight Frank's Caribbean Desk Head Christian De Meillac.
From 2003 to 2008 around 80% of all home sales went to non-belongers, as opposed to 20% to belongers. Then came the 2008-9 financial crash, and fewer non-belongers bought. More recently, from 2013 to 2015, the non-belongers' share settled at 58% of total sales. Now it looks likely to rise.
Properties in the main islands of Tortola and Virgin Gorda are popular with foreign buyers, particularly on the western tip of Tortola near Smugglers Cove and Long Bay Beach. Homes with private moorings attract yachting enthusiasts. Demand for waterfront properties is also high.
In Tortola, the largest and most populated of the British Virgin Islands, the average sales price of high-end residential properties worth more than US$ 1 million, was US$ 2.37 million from 2010 to 2016.
In Virgin Gorda, the second most populous and third largest of the British Virgin Islands, the average sales price of high-end residential properties was US$ 3.71 million from 2010 to 2016.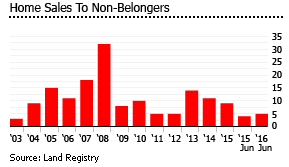 Potential investors are not only looking for houses, but for land to develop-and the BVI is still largely undeveloped. In BVI, land can be bought starting at around US$100,000, versus around US$500,000 for developed properties.
The BVI's official currency is the US dollar, so foreign investors do not have to be concerned about exchange rate fluctuations. Moreover, as an overseas territory of the United Kingdom, BVI enjoys a stable political culture, strong financial sector, and a high standard of living. Crime is also relatively low. Despite these benefits, some foreign investors are discouraged from investing in the BVI because of restrictions on foreign homeownership through landholding licenses and other government policies.
BVI's main islands: Tortola and Virgin Gorda
Tortola is the BVI's largest and the most populated island, known for pristine white sand beaches, aquamarine waters and yacht charters.
The Tortola Pier Park, the BVI's newest development opened in February 2016, has an enhanced cruise pier dock and land development which can now berth two large ships side by side, and handle an estimated minimum of 425,000 passenger arrivals per year. The four-acre development cost US$ 75 million, US$ 25 million of which was used for the pier and excursion dock; US$ 25 million for land-side development; and US$ 25 million for community investment. It also houses more than 54 retail stores.
In December 2016, a new outer marina officially opened in Nanny Cay, with 42 operational slips and 78 additional slips expected to open by August 2017. Eight new condo blocks with 3-bed and 4-bed condo units each will be developed in the Outer Marina peninsula. The expansion in Nanny Cay will also include facilities such as: resort areas and event facilities, youth sailing centre, commercial retail and service space, recreational areas and walkways, wellness centre, restaurant, gym, and social areas.
Virgin Gorda, in contrast to the crowded and overdeveloped Tortola, is secluded and peaceful, making it the choice of the wealthy.
Virgin Gorda's high-end resorts include the exclusive Oil Nut Bay, as well as the newly-opened yacht club and marina Yacht Club Costa Smeralda. The Oil Nut Bay offers beachfront and hillside homes, and 27 estate lots ranging from 1.5 to 10 acres. Oil Nut Bay also has 13 completed villas and suites. Ten villas are under construction, four of which were completed in end of 2016. Construction of three more villas were expected to begin in Q1 2017.
Three-bedroom houses in Virgin Gorda start from around US$600,000 and go up to US$4 million. A five-bedroom show villa costs around US$ 8.5 million. or buyers can buy a plot by the marina for around US$ 1.9 million. Beach villa plots can be bought starting at around US$ 4.9 million, 10-acre top of hill plots for around US$ 15 million.
The BVI's booming tourism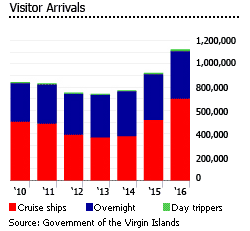 One of the Caribbean's most prosperous economies, the BVI's growth has slowed sharply in recent years. After a slump in 2002 (-3.3%) and 2003 (-12.6%), the BVI had average GDP growth of 5% from 2004 to 2007, and then 1.5% from 2008 to 2010, according to the UN Statistics Division.
After the economic crisis, the economy contracted by an annual average of -1.6% from 2011 to 2015.
Recently tourism sector recovered, encouraged by the opening of the Tortola Pier Park facilities, as well as by the government's berthing agreements with Disney and Norwegian Cruise Lines. The tourism recovery came after several dismal years in which total visitors to the BVI fell by 8.6% 2009, followed by -0.9% in 2010, -1.3% in 2011, -9.4% in 2012, and -1.5% in 2013, according to the Caribbean Tourism Organization.
In 2014 the total number of visitor arrivals increased 4.1% from a year earlier.
Tourism was even stronger in 2015, with visitors up 19.4%. In 2015 tourism increased by 5.5% y-o-y. In 2016, visitor arrivals rose by 21.9% y-o-y to 1.12 million people.
Now the British Virgin Islands is on a "positive growth trajectory", with GDP growth around 3.2% in 2016, said Premier and Finance Minister Dr. Orlando Smith in his 2017 Budget Address.
"This growth over the past two years or so has been largely due to growth in construction and transport driven mainly by public sector investment including the Tortola Pier Park project."
The Premier also talked of plans of an airport expansion, which would further advance the Territory's main industries of tourism and financial services in the future.
Financial services under stress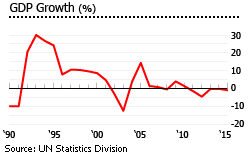 The BVI's financial services sector faces some challenges, with new restrictive banking practices and global regulatory changes. The BVI is the world's 4th largest captive insurance domicile, and ranks 51st in the Global Financial Centers Index published in March 2017, down by fifteen notches from its previous ranking in September 2016. While new company incorporations increased from 100,000 in 1993 to more than 478,000 in 2015, according to the AMB Country Risk Report of 2016, new company incorporations fell in 2015.
BVI has low inflation. The average annual inflation rate was 1.05% in 2016, down from 1.8% to 2.5% from 2010 to 2015, according to the BVI's Central Statistics Office.
Yields are very low
The BVI's residential rental market has been static in the past several years. The majority of rental houses and villas are located in Tortola. According to Global Property Guide research, gross rental returns for houses are poor, a mere 2.85% on average.
In Tortola, rents for three-bedroom villas currently range from US$3,000 to US$5,000 per month, based on property listings of Coldwell Banker BVI. For four- to five-bedroom luxury villas, rents typically range from around US$4,000 to US$7,000 per month.
The average rent for a one-bedroom apartment in BVI is around US$ 1,100 per month. A two-bedroom apartment has an average rent of around US$ 1,700.
Purchasing property
Overseas property buyers are required to obtain a Non-Belonger Land Holding License (NBLHL) to buy property in the BVI, administered by the Ministry of Natural Resources and Labour. License approval usually takes around 3-9 months, and about a year to complete the process from application to closing. The license also extends to undeveloped properties.
Since belongers or British Virgin Islanders have the first choice of any property for sale in BVI, the Ministry requires that the property the foreigner wishes to purchase must first be advertised locally for four consecutive weeks in a local newspaper.
Property transactions of non-belongers are subject to a 12% stamp duty. Belongers, on the other hand, have a lower stamp duty of 4%.
If a foreigner wants to buy undeveloped land, he is required to build a single-family home worth not less than US$250,000, within two to three years. If he fails to do so, the government can impose a fine up to 40% of the sales price.
Undeveloped land cannot be resold until the development commitment has been fulfilled, or a penalty is paid to the government.
British Virgin Is. - More data and information