Lower prices attract homebuyers in Bermuda
Bermuda´s housing market activity has been improving in 2019, at the expense of some downward price adjustments.
Around 22% of Coldwell Banker Bermuda Realty´s sales inventory from January to April 2019 (or about 111 properties out of 500) had price cuts, according to its 2019 Mid-Summer Market Update. The average sales price of all residential units sold also declined from approximately BM$ 1.6 million in 2017 to BM$ 1.4 million in 2018 (BM$1=US$1). However, the price adjustments have caught the eye of potential buyers, as inquiries in online property hub Property Skipper increased by 14% y-o-y in April 2019.
"Although we are continuing to see list price erosion, buyer demand this summer appears to have been relatively robust," said the Coldwell Banker report.
Properties in the BM$ 1 million plus and the BM$750,000 to BM$999,000 price segments seem to have become more attractive to buyers. The number of cash buyers has grown exponentially, and as of August 2019, around 62.5% of the firm´s homebuyers bought properties in cash.
Average residential prices in Bermuda rose 40% between 2003 and 2007, from US$976,000 to around US$1.6 million. The rise halted after the global financial meltdown in 2007, and the residential property market has been sluggish since then.
In 2016 international sales were adversely affected by the U.S. presidential election and by Brexit, while domestic consumer confidence was hit by socio-political unrest in Bermuda. Reinvigorated by the Americas Cup and a stronger economy, the island´s high-end residential market picked up in 2017, according to Penny MacIntyre of Rego Sotheby´s International Realty.
In 2018, Bermuda´s overall real estate market struggled. The real estate market´s dollar volume dropped by 15% y-o-y, while unit volumes fell 9% y-o-y in 2018, according to Buddy Rego´s market review, published in Bermuda Real Estate Handbook 2020,
Rego remarked that in both the Bermudian-only and the internationally available condominium categories, buyers are "looking for higher-quality condominiums as owner-occupiers or as wise long-term-investment considerations".
The average price of internationally available condominiums at or above $25,800 annual rental value (ARV), rose by 18% to BM$ 980,000 in 2018, a price surge mainly driven by Bermudian buyers, who bought majority of the 2018 inventory.
Meanwhile, the number of single-family homes sold with an ARV of $126,000 or more, remained the same as in 2017, at an average price of BM $5.2 million.
According to Rego, the demographic of Bermudian buyers has been broadening with "more younger individuals, couples, and young families becoming first-time homebuyers". Most international buyers came from the UK, US, Sweden, and Germany.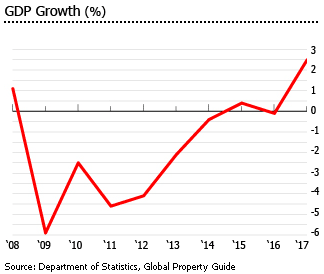 The government plans to pilot a mortgage-guarantee programme, in return banks reducing mortgage interest rates. It also intends to create a government-backed mortgage lender, to lend to public sector employees.
"These two measures, combined with the elimination of taxes on mortgage refinancing, are projected to save $5,300 a year for the average family carrying a $500,000 mortgage," said Minister of Finance Curtis L. Dickinson.
Foreign and expat buyers get a break
In April 2016, the government eased threshold requirements for sales of properties by Bermudians to non-Bermudians and Permanent Residence Certificate holders (PRCs).
For property sales to non-Bermudians and international homebuyers:
The minimum house annual rental value (ARV) was lowered to $126,000 from $153,000.
The ARV threshold for condominiums was reduced to $25,800 from $32,400.
For property sales to PRCs:
PRCs can purchase any property (no minimum ARV), except for vacant land or property developed for a government assisted scheme.
Foreign spouses of Bermudian nationals are also no longer required to get a license to acquire their first home, but need a license for additional properties.
When acquiring a residential property, a foreign buyer must obtain a license from the Ministry of Labour, Home Affairs and Public Security. The alien license fee for non-Bermudians is 8% of the purchase price of a house (effective until March 31, 2021), or 6% for a condominium. The alien license fee for PRC homebuyers is 4% of the purchase price of a house or a condominium. For fractional units, the fee is 10% on first-time sale and 18% on the second.
Non-Bermudians may not acquire undeveloped property, unless they are spouses or children of Bermuda nationals.
Generally, a non-Bermudian cannot own more than one residential property. A non-Bermudian will be permitted to purchase a second property only on condition that the original property is sold within a year.
Most international buyers pay in cash, according to local real estate agents.
Mortgage market interest rates higher than in the U.S and Europe
Variable mortgage rates in Bermuda range from 5 years up to 30 years.
Based on figures from HSBC Bank Bermuda, total variable mortgage rates were:
6.24% for premier mortgage loans
6.50% for advance mortgage loans
6.75% for personal mortgage loans
The Loan to Value Ratio (LVR) is typically 80% (up to 100% at HSBC Bermuda) of the appraised value of the property.
Bermuda does not have a Central Bank. Adjustable-rate mortgages (ARM) are tied to the Bermuda base rate, which usually follows US Fed key rates, as the Bermuda dollar (BMD) is pegged to the US dollar at BMD1 = USD1.
Bermuda opened 2019 with robust growth; Sinking fund suspended, budget surplus expected in FY 2019-20   
Bermuda has one of the world´s highest GDP per capita incomes, at about BM$ 98,125 (US$ 98,125) in 2017, according to the Department of Statistics. Financial services and tourism are the biggest contributors to GDP. Real estate and renting activities account for 17% of the country´s GDP in 2017.
There were still no official GDP figures for 2018, but the Ministry of Finance´s report noted that some major economic indicators rose in 2018, such as employment, international business registrations, construction activity, and  air and cruise visitors.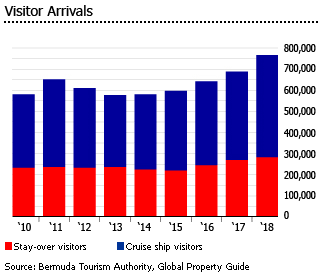 This economic expansion is expected to continue in 2019, as Bermuda´s real GDP expanded by 3.7% y-o-y in the first quarter of 2019, according to the Department of Statistics. The recent growth in Q1 2019 was mainly driven by a BM$ 30.9 million increase in gross capital formation.
Since the global financial crisis in 2009, Bermuda´s economy has been in the doldrums. After declining by 5.9% in 2009, GDP contracted in the succeeding years by around 2.5% in 2010, 4.4% in 2011, 4.1% in 2012, 2.1% in 2013, and 0.4% in 2014. The economy was thought to have bottomed in 2015 with 0.4% growth. However, Bermuda´s GDP contracted again in 2016 by around 0.1%.
In 2017, the economy expanded by 2.5%, after 0.75%-1.25% growth in 2017, due hotels and restaurants, real estate and renting, and personal services sectors.  In 2018, total visitor arrivals in Bermuda rose by 11.4% to 766,226 people, according to the Bermuda Tourism Authority.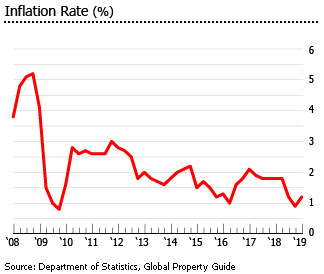 Bermuda had been struggling with its escalating debt problem. The country´s gross debt outstanding reached BM$ 2.68 billion (US$ 2.68 billion) by end of March 2019, according to the Ministry of Finance.
Due to technical factors (non-payment of the Sinking Fund contribution) the government estimates a budget surplus of BM$ 7.38 million (US$ 7.38 million) for the 2019-20 fiscal year. If revenues are raised KPMG believes that Bermuda´s debt will begin to decline over the coming years. "However, further structural changes to the public sector are required in order produce meaningful expenditure savings," says KPMG.
Bermuda´s annual inflation rate is still low at 0.7% in June 2019, an increase from 0.3% in the previous month, but down from 1.6% in June 2018.
Dwelling completions are up
Dwelling completions increased by 26% y-o-y during the first three quarters of 2018. This followed a 9% increase in residential completions in 2017, breaking the "downward trend that occurred in this segment of the construction industry over the past several years", according to the Department of Statistics.
The rise in residential construction in the recent years was primarily buoyed by the America´s Cup.
In terms of value, however, new construction projects over the first nine months of 2018 sharply dropped to US$ 92.4 million, from US$ 593.3 million during the same period last year, according to the Department of Statistics. The huge drop in the value of new projects started was due to the large amount allocated for the airport redevelopment and the St. Regis projects ― with a total worth of more than US$ 500 million, both of which commenced construction in Q2 2017. In 2017, the value of construction projects was around US$ 596.1 million, up from US$ 96.3 million in 2016 and US$ 161.8 million in 2015.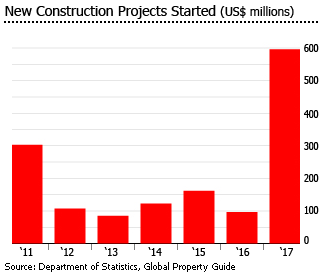 Some of the island´s ongoing condominium developments include the Ritz-Carlton Reserve's Caroline Bay in Sandys and the St. Regis Bermuda in St. George. Meanwhile, there are renovations underway at the hotel resort Rosewood Bermuda, according to Rego Sotheby´s International Realty partner Penny MacIntyre.
The total housing stock in Bermuda was estimated at about 34,000 units in 2017, according to the Department of Statistics.
SOURCES: