Belize's luxury property market is booming
Belize's property market continues to grow strongly, thanks to a surge in tourist arrivals. House prices are now above pre-crisis levels. In fact, property prices in Belize, especially in favourite locations such as Ambergris Caye and Placencia, have risen by double-digit figures annually during the past four years, according to local real estate experts.
"Scarcity in beachfront land and skyrocketing tourism rates are driving prices up," said Andrew Ashcroft, developer of Alaia Belize on Ambergris Caye. "Since the crisis property prices have increased by 100% overall."
Even in the country's rugged jungle areas, house prices are rising strongly, thanks to growing interest from foreign buyers. In the rural Cayo District, property prices have risen by about 5% to 7% annually over the past five years. For instance, a 15-acre coconut farm, which was recently sold for US$225,000, had changed hands for just US$165,000 five years ago, said Macarena Rose of Keller Williams Belize.
Actually, it is difficult to be sure how much house prices have changed, as there are no official house price figures. However, realtors estimate that house prices declined by as much as 25% to 30% during the global economic crisis. Property rebounded strongly in 2012, and has continued to rise since then.
Outside buyer interest in Belize rose rapidly from 2000 to 2007, partly due to the passage of the Retired Person Incentive Act (RPIA) in September 1999, and to the tourism boom. Tourists flocked to Belize's natural wonders - beautiful beaches and tropical forests, plus ancient Mayan temples. From 2003 to 2007, property prices in coastal and tourist areas rose by as much as 30% annually, while prices of inland properties rose by around 15% annually, according to local real estate agents.
Yet the average price for luxury homes in Belize is still less than US$1 million, well below the US$2 million average price of luxury home in some other Caribbean destinations, according to SANCAS Realty. In March 2020, the average asking price for a residential property in Belize was US$703,000 – about 190% below the average Caribbean property price, according to 7th Heaven Properties.
Residential rents also remain surprisingly low. The average rent for a one-bedroom apartment in the city center is US$350 per month while three-bedroom apartments are offered for around US$600 per month. Rents for apartments outside the city are about 25% to 35% lower.
Ambergris Caye and Southern Belize - Placencia - continue to be the two most popular areas for foreign homebuyers. Ambergris Caye has the most expensive housing in Belize, because tourists and expats are attracted to the beauty of the Barrier Reef. One- to two-bedroom oceanfront condominium units are priced at about US$300,000 to US$700,000, while three- to four-bedroom oceanfront houses are priced around US$1 million.
More affordable houses are found in the south, especially in the Placencia Peninsula and nearby areas such as Sitee River, where residential properties are usually priced 40% lower than those on Ambergris Caye. One- to two-bedroom oceanfront condominium units are priced between US$200,000 and US$500,000. In fact in new luxury small-scale resorts such as Falah del Mar, located in Placencia Peninsula, prices of studios start at just US$190,000, according to Ray Withers of Property Frontiers.
Some expats choose to settle in areas close to the border with Mexico or Guatemala. Corozal Town in the north (bordering Mexico), and the Cayo District in the west (bordering Guatemala) are some popular places for expat retirees. In San Ignacio, Cayo District, three-bedroom homes are priced around US$150,000 to US$400,000.
Aside from being the only English-speaking Central American country, and natural beauty, what attracts foreigners, specifically retirees, is the "Qualified Retired Persons" (QRP) program. Similar to Panama's Popular Pensionado Program, the QRP program gives tax and residency breaks to foreigners with the status of a Qualified Retired Person (QRP). To be designated a QRP under the program, the applicant should be:
Aged 45 or older
Citizen of the US, the UK, Canada or Belize
Earning a monthly income of at least US$2,000 from investments or pensions
Beneficiaries of the QRP status are:
Exempted from all taxes on income and receipts
Exempted from all import duties and taxes on personal and household effects upon first importation into Belize (up to a maximum value of US$15,000)
Exempted from all import duties and taxes every five years on approved means of transport (such as a motor vehicle, boat, or light aircraft)
Have their dependents included in the program (spouse and children under the age of 18 or under the age of 23 if enrolled in college)
Can conduct business within Belize, if the business activities are mainly outside the country, and not with Belizeans. QRPs can also own rental properties.
Based on the International Living's Annual Global Retirement Index, Belize was among the top 24 best places to retire in 2020. The index was based on several factors including cost of living, retiree benefits, climate, and healthcare. Likewise, Forbes also listed Belize as one of the best places to retire abroad last year.
"Many international buyers are just beginning to discover the potential opportunities of investing in this tiny central American nation bordering the Caribbean Sea," said Christopher Todd of SANCAS Realty. "Savvy buyers can find tremendous value in Belize, especially on the Placencia Peninsula in the Stann Creek District, and in the Cayo District to the west."
Around 15% of the Belizean population is composed of foreigners, according to International Organization for Migration. Yet Belize is one of the world's least densely populated countries, currently averaging 14.1 persons per kilometer.
Foreign nationals represent 95% of homebuyers in Ambergris Caye, in the Cayo District, and the Placencia Peninsula, according to SANCAS Realty.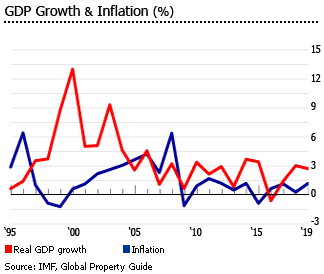 Most foreign buyers come from the United States. There are direct flights from numerous U.S. cities, including Houston, Chicago, Dallas, Miami, Charlotte, Atlanta, Los Angeles, and Newark. There is also a growing interest from Canadians, Britons, Italians and Russian investors.
Most property transactions are done in cash, as Belize's banks charge high interest rates. The Belizean dollar is tied to the US dollar at a fixed exchange rate of 1 USD = 2 Belizean dollar.
There are no restrictions on foreigners purchasing real properties in Belize.
Strong tourism propels property market growth
In 2019, the total number of stay-over visitors in Belize was 503,177 people, up 2.8% from a year earlier, according to Belize Tourism Board (BTB), and the first time in the history of Belize that overnight arrivals surpassed the half-million mark.
It was also the fourth consecutive year that cruise ship arrivals exceeded one million.
"This is a significant accomplishment which is testament to the fact that Belize's tourism industry continues on an upward trend," said Manual Heredia Jr., the Minister of Tourism and Civil Aviation. "In fact, over the past decade, Belize experienced over 100% growth in the overnight sector, up from 241,119 arrivals in 2010."
Tourism is expected to remain robust in the coming years, buoyed by the continued efforts by the government to introduce additional flights and cruise ships into the country.
In January 2020, Prime Minister Dean Barrow announced three new direct international flights to Belize from New York City, Washington D.C. and London. The new air routes are expected to commence this year.
Moreover from November 10, 2019 to April 5, 2020, Mediterranean Shipping Company's Meraviglia cruise, which is the seventh largest cruise ship in the world, will sail two different seven-night western Caribbean itineraries, which include stops in Belize. Currently, seven major cruise lines make port calls on Belize.
Newcomers into the Belize market in recent years included WestJet, Southwest Airlines, Carnival Vista, and Norwegian Cruise Line's Harvest Caye.
WestJet, a Canadian airline, introduced a direct flight from Toronto to Belize starting October 29, 2016, which resulted to a surge in Canadian tourists to Belize. Then in November 3, 2017, WestJet begins its new non-stop weekly service between Calgary and Belize.
In March 2017, Southwest Airlines started to offer direct flights from Denver, Colorado to Belize.
In November 2018, regional airline Tropic Air started offering new flights between Belize City International Airport and Placencia.
Carnival Vista, the largest ship in the Carnival fleet which can hold around 4,000 passengers and 1,500 crew members, made its first call in Belize on December 28, 2016. It is expected to substantially increase cruise ship arrivals in Belize in the coming years.
Norwegian Cruise Line's Harvest Caye, in southern Belize, was launched in November 2016, granting cruisers access to a private beach and other ecotourism activities over the world's second-largest barrier reef.
"The ease with which individuals can travel to Belize has increased tourism, which has subsequently improved the real estate market," said ReMax Island Real Estate.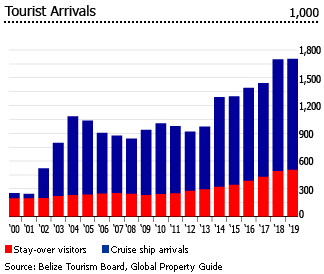 Several hotels and residential projects are under construction to accommodate increased tourist arrivals and property demand. Marriott's Autograph Collection brand will expand into Belize with Alaia, a boutique resort on Ambergris Caye, scheduled to open in 2020. In addition Four Seasons, located on Caye Chapel and is scheduled to open in 2021, will offer 35 private homes, 50 lots for custom homes, a new hotel with overwater bungalows and a golf course.
"There is a frenzy of hotel construction in North Ambergris Caye, Caye Caulker and Placencia," said Belize's Prime Minister Dean Barrow.
Belize's natural attractions
A combination of natural factors - climate, the Belize Barrier Reef, a Caribbean flavor, as well as the Maya ruins - make Belize truly Mother Nature's best kept secret. Bordered to the north by Mexico, to the west and south by Guatemala and to the east by the Caribbean, Belize considers itself to be both Caribbean and Central American.
Belize has the world's second largest reef barrier, and its Blue Hole can be seen from outer space. Three of the Western hemisphere's most breath-taking coral atolls are off the coast of Belize. There are numerous varieties of wildlife shelter in the inlands. Bird watching, nature trailing, and water sports are popular in Belize.
Belize prides itself on being the seat of Mayan civilization. The Caracol, Lamanai and Xunantunicharcheological sites are well-preserved, and easily accessible to tourists.
Some attractive spots in Belize include:
San Ignacio Town - has a well-preserved ancient wonder, the Maya ruins of Cahal Pech. The Cahal Pech Village Resort hosts a wide range of adventure tours.
Caye Caulker - this small limestone coral island off the coast of the island in the Caribbean Sea, is the second largest of the Belizean cayes.
Toledo - located in the coastal town of Punta Gorda. Tourists love the untouched beauty of the extensive Toledo cave networks, and the rich cultural diversity of Belize offered by interactive lessons in the Garifuna or Creole drumming and dancing schools.
Placencia Village - offers 16 miles of stunning white sand beaches. It has emerged as a popular eco-destination, offering a host of outdoor activities including deep sea fishing, snorkeling, hiking, and kayaking, among others.
Hopkins - offers the best access to the Mayflower Bocawina National Park, which has over 7,000 acres of hiking, scenic waterfalls, and Mayan ruins, along with a complex of jungle ziplines. Tourists will also adore the submerged coral structures of the Glover's Reef Marine Reserve.
Mountain Pine Ridge in Cayo District - located in the Cayo district, this marvelous pine forest covers over 100,000 acres, and is home to a large variety of wild mammals, including Baird's Tapir, Belize's national animal.
South Water Caye - a beautiful coral island, a hidden treasure for diving and snorkeling. The Blue Marlin Beach Resort offers fly-fishing excursions to the saltwater flats, and a variety of other watersports.
Dangriga - at the mouth of the North Stann Creek River, Dangriga is the home and cultural center of the Garifuna people. It is also an excellent place from which to launch nautical or jungle excursions.
Tobacco Caye - is one of the tiniest but most beautiful islands in Belize, perfect for travellers looking for solitude, warm waters, palm trees and a star-streaked sky.
Turneffe Atoll - a 30-mile long smattering of islands, Turneffe Atoll is known for its incredible diversity of marine life, and was recently declared a marine reserve.
Belize's real estate hotspots
Ambergris Caye has the highest home prices in Belize, with two- to four-bedroom oceanfront houses costing around US$1 million while oceanfront condominium units are priced at about US$500,000, according to Brittany McCann of Belize Sotheby's International Realty.
Inland homes are valued substantially less than oceanfront properties, typically priced at around US$200,000.
The number of developments in Ambergris Caye has grown tremendously in recent years. The new 'Costa del Sol' area west of San Pedro is just now starting to attract developers and investors. House prices in San Pedro, the island's main town, are quite high compared to the other parts of the country, although more affordable than other Caribbean islands.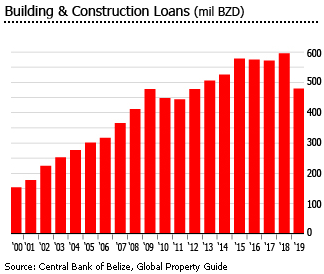 At the Marriot Residences Ambergris Caye Resort, a luxury beach resort near San Pedro, one-bedroom condos and two-bedroom condos are currently for sale for US$499,900 and US$819,900, respectively. Three-bedroom condos at the same property are priced at US$1,159,700.At The Residences at Barrier Reef, a one-bedroom oceanfront condo located at the second floor is currently on the market for US$470,000.
Southern Belize is currently seeing numerous developments. Most are in Seine Bight village and Placencia village. Placencia, a thin, twisted peninsula in the southern Belize, has continued to grow in popularity with foreign homebuyers.
In It'zana Resort and Residences, a new premier property development in Placencia, the prices of luxury residences currently range from US$345,000 for one-bedroom cottages to about US$1,550,000 for three-bedroom beachfront penthouses. At Sunset Pointe in Stann Creek, a two-bedroom seaside condo is priced at US$365,000.
Prices in southern Belize, except Placencia, remain about 40% lower than those on Ambergris Caye. However, southern Belize prices have risen continuously in the past years. A two-bedroom oceanfront condominium unit is priced about US$350,000 while oceanfront lots range from US$150,000 to US$250,000.
In Corozal, the northernmost town of Belize bordering Chetumal City Quintana Roo, Mexico, the average price of a luxury home was US$500,000. Some foreign investors prefer to be near the Mexico border to enjoy the beauty of both countries.
Caye Caulker, the second largest of the Belizean cayes, resembles the Ambergris Caye ten years ago. In South Caye Caulker, a two-bedroom home is currently priced at US$310,000.
"Most buyers want to be near the beach. Ambergris Caye and the Placencia Peninsula continue to spark foreign interest at an unprecedented pace," said Jasmine Hartin of SANCAS Realty. "New construction is ramping up to meet the accelerating demand and this is also working to drive increased quality throughout the industry."
Buyers beware! In Belize, there are two prices for everything-the local price and the "rich foreigner" price. Since majority of properties for sale are not advertised, the best way to get a feel of the difference between the Belizean price and the non-Belizean price is to travel to the country and spend time there.
Rents remain low
Residential rents remain surprisingly low. The average rent for a one-bedroom apartment in the city center is US$350 per month while three-bedroom apartments are offered for around US$600 per month. Rents for apartments outside the city are about 25% to 35% lower.
In Ambergris Caye, where rentals are among the most expensive in Belize, a three- to four-bedroom family home on the beach rents for about US$2,000 to US$3,500 per month in 2019. But one could still find apartments offered at monthly rents of US$75o to US$1,250.
In Placencia, a one-bedroom beachfront house is rented for about US$1,000 per month. In Corozal, some hotels offer long-term rates of about US$500 per month.
In Cayo, a two-bedroom home is currently rented for as low as US$275 per month.
Slow mortgage market growth
Belize has a relatively small mortgage market, even though loan-to-value (LTV) ratios range from 60% to 80% of the appraised value of the property, with 15 to 20 year terms.
Reasons for the small market include:
Little demand for mortgage loans, as few Belizean property buyers meet the financial criteria.
Most buyers pay in cash; some foreigners tap home-country based credit lines.
Only a handful of local and international banks provide mortgage loans, making it difficult for non-resident buyers to get finance from banks.
Mortgage interest rates are higher than US rates.
Sometimes the seller provides part-financing for buyers at an LTV of 70%, with a term period of 5 to 10 years. The owner typically finances the balance, at rates ranging from 6% to 8%.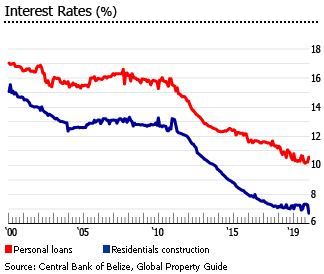 In December 2019, the average interest rate for personal loans, which include home loans, was 10.56%, slightly down from 10.79% a year earlier, according to the Central Bank of Belize.
Average mortgage rate in major banks in Q4 2019, based on figures from the central bank:
Atlantic Bank Ltd. – 6.5%, down from 7% a year earlier
Belize Bank Ltd. - 7.75%, unchanged from a year ago
Heritage Bank Ltd. - 12%, unchanged from a year ago
National Bank of Belize Ltd. - 5.5%, unchanged from the previous year
Scotiabank (Belize) Ltd. - 7.49%, unchanged from the previous year
Economy struggling; unemployment rising
Belize's economy contracted by 2.8% in Q4 2019 from a year earlier, following y-o-y declines of 0.4% in Q3 and 0.8% in Q2 and annual growth of 5.2% in Q1, after the ongoing drought adversely affected the sugar industry. Yet, the International Monetary Fund (IMF)'s October 2019 projections remain optimistic, at 2.7% growth, following y-o-y expansions of 3% in 2018 and 1.4% in 2017 and an annual decline of 0.6% in 2016.
Despite this, external trade remains strong. In 2019, Belize's total merchandise exports rose by 4.6% to BZD 411.8 million (US$) from a year earlier, while imports increased 2.9% to BZD 1.97 billion (US$), according to the Statistical Institute of Belize (SIB).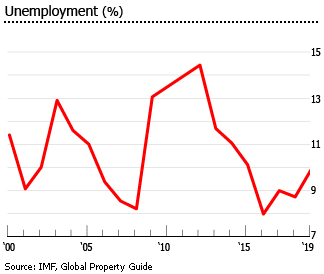 The economy is expected to expand by 2.1% this year and by another 1.8% in 2021, according to the International Monetary Fund (IMF).
Unemployment stood at 9.9% in 2019, up from 8.7% in 2018, 9% in 2017, and 8% in 2016, but still lower than the annual average of 12.5% from 2009 to 2015. The country's jobless rate is expected to rise further to 10.4% this year and to 11.1% in 2021, based on IMF figures.
In January 2020, inflation stood at 0.2%, unchanged from the previous month but up from -0.2% in a year earlier, based on figures from SIB. Inflation averaged 0.6% from 2009 to 2019.
Sources: