Outlook for The Bahamas property market bleak, as tourism grinds to a halt
Even before coronavirus, demand for residential properties in The Bahamas was falling.  Following the devastation caused by Hurricane Dorian, 20% fewer residential properties were sold during 2019, according to the Engel & Volkers 2019 Real Estate Market Report. But the situation deteriorated rapidly this year after the Bahamas government decided to close its borders to international tourists in March 2020, in an effort to prevent the spread of the coronavirus disease. In Q1 2020, tourist arrivals fell by 14.7% y-o-y to 1.7 million. Over the same period, air and sea travellers fell by 28% and 10.5%, respectively. Tourism figures in Q2 2020 are expected to be much worse.
Price movements were mixed last year. In New Providence, the average price of single-family homes fell by 9.5% y-o-y in 2019 while condominium prices increased 7.2%.
In the high-end communities of Old Fort Bay and Ocean Club Estates, residential property prices rose by an average of 16% y-o-y in 2019.
In Cable Beach and Sandyport, average sales prices rose by 19.8% and 5.8%, respectively.
In Lyford Cay and Port New Providence, prices fell by about 6% to 15% last year.
Bahamas' property prices saw an average correction of 20% from peak after the global financial crisis, with some areas seeing declines of as such as 60%, according to Bahamas Realty. Local agents say house prices dropped by 30% to 40% from 2007 to 2010 (there are no official house price figures). The housing market has slowly stabilized since. In fact before Hurricane Dorian struck the small Caribbean nation, overall prices have been stable in the past three years, with almost balanced supply and demand, said George Damianos of Damianos Sotheby's International Realty. In 2019, the average price of single family homes in The Bahamas stood at about US$3.5 million.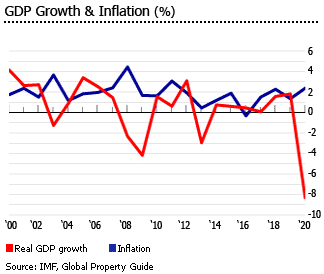 Most foreign homebuyers in The Bahamas come from the United States, Canada, France, Britain, and Italy.
There are no restrictions on foreigners buying property, except that a permit from the Government is required before the transaction, if the property is on undeveloped land with an area greater than five acres (20,234 sq. m.).
Foreigners who own properties in the Bahamas are eligible for a homeowner's residence card (renewable annually) and those who purchase properties valued at least US$750,000 qualify for permanent residency. However, neither permanent nor annual residence gives a foreigner the right to work in the country.
Due to the economic fallout from the COVID-19 pandemic, the government forecasts that GDP will plunge by as much as 12% this year. In fact, Moody's figures are more pessimistic, projecting a GDP contraction this year of around 16% to 20%.
The economy had annual average growth of just 0.7% from 2010 to 2017. Economic growth improved to 1.6% in 2018 and to 1.8% in 2019, thanks to the opening of Baha Mar, increased foreign direct investment, and post-hurricane construction activity.
Tourist arrivals plunge amidst coronavirus outbreak
After a record-breaking year in 2019, tourism in The Bahamas suddenly ground to a halt this year amidst worldwide lockdowns and travel restrictions due to the COVID-19 pandemic. In Q1 2020, total tourist arrivals fell by 14.7% y-o-y to 1.7 million, according to the Ministry of Tourism. Over the same period, air and sea travellers fell by 28% and 10.5%, respectively.  In 2019, total visitor arrivals in The Bahamas had risen by 9.4% to a record 7.24 million people from a year earlier, following an annual growth of 7.9% in 2018, according to the May 2020 Statistical Digest published by the Central Bank of The Bahamas.
Tourism figures in Q2 2020 are expected to be much worse.
The Bahamas reopened its borders to international tourists in July 1, 2020, following its closure in March. But due to a recent spike in COVID-19 cases in the Bahamas and the continued increase of cases in the U.S., Prime Minister Minnis recently announced that all international commercial flights and boats carrying passengers from the U.S. would be banned again starting July 22. The U.S. makes up a large portion of tourists in The Bahamas, with most of them coming from Florida.
Tourism accounts for around 60% of Bahamas' GDP, and 50% of employment. Bahamas' second-largest industry is financial services, which accounts for 20% of GDP.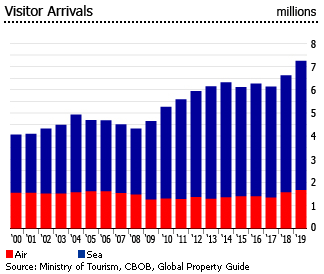 Baha Mar cuts jobs, delays reopening until October
Despite the partial reopening of the country to international tourists, the US$4 billion 1,000-acre megaresort Baha Mar has decided to postpone reopening until October, due to lack of bookings, and to reduce its 6,000 employee staff count by as much as 20%. Baha Mar joins several other Bahamas resorts postponing reopening, including Sandals Royal Bahamian, Melia and Club Med Columbus Isle, among others.
Valued at US$4 billion, Baha Mar is the largest and priciest resort in the Caribbean, with a 1,000-room casino hotel, a 300-room SLS Lux, a 200-room Rosewood and a 700-room Grand Hyatt, a Jack Nicklaus-designed golf course and a 30,000-square-foot spa. Baha Mar was recognized in the Condé Nast Traveler's Readers' Choice Awards 2019 and all its three resort hotels – Grand Hyatt, SLS, and Rosewood – landed in the Top 25 Resorts in the Atlantic list. The development has also been featured in many TV shows. Baha Mar successfully buoyed tourist arrivals in the Bahamas during the past two years – spurring increased interest from foreign homebuyers.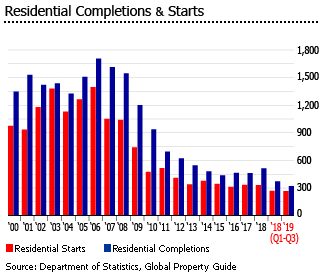 Prices of one-bedroom residences in this multi-billion dollar development range from US$1.5 million to US$3 million, while three-bedroom beachfront residences can cost as much as US$8 million.
Residential construction activity mixed
Both residential starts and completions have been falling. In the first three quarters of 2019:
Residential starts fell by 1.1% y-o-y to 266 properties, and the value of residential starts dropped 9.3% to BS$ 66.68 million (US$ 66.68 million) over the same period.
Residential completions fell by 13.7% y-o-y to 320 properties while the value of residential completions plunged 19.3% to BS$ 96.49 million (US$ 96.49 million).
This continues a trend. From 2007 to 2018, residential starts fell by an average of 10% every year while completions dropped by an annual average of 9%.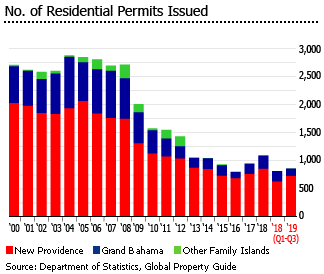 More than 84% of the residential construction permits issued during the first three quarters of 2019 were in New Providence, and 15.4% in Grand Bahama and only 0.3% in other Family Islands.
Mortgage market shrinking, amidst rising mortgage rates
The average residential mortgage interest rate was 5.4% in March 2020, up from 4.79% in the same month last year, according to The Central Bank of The Bahamas (CBOB). It remains lower than the average mortgage rate of around 8% in 2007 to 2010, 7.4% in 2011 to 2014 and 6% in 2015 to 2018.
The central bank's bank rate stood at a record low of 4% in March 2020, unchanged since December 2016.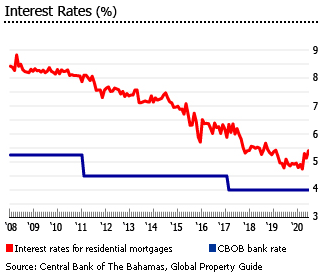 The mortgage market is shrinking. In 2019, the size of the mortgage market was equivalent to 22.1% of GDP, down 30.2% in 2011, based on Global Property Guide estimates - the lowest level since 2005.
The total amount of outstanding residential mortgages fell by 1.13% to BS$ 2.84 billion (US$ 2.84 billion) in 2019. In Q1 2020, residential mortgage outstanding fell by another 1.47% y-o-y.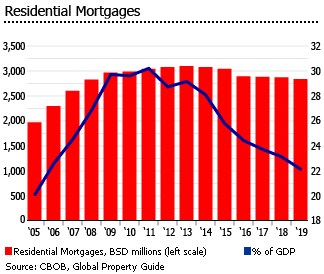 Local banks lend largely to Bahamian households, in local currency (BSD1 = USD1). Real estate purchases by wealthy foreign buyers are mostly in cash. Domestic currency mortgages make up 98% of all outstanding mortgage loans.
Rental yields are good
Property rental yields in Bahamas are moderate to good, according to Global Property Guide research.
Nassau tends to have the highest average gross rental yields, with inland condominiums yielding around 8%, while waterfront condominiums yield an average of around 7%. Smaller waterfront condominiums have higher yields. Condos of around 120 sq. m. yield around 8.16% p.a., while 300 sq. m. condominiums yield less, at 5.70% p.a. Yields in Abaco and Grand Bahama waterfront are moderate, ranging from 3.57% to 4.45%.
Monthly rents for waterfront condominiums in Nassau range from US$2,500 to US$ 6,500 per month. In Abaco and Grand Bahama, rents for waterfront condominiums are US$ 1,200 to US$ 3,500 per month.
The Rent Control Act applies only to dwellings with a total value of US$75,000 or below, stipulating that rents shall not exceed 15% (p.a.) of the assessed value of the property, and 20% for furnished residences. Luxury vacation rents are not covered by this act.
Real property tax changes
On July 1, 2019, the government introduced changes to real property tax system, in an effort to boost real demand, but at the same time prevent speculative buying. The policy change was outlined in the 2019-20 National Budget.
Cap on owner-occupied property raised. The maximum annual property tax on owner-occupied property has been raised from $50,000 to $60,000 annually.
Occupancy requirement removed. The previous requirement that the owner occupy the residential property for at least six months has been removed.
Stamp duty on real property replaced by value-added tax (VAT) at the same rates – 2.5% of its value if the consideration is less than $100,000 and 10% if the consideration exceeds $100,000.
Exemption for first-time homeowners. Buyers who purchase a dwelling for the first time where the value does not exceed $500,000 are exempted from paying VAT.
Government raises investment threshold
Recently, the government announced that it would be raising the permanent residency threshold to US$750,000, from US$500,000 in an effort to attract "cream of the crop" ultra-high net worth individuals. Accelerated consideration is given to purchasers of property valued in excess of US$1.5 million.
Former Foreign Affairs Minister Fred Mitchell describes the previous US$500,000 investment threshold for permanent residency consideration as "absolutely too low". "The cost of a work permit is $12,500 for someone who is a managing director of a bank for one year, and then you're giving permanent residency to someone because he could pay $500,000 for a house. Something is wrong with that."
The benefits of Bahamian residency include:
Right to reside in the Bahamas without further renewal of permits
Right to enjoy all privileges enjoyed by citizens of Bahamas except for the right to vote.
Right to purchase property in the islands
Liberal tax regime
Easy travel to Commonwealth nations, members of the Caribbean Community and the members of the Organization of American States
Eligible to apply for Citizenship of Bahamas after fulfilling residence requirements
Unemployment rising again
Unemployment is expected to rise to 15.2% this year, the highest level in 7 years as Baha Mar and other resorts and businesses cut jobs amidst the pandemic.
That's because due to the economic fallout from the COVID-19 pandemic, the government forecasts that the economy will plunge by as much as 12% this year. Moody's figures are far worse, projecting a GDP contraction for The Bahamas of around 16% to 20% this year.
In June 2020, Moody's downgraded The Bahamas' credit rating by two notches from Baa3 to Ba2 with a negative outlook, effectively putting the nation into "junk status". This is in line with Standard & Poor's earlier move to downgrade the nation's sovereign credit rating from BB+ to BB, also with a negative outlook due to the uncertainty related to the duration of the coronavirus outbreak.
"The negative outlook reflects Moody´s expectation that given the severity of the coronavirus shock, the government´s credit profile will continue to be exposed to downside risks related to the recovery of the tourism sector," said Moody's.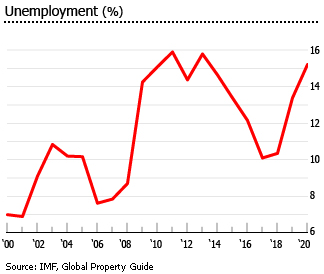 The government's deficit is expected to increase sharply this year to US$1.3 billion, which is equivalent to 11.6% of GDP. The national debt is projected to rise to 85% of GDP this year from less than 66% of GDP in 2019.
Inflation slowed to 1.3% in 2019, from 2.3% in 2018 and 1.5% in 2017. However consumer prices are projected increase again by 2.4% this year, according to the IMF.
Celebrity Paradise
The Bahamas boasts the highest concentration of celebrity-owned private islands anywhere in the world. Its more than 700 islands and cays have attracted well-known celebrities such as Johnny Depp, who filmed Pirates of the Caribbean in Exumas and purchased Little Hall's Pond Cay in 2004 for a reported US$3.6 million; magician David Copperfield who bought up to 11 islands for US$50 million; music stars Faith Hill and Tim McGraw, who purchased 17-acre Goat Cay in 2006; director, actor and screenwriter Tyler Perry, who bought 20-acre White Bay Cay in 2009 for US$6.4 million and business magnate Prince Aga Khan IV, who spent up to US$100 million for 349-acre Bell Island, also in 2009; and singer Shakira, who bought Bonds Cay for US$16 million in 2011. Other celebrities who reportedly own real estate in The Bahamas included Nicolas Cage, Mariah Carey, Sean Connery, Michael Jordan and Tiger Woods, among others.
The Bahamas has no income, inheritance, capital gains or corporate taxes.
Aside from its cities - the capital, Nassau, located on New Providence Island, and Freeport, which is on Grand Bahama - some of the most sought-after properties in the Caribbean are on the 'Out Islands' including Abaco, Andros, Acklins and Crooked Island, Bimins, Berry Islands, Cat Island, Eleuthera, the Exumas, Inaguas, Mayaguana, and San Salvador.
The country is accessible from New York within 2.5 hours and from Florida within 45 minutes. The Bahamas' economy is considered one of the most stable in the Caribbean thanks to its close ties and proximity to the US.
Some property hotspots are:
Abacos: Found in the Northern Bahamas region, the Abacos form a 120-mile chain of islands stretching over 650 square miles. The most popular of the islands are the Great Abaco Island and Little Abaco.
In the Elbow Cay, an eight-mile-long cay in the Abaco Islands, houses are priced from US$300,000 at the lower-end of the market, while beachfront properties are valued from US$1 million to US$8 million.
Andros: The largest island in the Bahamas, Andros is hailed as the world's bone fishing capital and has the third largest fringing barrier reef in the world. It is the least developed among the group of islands in the Bahamas, making it the perfect escape for people who want to get away from the city bustle.
A two-bedroom beachfront villa in Staniard Creek is currently listed for US$2.1 million while a four-bedroom home in Fresh Creek is priced at US$850,000.
Eleuthera: 50 miles east of Bahamas' capital Nassau is Eleuthera, boasting a stunning reef system and 110 miles of pink and white sands.
A 7,500 sq. ft., four-bedroom single family home in Governor's Harbour sells for around US$8 million.
Exumas: Exuma consists of over 360 islands, many of which are still untouched and are less explored than the prime destinations of Grand Bahama and Nassau.
In Jimmy Hill, a 10-bedroom single family home currently sells for US$5 million. At February Point, a 4-bedroom, 5,000 sq.ft. single family home is priced at $3.6 million.
Grand Bahama: The fourth largest island and considered the most known island in the Bahams, Grand Bahama is home to every conceivable amenity and property type. It has a commercial and tourism centre called Freeport located near the international airport. It is the second most populated city in the archipelago and is popular among vacationers and shoppers.
Ocean front units in the Royal Ocean Club are now priced at about US$150,000.
Nassau: Located on New Providence is the capital of the Bahamas, Nassau, a 21-mile long island which is linked to neighboring Paradise Island, home to the Atlantis resort, by a bridge. A full-service luxury development housing waterfront properties called Ocean Club Estates can be found at the easternmost tip of Paradise Island. Exclusive single-family homes are priced at about US$14 million.
Located just at the western tip of New Providence is Lyford Cay, a gated community which has long been home to some of the world's wealthiest individuals. It has a private international school and a mile-long beach that can only be enjoyed by a select few. In the Lyford Cay, a six-bedroom colonial-style home, Cuckoo's Nest, is priced at US$6.5 million.
Just east of Lyford Cay lies Old Fort Bay, a modern private waterfront community with iconic Poinciana trees. Prices of luxury properties in Old Fort Bay start at US$2 million.
Sources:
Bahamas - More data and information