Aruba's property market improving
After several years of falling house prices, Aruba's property market is now recovering, thanks to robust economic growth and continued growth in tourism.
There are no official data such as average house prices per square metre (sq. m.) and rental prices in Aruba, so it is difficult to analyze the market. However, a two-bedroom house with a pool was priced at about US$325,000 in 2013.
After a decade-long increase in house prices, Aruba's property market started to slow sharply in 2009, amidst the global economic and financial crisis. House prices fell by about 15% to 25% starting 2009, according to real estate experts. The economy contracted by 11.3% in 2009, with another 3.3% contraction in 2010.
The property market is now recovering, amidst healthy economic growth in 2013.
Bakval, located south of Malmok, has the most expensive housing in Aruba. Prices of residential properties in Bakval ranged from US$800,000 to US$1.3 million. North Americans, especially those from the United States, are the largest group of homebuyers in Aruba. However, recently, there has been growing interest from South Americans, primarily from Brazil and Venezuela.
Mortgages are obtainable, though most homebuyers prefer to pay in cash. In 2013, the total amount of outstanding housing mortgages amounted to US$894 million (AWG1.58 billion), up 3% from a year earlier, according to the Central Bank Van Aruba. In the fourth quarter of 2013, the average interest rate for housing mortgages was 6.6%, slightly down from 6.7% in the same period last year.
Residential construction increasing again
A rapid housing expansion took place with the oil refinery. Foreign labourers poured in, as did and other investments. The population increased, contributing to housing demand.
A construction boom in hotels and condominiums took place in 2006, but construction then declined in succeeding years, particularly in 2009, as a consequence of the global recession. Figures for Q1 2010 show no improvement. The Centrale Bank Van Aruba recorded a 56.8% decline in the total value of permits granted, despite a 29.2% increase in the number of granted permits.
Residential construction is now picking up. In 2013, the number of construction permits granted for houses and apartments rose by 18.8%, to 582 permits.
Tourism picks up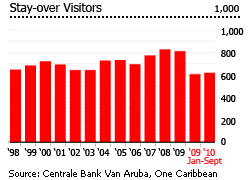 Tourist arrivals rose 6.2% in the year to Q1 2010, dominated by US tourists. Arrivals from Latin America are also growing, with a significant increase in tourism from Brazil, according to Centrale Bank Van Aruba.
2009 was a record year for cruise tourism. New cruise lines included Aruba in their programme, and there were larger ships. There was a 9.1% increase in cruise passenger arrivals in 2009 compared to 2008, offseting the 1.7% decline in stay-over visitors.
There was healthy tourism growth in Aruba in 2013. International visitors to Aruba rose by 8.3% to 979,256 in 2013 from a year earlier, according to the Aruba Tourism Authority. More than 61% of all visitors came from the United States.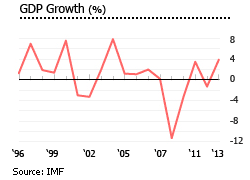 Aruba's economy expanded by a healthy 3.9% in 2013, after a contraction of 1.3% in 2012, a growth of 3.5% in 2011, and contractions of 3.3% in 2010 and 11.3% in 2009, according to the Central Bank Van Aruba.
"Aruba: 90,000 Friends You Haven't Met Yet"
Tourism is Aruba's leading industry. The majority of repeat visitors are timeshare unit owners. The timeshare market is a significant backbone of the tourism industry. Occupancy rates at timeshare properties averaged 77.3% in 2009, based on reports by the Centrale Bank.
Efforts to attract new and repeat visitors have the government to rejuvenate tourism facilities particularly in Oranjestad, the island's capital. The programme emphasizes a commitment to avoidijng overdevelopment. As a result of the rejuvenation , there was a 60% increase in the repeat visitor rates in 2009.
An ad campaign by Aruba Tourism Authority called "Aruba: 90,000 Friends You Haven't Met Yet" was also developed, marketing the island's beaches and the friendliness of the people.
Aruba awaits new developments
Concerned that there are only a few public beach areas left, newly elected Prime Minister Mike Eman is working to achieve sustainable development in the tourism industry.
Nonetheless, Aruba is anticipating the completion of the Ritz-Carlton Hotel in Palm Beach, where Aruba's finest beaches are located. The 320-room oceanfront luxury resort, set to open in 2012, is expected to spur other investments, and attract more visitors to the island.
Construction activities in the residential market are ongoing as well:
Acqua Condominiums Aruba, Palm Beach - occupies 30,278 sq. m. of land on and consists of three towers - North, East, and South. The property will be completed in 2012.
Tuscany Residence Aruba, Oranjestad - a low-density gated community featuring free-standing homes, condos and townhouses. Construction of model homes started in November 2010. Completion of the project is set in the summer of 2011.
Anabui Private Residence Club, Malmok - the first deeded fractional resort in Aruba and the new offering of Tierra del Sol Resort, Spa & Country Club. It offers 36 three-bedroom residences. Pre-construction prices start at US$149,000. Tierra del Sol Resort is planning to construct 200 more homes.
Gold Coast, Malmok - the newest residential community in Aruba. When completed, it will boast over 260 residences including two- and three-bedroom townhouses, three-bedroom condos, and and three- to four- bedroom villas. More than 85 residences will be delivered by December 2010.