Antigua and Barbuda: revamped Citizenship by Investment program is luring foreign investors
Antigua and Barbuda's property market is thriving and construction is everywhere, thanks to increased interest from real estate developers and foreign homebuyers. That´s partly because the government announced big changes to its Citizenship by Investment Program (CIP) in April 2018:
Joint Real Estate Investment: A Limited Time Offer (LTO) effective from May 1, 2018 to October 31, 2018 allowed two applicants to jointly purchase qualifying real estate, each applicant investing a minimum of US$200,000 (instead of the US$400,000 per applicant previously required).
Dependents Age Reduction: The age of parental dependents has been reduced from 65 to 58 years old. Also, the requirement for dependent children under 18 years of age to visit the nation for a minimum of 5 days in the first 5 years has been removed.
Removal of Due Diligence Fee: The due diligence fee of US$5,000 during the first five-year passport renewal stage has been removed.
Late last year, the government also officially reduced the National Development Fund (NDF) contribution from US$200,000 to US$100,000, effective from November 2017.
Renowned as a luxury holiday and wedding destination, Antigua and Barbuda has 365 beaches – one for every day of the year. With gorgeous views, landscape and good property values, it is an ideal location for a second home, attracting celebrities like Oprah Winfrey, Giorgio Armani, Richard Branson and Eric Clapton. It is now being promoted also for family-oriented vacations. 
The opening of a US$45 million Airport Terminal at the VC Bird International Airport in 2015, and the completion of the US$15.9 million Barbuda Codrington Airport in 2017, helps make Antigua and Barbuda super-attractive both for tourism and business.
An amazing number of construction projects are underway - amazing, given that the islands' population is only 92,000. For instance, the US$1 billion Singulari development, Antigua and Barbuda's first mega-resort, is expected to create 1,000 jobs. This 1,600-acre multi-hotel, residential and commercial project is being lauded as a major feather in the country's tourism cap. Singulari spans 900 acres of land in the north of Antigua and 700 acres of tiny islands. It includes several luxury hotels, hundreds of private homes, a school, hospital, marinas, golf courses, an entertainment district, horse racing track and the Caribbean's biggest casino.
Other resort and residential development projects:
The Bau Panel is building around 5,000 homes across Antigua and Barbuda at a cost around US$200 million.
A brand new Sandals Beaches Resort will be built on the Grand Pineapple Resort.
Sandals Resorts International (SRI) is expected to build a new 250-room hotel in Dickenson Bay, next to the Sandals Grande, and will begin building Beaches Resort this year.
A new residential complex with over 200 condominium units costing US$400 million is expected to open this year.
Sunwing Travel Group is developing a 500-room resort under the Royalton Luxury Resorts brand at Deep Bay, Antigua.
A high-end residential development is being built on Maiden Island.
A hotel resort is being built on Pelican Island.
Replay Resorts intends to build a five-star hotel, along with oceanfront and hillside villas, cottages and estate lots at Half-Moon Bay.
A new hotel resort at Long Bay is being built.
Yida International has started building 50 three- and four-bedroom villas on the mainland as part of the Guiana Island development project.
A US$250 million hotel project on Barbuda is being developed by Hollywood actor Robert De Niro.
South Point, a boutique hotel, is to be situated in the Falmouth Harbour.
There is also continued development of resort and residential tourism projects at Pearns Point, Harbour Island, Hodges Bay Club, Morris Bay, and Tamarind Heights.
Massive reconstruction activity is also ongoing in the island of Barbuda after Hurricane Irma hit it in September 2017, leaving about 90% of its housing stock destroyed.
There are no official house price records in Antigua and Barbuda, and reliable information is hard to come by. But based on recent research by the Global Property Guide, not a lot has changed recently. Two-bedroom houses still average around US$350,000 while three-bedroom and up houses might cost about US$600,000.
During the boom years, house prices in Jumby Bay increased 60% to 100%, according to the Global Property Guide. However, the market was hit by the global financial crisis in 2008, halting construction of several residential developments. Tourists stayed away – and since the nation's economy is largely driven by tourism, real GDP went down and construction and foreign direct investment declined.
The twin nation's economic growth slowed to 2.8% in 2017, after GDP growing 5.3% in 2016, 4.1% in 2015, and 5.1% in 2014, according to the International Monetary Fund (IMF). The economy is expected to expand by 3.5% this year and by another 3% in 2019.
Registering property and getting credit is slow and tiresome in Antigua and Barbuda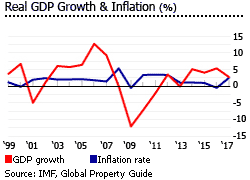 Property registration and credit applications are tedious in Antigua & Barbuda. Based on World Bank's Doing Business 2018, Antigua & Barbuda ranked 118th among 190 nations on the ease of registering property. According to the report, registering property in the country requires 7 procedures and costs about 10.8% of the total value of the property. However the number of days that it takes for a property to register was reduced substantially from 108 days last year to just 32 days.
Antigua & Barbuda ranked only 159th place among the 190 nations in the World Bank survey in terms of ease of getting credit, behind other Caribbean nations such as Puerto Rico, Jamaica, Trinidad & Tobago, Grenada, Dominica and St. Lucia.
Citizenship by Investment Program continues to attract foreign investors
In 2017, there were 321 applications under the country's Citizenship by Investment Program, up from the previous year's 290 applications. Almost $300 million was raised in direct revenue and investment capital from the CIP in 2017, according to PM Gaston Browne.  During the first half of 2018, a total of 399 Citizenship Passports were issued under the program, according to the Citizenship by Investment Unit, Antigua & Barbuda
CITIZENSHIP BY INVESTMENT PROGRAM

Investment Category
From Inception in 2013 to June 30, 2017
No.
%
National Development Fund
771
68.8
Real Estate
215
19.2
Business Investment
135
12.0
TOTAL APPLICATIONS
1,121
100.0
Source: Citizenship by Investment Unit, Antigua & Barbuda
CIP-approved residential developments
In Antigua, the approved areas for real estate investments under the Citizenship by Investment Program include: Fort James to Blue Waters; Pillar Rock to Five Islands; Pearns Point to Johnson's Point; Falmouth Harbour to Galleon Bay; Willoughby Bay to Half Moon Bay; Nonsuch Bay area; Guiana Island to Crabbs Peninsula to Indian Point; Blackman's Estate (Blackman's Point); and Marble Hill.
In Barbuda, the areas covered by the program include the Low Bay to Palmetto Point and Coco Point.
More specifically, the following residential developments have been approved by the government for the Citizenship by Investment Program:
Daniel Bay, by Blueprint Development – set on 3.5 acres of prime, beachfront land in picturesque Willoughby Bay, on the southeast of the island. Only five luxury villas, with sizes between 5,000 and 9,000 square feet (sq. ft.) are being built, with prices ranging from US$2.5 million to US$4.5 million.
Nelson's Retreat, by Blueprint Development – this boutique style development in the English Harbour comprises six ultra-modern apartments with unrivaled views of the historic Nelson's Dockyard. The first-floor one-bedroom apartments are priced at US$695,000. The second-floor two-bedroom apartments are offered for US$975,000 while the third-floor two-bedroom apartments are priced at US$995,000.
Nonsuch Bay Resort and Residences - just 30 minutes from V.C Bird International airport outside Freetown, this five-star resort has some high quality apartment and villa accommodation in Marina Residences (188 one-bedroom fully-serviced suites), Hilltop Villas (26 plots for private villas ranging from 0.4 to 1.1 acres), Ayers Creek Residences (15 waterfront residences), and 64 hillside apartments and 8 beachfront cottages. A one-bedroom suite within Marina Residences is priced at US$400,000.
South Point, by ROLS Limited - a boutique condo hotel in the yachting community of Falmouth Harbour, St. Paul's, Antigua. The development has 20 one-bedroom apartments and 3 two-bedroom penthouses. The apartments start at US$400,000, while the penthouses are offered at US$1.9 million.
Tamarind Hills, by Island Heights Limited – freehold villas, townhouses and apartments within a five star beachfront resort on Antigua's glorious west coast. House prices range from US$475,000 to US$2.75 million.
Other approved residential developments under the Citizenship by Investment Program:
| | | |
| --- | --- | --- |
| Project | Developer | Location |
| Callalloo Project | Al Caribi Developments Antigua Ltd | Morris Bay, Old Road, St. Mary´s, Antigua |
| Antigua Yacht Club Marina Resort | Carlo Falcone | English Harbour, St. Paul´s, Antigua |
| Blue Waters Beach Hotel | Carib Holdings LTD. | Soldier Bay, Antigua |
| Ocean Grand | Corbkinnons Limited | Dickenson Bay, Antigua, W.I. |
| Pigeon Point | Galley Bay Heights | Falmouth, St. Paul´s, Antigua |
| Hermitage Bay Antigua | Hermitage Bay Hotel Limited | Jennings Extension, St. Mary´s, Antigua W.I. |
| Long Bay Hotel | Jiahao Investment (Antigua & China) Limited | St. John´s, Antigua |
| Jolly Beach Hotel & Spa | Jolly Beach Corporation | Bolans, St. Mary´s, Antigua |
| Tranquility Bay Antigua | Jolly Beach Vacations | Jolly Harbour, St. Mary´s, Antigua |
| BluPearl at Hodges Bay | JSN Development Group Limited | Hodges Bay, St. George´s, Antigua W.I. |
| Colibri Court (project), Jolly Harbour Marina Village | KDI Development Limited | Bolans, St. Mary´s, Antigua |
| Emerald Springs Villas | Kenneth and Hilda Meade | Browns Bay, St. Philip, Antigua |
| Coconut Beach Club & Resort | Leisure World Properties Limited | Yeptons Estate, St. John´s, Antigua |
| Passion Village | Macy Limited | Valley Church, St. Mary´s, Antigua W.I. |
| Sugar Ridge Villas | Mongoose Developments Limited | Tottenham Park, St. Mary´s, Antigua |
| Dieppe Bay Villas | Naple Developers Limited | English Harbour, St. Paul´s, Antigua |
| The Peninsula | Nimbrick Limited | Willikies, St. Phillip´s, Antigua W.I. |
| Antigua Yacht Club Marina | Ondeck Living Limited | Falmouth Harbour Marina, Antigua |
| Pearns Point, The Reserve & Hotel | Orange Ltd | Jolly Harbour, St. Mary´s, Antigua |
| Light House Bay Resort | Palm Beach Holding Company Limited | Codrington, Barbuda |
| Papaya Hotel & Spa | Rendezvous Bay Real Estate Corporation | Rendezvous Bay, Antigua |
| Pleasure Cove Resort | Ritcil Company Limited | Runaway Bay, St. John´s, Antigua |
| The Villas at St. James´s Club | Segarva Limited | Mamora Bay, St. Paul´s, Antigua |
| Harbour Island Residences | Stanhope Shepherd Limited | Jolly Harbour, St. Mary´s, Antigua |
| Elias and Salem Hadeed, Trafalgar Beach Resort | Trafalgar Beach Resort | Hideaway Beach, Yeptons, Antigua |
| Verandah Estates | Verandah Estates Limited | Long Bay, St. Phillip´s, Antigua, W.I. |
| Buccaneer Cove Development | Waterfront Properties Limited | Dickenson Bay, St. John´s, Antigua |
| Hibiscus and Flamboyant Villas | Whitegate Development Projects | St. Mary´s, Antigua |
| World of Indulgence Villas, Nonsuch Bay Resort | World of Indulgence | Hughes Point, St. Phillip, Antigua |
| Maiden Island, Crump Peninsula | Yida International Investment Antigua Ltd. | Guiana Island, Crump Island, Antigua, W.I. |
Housing reconstruction in Barbuda
Hurricane Irma hit Barbuda in September 2017, leaving about 90% of its housing stock destroyed. Government officials estimate that it will cost more than US$100 million to rebuild Barbuda's homes and infrastructure. Fortunately, the larger island of Antigua was largely unscathed.
In the wake of the devastation, China provided Antigua and Barbuda with a US$16 million aid package. About US$1.2 million of which will go towards disaster relief and the construction of new community centres. Canada, Japan, Venezuela, and India have also contributed funds towards the rebuilding of Barbuda, said PM Browne.
The Caribbean Development Bank (CDB) also provided US$29 million in funding to the government to assist in its recovery efforts.
Recently, Antigua and Barbuda and the European Union (EU) signed an agreement for a EUR5 million programme to support the reconstruction of houses in Barbuda. The United Nations Development Programme (UNDP) is tasked to implement the programme, entitled "Housing Support to Barbuda after Hurricane Irma", which includes the rebuilding of 150 more sustainable and climate resilient homes.
"We are on our way to rebuild Barbuda in a way that will make each of its residents more secure, more resilient, and more endowed, to overcome any future challenges that climate change might bring," said PM Browne.
Buying property in Antigua and Barbuda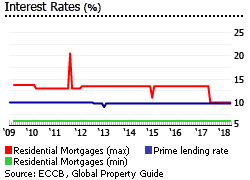 Foreign buyers are required to apply for an Alien's Land Holding License, which usually takes up to four months to be approved. The license cost is about 5% of the value of the property being purchased. Buyers also pay 2.5% stamp duty on property transfers.
As the country is small and mountainous, development is restricted. Most available properties are freehold. Land can be bought or leased from the government, which owns 55% of land in Antigua, or the private market.  Land ownership in Barbuda is prohibited.
Mortgage market shrinking
The mortgage market contracted to 18.3% of GDP in 2017, down from 19.2% in 2016, 20.7% in 2015, 23.1% in 2014, and 25.3% of GDP in 2013, according to the East Caribbean Central Bank (ECCB).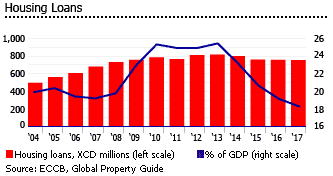 Interest rates for residential mortgages currently range from 6% to 10%, down from 6% to 13.5% a year earlier.
Antigua and Barbuda's currency is pegged to the US dollar at XCD2.7 to US$1.
Tourism-dependent economy
Tourism accounts for about 60% of Antigua and Barbuda's GDP, and 40% of investment.
In 2017, visitor arrivals surged almost 18% to 1,035,692 people, according to the Antigua Statistics Office, in sharp contrast to the 3% decline recorded in a year earlier. Then during the first half of 2018, total arrivals rose further by 14.4% y-o-y to 665,268 people, and visitor expenditure increased by more than 28% compared to the same period last year.
"We are doubling our airlift out of Miami, introducing new direct service out of New York and Canada, and welcoming new cruise ships to an already busy schedule,"  said Colin James, the CEO of the Antigua & Barbuda Tourism Authority (ABTA).
Antigua and Barbuda's economic growth slowed to 2.8% in 2017, after GDP growing 5.3% in 2016, 4.1% in 2015, and 5.1% in 2014, according to the International Monetary Fund (IMF).
The islands achieved super-rapid growth from 2003 to 2007, when GDP grew an average of 8% a year and reached over 12% in 2006, due to a tourism and construction boom as the nation prepared to host the Cricket World Cup.
However, during the financial crisis the economy contracted by 12.1% in 2009, by 7.2% in 2010, and by another 2.1% in 2011. The country's gross debt briefly ballooned to 102.1% of GDP in 2014, up from 86.7% in 2012, but declined to 86.8% of GDP in 2017.
Can Browne's flagship housing project live up to its promise?
Right after taking office on June 12, 2014, Prime Minister Gaston Browne vowed to address the shortage of affordable housing in Antigua and Barbuda. The National Housing Development and Urban Renewal Company Ltd ("National Housing") was established in 2014 to provide good quality and affordable housing to all.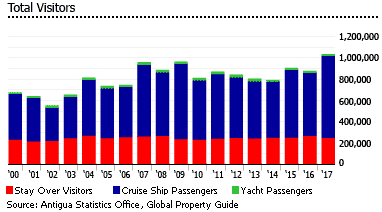 Browne promised to build 500 subsidized homes in a span of just 500 days to be sold at two-thirds of their market value, with an average market value of US$300,000.
However, three years later, only 48 such houses have been completed.
Amidst criticisms, the government has recently vowed to fast track the construction of houses.  Accordingly, 160 homes in Paynters site will be completed by end-2018, 148 homes in Denfields, and 60 homes in Lightfoot.
"As matters stand, we have over three hundred homes under construction and we remain determined, to provide several thousand homes in the coming years; in keeping with our commitment to expand and renew the housing stock," said PM Browne.
The housing projects include two, three and four bedroom houses. Two-bedroom houses will cost about US$193,500 while three-bedroom houses will cost US$195,500, according to Bernard Gardner, the managing director of National Housing. Three-bedroom houses have an estimated value of US$244,000.
Gaston Browne was recently sworn in as Prime Minister of Antigua and Barbuda for the second time, following his landslide victory during the March 2018 general election.
Antigua and Barbuda - More data and information