Laos is in the midst of a construction boom
"There have been a lot of changes in the city, most of them positive," said HoumphanSaiyalath, the managing director of real estate portal RentsBuy.com. "Outside investment is visibly [improving] the standard of living and the government is making progress in improving infrastructure."
Property prices and the cost of living in Laosremain very low. Asking prices for apartments in Vientiane range from US$1,000 to US$4,000 per square metre (sq. m.) in 2016, according to Savills, lower than in Yangon, Ho Chi Minh, and Hanoi. Asking prices for villas and townhouses in the capital city may vary from US$500 per sq. m.
Despite the fact that foreigners are not allowed to own land in Laos, the number of foreign investors from China, Vietnam and Thailand has been continuously increasing in recent years.
"Lao people make up only about 40 percent of my clients," claimed NakadejInvihan of Saiawardz Real Estate. "The rest are foreigners, maybe 20 percent Chinese, 10 percent Korean, Vietnamese, and Westerners."
Now Vientiane and the 12 economic zones are experiencing a building frenzy, buoyed by the country's three-decade long economic growth and by a surge in foreign investment.
Most construction is happening in the economic zones which were introduced by the government since 2003 to attract both local and foreign investors.For instance in That LuangMarsch Special Economic Zone, 18 condominium towers are currently under construction. Two more 45-storey condominiums are set for construction in the Thakhek Specific Economic Zone as part of the ThakhaekDreamworldCity project.
Other notable mixed-use property developments:
Vientiane New World - Right at the centre of Vientiane, on the MekongRiver, Vientiane New World covers 420,000 square metres. The development includes the ASEM villa, a five-star hotel, a commercial street, shopping mall, office buildings, service apartments, and garden residences.
VientianeCenter - Located on Khouvieng Road, the project has three phases. The first, completed in 2014, consists of a high-end shopping complex and an office building. The second phase will include hotels, clubs and lakefront businesses while the last phase will involve residential apartments.
LatsavongPlaza- Located on a 150,000 square meter site in Vientiane, this mixed-use development covers a 34-storey five-star hotel, 168 units of hotel-style apartments, a 20-storey office building, healthcare center and a world-class shopping center. The apartments are currently priced at US$2,000 per square metre (sq. m.).
SkyCity- The complex, in Chanthabouly District of Vientiane, offers residential and commercial properties, as well as a hotel, a shopping center, a recreational park and business facilities. The project is expected to be fully completed in 2020.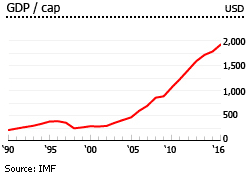 Property demand is expected to continue rising in coming years, amidst strong economic growth, and the continued flow of foreign direct investments into the country.The construction of the Laos-China railway, the first high-speed railway linking Vientiane to China's Yunnan province, is expected to boost the property market and the overall economy.
Economic growth averaged 7.3% per year from 2000 to 2016, making the country one of the fastest growing economies in the region, according to the International Monetary Fund (IMF). The economy is expected to expand by 6.8% this year and by another 6.7% in 2018.
Foreign investments are pouring into the SEZs
Laos, particularly the capital city of Vientiane, is seeing an influx of foreign investors, and numerous developments are being built in the country's special and specific economic zones (SEZs). Incentives offered to developers and investors include exemption from duties and taxes on equipment and construction materials, and reduced income and valued-added taxes. Foreign investors are also allowed to reside in Laos with their family.
Currently, there are 12 special and specific economic zones in the country. About 351 domestic and overseas companies are currently investing in these economic zones, with a total registered capital of US$8 billion.
The SEZs have generated about 18,000 jobs and total government revenues of more than US$17 million over the past five years. Investments in the SEZs are expected to increase further as an additional 50 companies have invested in the zones during the first half of 2017, according to Deputy Minister of Planning and Investment KhamlienPholsena.
ECONOMIC ZONES IN LAOS

Type
Location
Year Established
Land Area (ha)
Land Tenure
Planned Investment (USD)
Savan-Seno Zone
Special Economic Zone
SavannakhetProvince
2003
954
99 years
73.7 million
Boten Beautiful Land
Specific Economic Zone
LuangNamthaProvince
2003
1,640
50 years
103 million
Golden Triangle
Special Economic Zone
BokeoProvince
2007
3,000
50 years
86.6 million
Saysetha Development Zone
Specific Economic Zone
Vientiane
2010
1,000
50 years
128 million
Phoukhyo
Specific Economic Zone
KhammuaneProvince
2010
4,850
99 years
708 million
Vientiane Industrial and Trade Area
Specific Economic Zone
Vientiane
2011
110
75 years
43 million
ThatluangLake
Specific Economic Zone
Vientiane
2011
365
99 years
1.6 billion
Longthanh-Vientiane
Specific Economic Zone
Vientiane
2012
558
99 years
1 billion
Dongphosy
Specific Economic Zone
Vientiane
2012
54
50 years
50 million
Thakhek
Specific Economic Zone
KhammuaneProvince
2012
1,035
75 years
80 million
Pakxe-Japan SME
Specific Economic Zone
ChampassakProvince
2015
195
50 years
62 million
Phousy
Special Economic Zone
LuangPrabangProvince
2016
4,850
99 years
1.2 billion
Housing supply increasing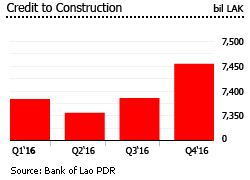 In Q4 2016, 10 projects in four districts supplied about 515 new serviced apartment units in Vientiane, a 3% rise from the same period last year, according to Savills.
In addition, there were about 1,119 new dwellings completed from six developments in the city. Villas account for about 70% of the total dwelling stock while penthouses represent the remaining 30%.
Despite this, Vientiane's high-end apartment stock represents just 3% of Bangkok's, 13% of Hanoi's and 34% of Yangon's, according to Savills.
Four new apartment developments are expected to become available in Vientiane in the next two years, one of which will supply 100 apartments. Over the same period, 7 villa/townhouse developments are planned.
The land use rights rules
The government owns all land in Laos. As such, it is impossible for Lao citizens or foreigners to purchase and own land. Rather, individuals and entities can be granted "land use rights", a legal concept granting long-term rights to use, alienate or exclude others from the land. Land use rights can be acquire through:
allocation by the State;
transfer; and
inheritance.
Foreigners can lease land from the state for up to 50 years, but may be extended upon government approval. In designated economic zones, the maximum period for land lease is 75 years. Foreign investors are entitled to own buildings and other structures that they build or purchase on leased land. Land can also be sub-leased with approval from the state.
Under the Investment Law, foreigners that invest at least USD500,000 in Laos are permitted to hold land use rights for residential, office, or other business purposes.
Large rental market
Unsurprisingly, the rental market is large, since foreigners are not allowed to own land.
The demand for rental properties in Laoshas been continuously rising for the past few years, buoyed by the increase in the number of expatriates. These expats usually work for NGOs, embassies, or multinational corporations.
Popular residential locations for expats:
Sisattanak District in Vientiane is the capital city's diplomatic area, and the home of VientianeInternationalSchool and of most schools that provide English language instruction.
Chanthabouly District in Vientiane is the capital's main business district.
LuangPrabang District in northern Laos. Demand for house rentals comes from those working in the hospitality industry.
Pakse in Champasak Province in southern Laos is the country's second biggest city and a major transportation hub for southern Laos.
Savannakket in southern Laos. Many industries are located here.
As a result of strong demand, rents have risen in recent years, and the number of available houses has declined substantially. For instance, rents for a two-storey, three-bedroom house in Vientianestart at US$1,000 per month, up by almost 100% from the past five years.
Most newly built rental houses and apartments tend to cater to the upper-end of the market, usually offered at a monthly rent of more than US$1,500, according to J&C Services.
RESIDENTIAL RENTAL PRICES, 2016

Property Type
Monthly Rent (USD)
Description
Houses
500 - 800
Substandard, older houses in poor condition
800 - 1,000
Basic standard housing; small and old houses
1,000 - 2,000
Better quality housing, with 3-4 bedrooms and some garden
2000+
Highest quality housing, big, modern, well-maintained, fully-furnished
Apartments
200 - 300
Substandard, older apartments
400 - 600
Basic standard apartments
700 - 1,000
New, modern, spacious apartments
Source: J&C Services
Landlords commonly require tenants to pay rent at least six months in advance. The lease term is typically in the form of a one-year contract.
Mortgage market is almost nonexistent
There is no formal large-scale mortgage market in Laos, because there is no clear and unambiguous register of titles.
Most property transactions are done in cash. The construction of private houses and residential buildings is usually financed by owners themselves with their savings or by borrowing from relatives and friends.
However in recent years an increasing number of commercial banks have provided short-term lending to the urban property market.Several big international banks, such as Malaysia's Maybank, have also moved in. The increased competition has meant a more favorable lending climate for borrowers.
"Local buyers are finding it easier to obtain mortgages," saysSaiyalath.
In 2016, there were 42 commercial banks, and 168 microfinance institutions in the country.
In 2016, the one-year nominal lending rate ranged from 5.25% to 14% for LAK-denominated loans, 4.29% to 10% for THB-denominated loans, and 4% to 10% for USD-denominated loans, according to the Bank of the Lao PDR (BOL), the country's central bank.
The benchmark interest rate currently stands at 4.25%, slightly down from 4.5% in the same period last year.
Tourist arrivals declining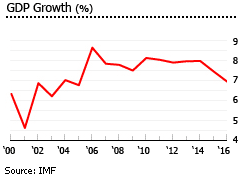 With its natural beauty and historic and cultural treasures, Laos' tourism sector offers huge potential for growth. According to the Ministry of Information, Culture and Tourism, there were 2,104 tourist sites in the country, but only about 40% had been developed and opened for services. Laos currently has 1,194 ecotourism sites, 628 cultural sites and 282 historical attractions, including two UNESCO World Heritage sites. Thailand, together with Vietnam and China, accounted for about 90% of visitor arrivals.
Champasak province was the top ranked destination, with its UNESCO as a world heritage Khmer ruins, receiving nearly 400,000 visitors in 2016. Vientiane province had over 360,000 visitors, Savannakhet province 335,000 visitors and LuangPrabang province 173,000 visitors.
Yet in 2016, tourist arrivals dropped 10% to 4.2 million people from the previous year, according to the Ministry of Information, Culture and Tourism, largely because visitors from Thailand - almost half of total arrivals - dropped by more than 400,0oo because of Thailand's aggressive promotion of domestic tourism to Thai citizens. Tourism revenues fell in 2016 by 0.1% y-o-y to US$724 million.
Visitor arrivals are expected to reach 4.8 million this year, and tourism revenues are projected to increase to US$843 million. By 2025, the government aims to increase visitor arrivals to 7.5 million with over US$1.3 billion in revenue.
Most of the country's tourist destinations have not yet opened to visitors due to poor infrastructure. As such, a number of incentives have been recently introduced to attract investments in this field.
Unbroken economic growth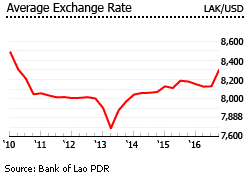 Laos has experienced uninterrupted economic growth in the past 27 years, with the real GDP growth rate averaging 7.3% from 2000 to 2016 - making the country one of the fastest growing economies in the region. The economy has doubled in size from 2007 to 2016 and GDP per capita surged from just US$292 in 2000 to US$1,925 in 2016. This can be primarily attributed to the government's move during the 1990s to finally open up its economy and implement economic and business reforms during the later years.
Since 2003, the government has designated various sites as economic zones to speed development. In 2011, Laos opened a stock market in Vientiane. Laos became a member of the World Trade Organization (WTO) in 2013 and joined the ASEAN Economic Community (AEC) in 2015.
Laos has been one of the major sources of electricity in the region over the past decade, supplying the energy needs of its neighboring countries. In 2016, there were 42 hydroelectric and heat power projects in Laos, with total capacity of 6,300 megawatts.
Laos is also becoming an important mining destination and logistical hub for regional trade.
In Q4 2016, the total value of exports from Laos rose by more than 21% y-o-y to US$863 million, mainly driven by a rise in electricity exports, according to the BOL. Electricity accounted for about 37% of the country's total exports. Over the same period, mining exports such as copper increased 8.2% while agricultural exports rose by 46%.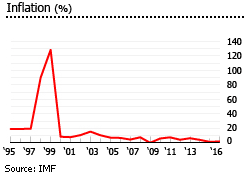 The value of imports increased 14.9% to US$1.24 billion in Q4 2016 from a year earlier. As a result, Laos recorded a current account deficit of US$346.9 million in Q4 2016, up by 11% from the previous year but down by 36% from the same period last year.
The current account deficit slightly improved to 14.1% of GDP in 2016 from 16.8% of GDP in 2015, but is expected to widen to about 19% of GDP this year, due to the expected large imports of construction materials and machinery for the construction of the first high-speed railway between China and Laos.
Laos' economy is expected to expand by about 6.8% this year and by another 6.7% in 2018, according to the IMF.
Headline inflation rose to 2.15% in Q4 2016, up from 1.89% in the previous quarter and 1.16% in the same period last year, according to BOL. Inflation is expected to increase from 1.5% in 2016 to 2.5% this year and 3% in 2018, mainly due to stronger domestic economic activities and higher oil prices, according to the Asian Development Bank (ADB).
The Lao Kip, the country's official currency, depreciated against the U.S. dollar by 2.8% in 2016 from two years ago, to reach an average exchange rate of LAK8,300 = USD 1 by end-2016.
Despite positive developments, Laos remains one of east Asia's poorest nations, and it is still reliant on foreign aid and international donations, especially from Japan, China and Vietnam.