Tanzania's property market continues to flourish
Tanzania's property market is set to grow sharply in coming years, supported by strong, uninterrupted economic growth. Tanzania's economy grew by 7% in 2018, following an average real GDP growth rate 6.5% from 2000 to 2017, primarily driven by its booming construction sector. Since taking office in November 2015, President John Magufuli has embarked on an ambitious program of industrialization, investing billions of dollars in infrastructure and various housing projects.
The construction sector grew by more than 17% annually from 2016 to 2018. Despite this, housing demand still far outstrips supply. The country is experiencing rapid population growth of 3.11% annually and an urbanization rate of 5.22%, according to the Centre for Affordable Housing Finance in Africa (CAHF), create strong demand for housing, especially in the city centre.
Housing demand is increasing by about 200,000 units annually, with the current housing deficit estimated at about 3 million units, according to Tanzania Ministry of Lands, Housing and Human Settlements Development.
"The Tanzanian housing sector's fast-growing demand is mainly driven by the strong and sustained economic growth with GDP growth averaging 6-7% over the past decade, the fast-growing Tanzanian population which is estimated to be 55 million and is expected to more than double in 2050 and efforts by the government in partnership with global non-profit institutions and foreign governments to meet the growing demand of affordable housing," said the Bank of Tanzania, the country's central bank.
The expatriate market in Dar es Salaam is relatively small and dominated by employees of donor agencies and other multilateral institutions. Although experiencing rapid economic growth, Tanzania remains one of the poorest countries in the world, with GDP per capita of just US$1,040 in 2018, according to the International Monetary Fund (IMF).
Non-citizens may only acquire land (leasehold) for investment purposes, subject to the approval of the Tanzania Investment Center (TIC) for the mainland or the Zanzibar Investment Promotion Authority (ZIPA) for Zanzibar. All land in Tanzania is owned by the state, and can only be leased to individuals for five to 99 years.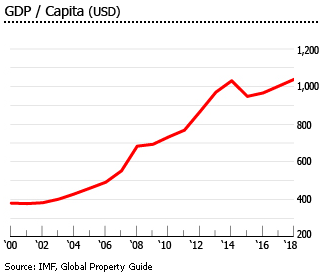 The most expensive residential properties are in the Oyster Bay and the Msasani Peninsula in Dar es Salaam, and on the Lake Victoria shores of Capri Point in Mwanza.
In Dar es Salaam, Tanzania's largest city and the economic capital, a 3-bedroom residential property located near a beach or in a prime location is priced between US$300,000 to US$500,000. However in other areas, 3-bedroom houses are priced starting US$50,000.
Rapid urbanization transforming the country
Tanzania has seen rapid urbanization in the past two decades, amidst unbroken economic growth. Today, at least 32.6% of the country's 55 million population (almost 18 million people) live in urban areas.
Dar es Salaam has seen the fastest urbanization. All government offices are headquartered there and all diplomatic missions and private organizations have a presence in the city.
Not surprisingly, Dar es Salaam has the country's most expensive housing and land. For instance at the PSPF Towers, the tallest building in Tanzania, three-bedroom apartments are priced between US$350,000 and US$500,000.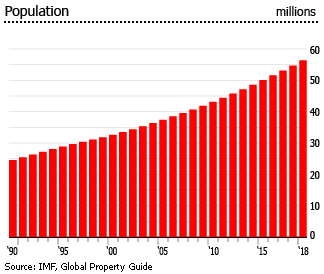 Dodoma, the national capital of Tanzania, is undergoing a construction boom, following the government's decision to move its administrative functions to the capital. Property prices are now rising by double-digit figures annually.
The southern port city of Mwanza, Tanzania's second largest city, is also experiencing a strong rise in land prices due to natural resource discoveries and the influx of foreign investors.
"There have been gas finds there so you have got an influx of foreign investors that are going there, [with] no places to stay and in a nutshell that is what is making the whole place interesting," said Mwijage Bishota of Fusion Capital Tanzania.
Construction is booming
To address burgeoning demand, many housing developments are under construction.
The National Housing Corporation (NHC)´s various housing projects cater to all kinds- high, medium and low income earners. In Dar es Salaam, the NHC's major ongoing projects are the 711 Kawe, Mwongozo Housing Estate, Morocco Square and Victoria Place.
Kawe project – a US$2 billion satellite city will include 500 buildings and host about 50,000 people, making it Dar es Salaam´s busiest centre when built. Scheduled for completion by 2020, it will have housing, shopping malls, hotels, restaurants, entertainment facilities, plus a helipad and landing stages adjacent to the Indian Ocean's coast.
Mwongozo Housing Estate –in Gezaulole Kibamboni, with 221 two- and three-bedroom houses, was completed in 2018.
Morocco Square – launched in October 2015, the Morocco Square is the biggest project in East and Central Africa, with a 24,924 sq. m. residential tower, a hotel tower and two office towers. One of the office towers will house the country´s stock exchange.
Victoria Place – a mixed-use development in the Victoria area along the new Bagamoyo road. It offers 88 three- and four-bedroom duplex apartments and commercial space. It also includes a swimming pool, gymnasium, clubhouse, kids playing area and other recreational facilities.
Mateves satellite city – located at Mateves on the southwestern outskirts of Arusha, the 559.4-ha project will offer 300 housing units to low, middle and high income earners.
Iyumbu Sattelite Centre – located in Iyumbu area in the capital city of Dodoma, this NHC mega-project was launched in December 2016, in line with the government's decision to move its administrative functions into the capital. The first phase of the project, which commenced in December 2016, offers 300 three-bedroom stand alone houses and other facilities. The units were priced at TZS 57.67 million (US$ 25,109), TZS 62 million (US$ 26,994), and TZS 83.95 million (US$ 36,551). The project targets both middle and low income households.
Medeli Housing project – the project offers 90 residential units for public servants who relocate to the new city.
Moreover, the Watumishi Housing Company (WHC), a government-owned property developer established in 2013 with the mandate of proving homes for public servants, remains committed in the continuous implementation of the Public Servants Housing Scheme, where 50,000 affordable housing units are scheduled to be constructed in five phases. A total of 736 units were constructed under phase 1.
Also, WHC Watumishi Njedengwe Housing Estate was launched in August 2017 to construct 338 housing units in Njedengwe, Dodoma. Phase 1 was completed last year, and includes 39 stand-alone units. In the Coast Region, WHC is planning a satellite city in Kibaha consisting of 1,000 housing units and other related commercial infrastructure.
The private sector is also busy. For instance, Avic International is currently completing the construction of the Avic Town project in Kigamboni. The first phase includes 130 three- to four-bedroom villas and other amenities such as a gym, swimming pool, supermarket and a tennis court. The houses are priced from US$150,000 to US$500,000.
Legislation changes driving the property market
The government has been actively fostering an investment-friendly environment. It has introduced regulations for mortgage financing, established a framework for Real Estate Investment Trusts (REITs), signed several double taxation treaties and multilateral and bilateral agreements, and enacted the Unit Titles Act (also called the Condominium Law).
The Unit Titles Act no. 16 of 2008 sets out the rules and procedures for the management and regulation of divisions of buildings into units, clusters, blocks and sections, owned individually or in common use for the purpose of promoting efficient and effective use of landed property in the country.
"The real estate market is beginning to transform, and this has primarily been driven by change in legislation," said Fusion Capital´s Bishota.
Mortgage interest rates remain high
Mortgage interest rates range from 15% to 19%, down from 22% to 24% in 2010. Interest rates are usually variable although some banks offer a limited fixed period for first five years. Mortgage interest rates are usually benchmarked to the prime lending rate or other key interest rates.
The repo rate increased 4.5% in May 2019, from 2.46% in a year earlier. On the other hand, the overall lending rate fell slightly to 8.2%, from 8.32% a year earlier. The lending rates for short-term loans remained almost unchanged at an average of 8.51% in May 2019 while long-term lending rates increased to 8.36% from 8.17% a year ago.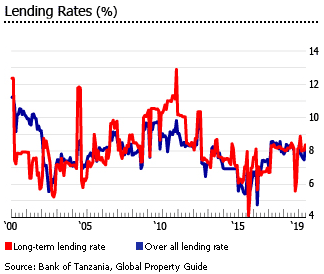 The typical loan-to-value (LTV) ratio does not exceed 80% of the appraised property value with a term period between 10 years and 20 years.
Mortgage market underdeveloped
Tanzania's mortgage market is tiny, about 0.33% of GDP in 2018, slightly up from 0.29% of GDP the previous year, based on estimates by the Global Property Guide.
However the market is growing: in 2018, total mortgage loans outstanding in Tanzania were around TZS 421.1 billion (US$ 183.22 million), up 22% from a year earlier, according to Bank of Tanzania. The number of mortgage loans climbed from less than 2,800 in 2013 to more than 4,000 last year. The average mortgage loan size was TZS 84.28 million (US$ 36,672) in 2018, according to the Tanzania Mortgage Refinance Company Ltd (TMRC).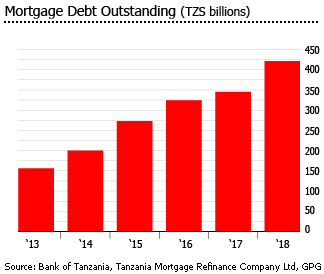 Market development has been systematic.  In 2010, the Tanzania Mortgage Refinance Company Ltd (TMRC) was established to improve access to housing credit. Last year, mortgage loans advanced by TMRC to its member and non-member banks were about 29% of the total mortgage debt outstanding.
The Housing Microfinance Fund (HMFF), another initiative launched in 2015, assists the provision of long-term loans to low income earners for home construction or home improvements. The first disbursement of TZS 1 billion (US$ 435,387) was provided to DCB Commercial Bank Plc. To date a total of TZS 17.9 billion (US$7.8 million) has been disbursed to banks to facilitate the issuance of housing microfinance to borrowers.
Though the number of mortgage lenders has increased from only 3 banks in 2010 to 18 in 2013, and finally to 32 lenders in 2018, only five lenders command about 70% of the mortgage market in 2018: Stanbic Bank, Bank M, CRDB Bank, Azania Bank, and Commercial Bank of Africa.
The following table shows the total mortgage debt outstanding in Tanzania by lender:
TOTAL MORTGAGE DEBT OUSTANDING, H1 2018

Lender
No. of Accounts
Amount in TZS billions
% Market Share
Stanbic Bank (T) Ltd
178
59.12
17.83
Bank M Tanzania Public Ltd Company
29
46.86
14.14
CRDB Bank Plc
315
40.56
12.24
Azania Bank Limited
538
29.08
8.77
Commercial Bank of Africa (T) Ltd
127
20.98
6.33
First National Bank Tanzania Ltd
96
17.09
5.16
NIC Bank Tanzania Limited
21
12.84
3.87
Bank of Africa Tanzania Limited
123
12.37
3.73
NMB Bank Plc
89
10.79
3.25
DCB Commercial Bank Plc
788
9.35
2.82
KCB Bank Tanzania Limited
55
8.62
2.60
Barclays Bank (T) Limited
56
7.65
2.31
Letshego Bank (T) Limited
128
6.91
2.08
I & M Bank Tanzania Limited
37
5.68
1.71
NBC Limited
46
5.41
1.63
Equity Bank Tanzania Limited
14
5.11
1.54
Standard Chartered Bank (T) Ltd
20
4.59
1.38
African Banking Corporation (T) Ltd
38
4.31
1.30
Exim Bank Tanzania Limited
39
3.95
1.19
Amana Bank Limited
46
3.05
0.92
EFC M.F.B Tanzania Limited
152
2.88
0.87
Peoples Bank of Zanzibar
19
2.50
0.76
Yetu Microfinance Plc
588
2.36
0.71
Akiba Commercial Bank Ltd
414
2.36
0.71
TIB Corporate Bank Limited
14
1.80
0.54
Diamond Trust Bank (T) Ltd.
5
1.77
0.53
Citibank Tanzania Limited
10
1.43
0.43
TIB Development Bank Limited
10
0.99
0.30
International Commercial Bank (T) Ltd
1
0.38
0.11
1st Housing Finance (Tanzania) Ltd.
3
0.36
0.11
Mucoba Bank Plc
62
0.34
0.10
TOTAL
4,061
331.49
100%
Sources: TMRC, Bank of Tanzania
Registering property remains tedious
Tanzania ranks 146th out of 190 countries in terms of ease of registering property, down from 142nd in 2018 and 132nd in 2017, based on the World Bank's Doing Business 2020 report. The whole process of registering a property takes eight procedures and 67 days, at a cost of 5.2% of the value of the property – compared to an average of 6.1 procedures and 51.6 days for Sub-Saharan African countries.
One of Tanzania's fundamental problems is the lack of land titles. Only 3% of adult Tanzanians have a title deed. To address this, the Ministry of Land is now expediting the release of title deeds, and changing to electronic documentation of land title deeds.
The process of acquiring construction permits is equally lengthy. Based on the World Bank's Doing Business 2020 report, Tanzania ranks 149th out of 190 countries in terms of dealing with construction permits. It takes 24 procedures and 184 days to get a construction permit.
Rapid economic growth
Tanzania has experienced strong economic growth in recent years, with an average real GDP growth rate of 6.5% from 2000 to 2017. In 2018, growth was a spectacular 7%, according to the International Monetary Fund (IMF).
The Tanzanian government expects growth of 7.1% this year, though the IMF has released a more conservative projection of 5.2% growth this year and 5.7% in 2020.
President John Magufuli has embarked on an ambitious program of industrialization after coming to power in November 2015, investing billions of dollars in infrastructure, including the development of a major hydropower plant, the construction of a new rail line and the improvement of the national airline Air Tanzania Company Limited (ATCL).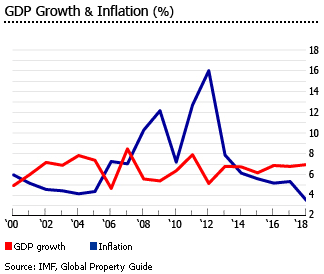 In October 2019, the overall inflation rate was 3.6%, up from 3.2% a year earlier but still within the country's medium-term target of 5%, according to the NBS. Inflation slowed to 3.5% last year, from an annual average of 6% in 2013-17 and 10.4% in 2006-12.
The current account deficit fell sharply to US$108.8 billion in Q3 2019, from US$435.7 billion a year ago, according to the Bank of Tanzania. The country's current account deficit stood at 3.7% of GDP last year.
The country's budget deficit was equivalent to 2% of GDP both in 2017 and 2018, the lowest level since 1998.
Tanzania's external debt reached US$22.17 billion in Q3 2019, up by 7.8% from the previous year, mainly due to loans contracted for development projects. Despite the increase, the central bank noted that the debt remains sustainable as evidenced by the external debt service to exports ratio of 19.4% - still well within the 23% threshold.
General elections will be held in Tanzania in 2020.
Sources: