Seychelles' property market flourishing
Property prices in Seychelles' high-end have risen continuously over the past several years.
At the Eden Island, an exclusive marina development on reclaimed land linked to Mahe by a bridge, residential property prices have almost doubled over the past eight years, according to local experts.
From 2006 to 2014:
Prices of one-bedroom apartments at the Eden Island soared by about 72.7% to an average of SCR6.17 million (US$475,000).
Prices of two-bedroom apartments rose by 58.8% to an average of SCR8.76 million (US$675,000).
Villa prices at the Eden Island almost doubled to SCR45.43 million (US$3.5 million) in 2014 from just SCR23.36 million (US$1.8 million) in 2006.
"Over the years, investment in residential property in Eden Island has proven lucrative, with capital values appreciating significantly," says Chris Immelman of Pam Golding Properties' (PGP) International.
"This represents an average eight to 10% year-on-year increase in property values. Over and above this, a rental division provides an option to achieve very good rental yields, with a strong demand among holidaymakers, particularly from France, Germany, Italy and South Africa," adds Immelman.
Eden Island has about 450 luxury two- and three-bedroom apartments, mansions and villas. It has a clubhouse, tennis court, gym, swimming pools and four beaches. By the first half 2015 over 480 homes had been sold, at a total value of SCR5.71 billion (US$440 million).
At the Four Seasons Private Residences Seychelles, an exclusive residential development on Petite Anse Bay on Mahe's southwest coast, four- to six-bedroom villas are priced at about SCR102.3 million (US$7 million).
Owning a property in such residential developments typically grants residency rights for the owner and his immediate family.
Property in Seychelles is expensive. Dwelling prices in Mahe, the capital, start at SCR2.1 million (US$160,000), according to Jean-Paul Maurel, director at Premium Realty, and a furnished two-bedroom house sells for about SCR8.3 million (US$640,000).
Land and property prices in the capital vary considerably depending on location. For land with no view, the average price was just SCR731 (US$56) per square meter (sq. m.). However for prime beachfront properties, the average price stood at SCR21,921 (US$1,689) per sq. m.
In Praslin, the Seychelles' largest island, property prices are about 20% higher than in the capital because most properties are located on or near the beach.
Foreign property buyers mainly come from South Africa, Italy, France, Russia and the UK. Seychelles culture is largely French-influenced, and the population is highly racially mixed.
Most foreign buyers pay cash. Foreigners can secure residency in Seychelles for a fee of SCR50,000 (US$3,852). There are no property taxes or capital gains taxes in Seychelles but a foreign homebuyer should expect to pay a processing fee of 1.5%, a sanction duty of 11%, and a stamp duty of 5%.
Purchasing requires Government Sanction from the Cabinet Ministers of the Ministry of Land Use and Habitat. The property must be used only for residential benefit of the buyer and his family. A minimum of SCR1 million (US$77,047) must be brought into the Seychelles, and converted to Seychelles rupees (SCR) to be used for the transaction.
Seychelles' natural gifts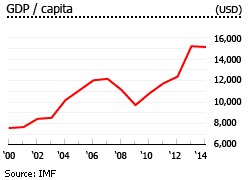 The Seychelles is outside the cyclone belt so the weather is stable all year round, a humid equatorial climate with an average maximum daily temperature of 29 degrees. There's no malaria or yellow fever. It has the highest human development index in Africa. It is archipelago of 115 islands with superb beaches, an unspoiled landscape, virgin forest, amazing marine life, lots of orchids, bougainvilleas, hibiscuses, gardenias and frangipani, and a profusion of bird species found nowhere else. 1,600 km off the coast of East Africa, it had a population of only 94,000 in 2014.
Because of its tourist attractions, the Seychelles is the richest country in Africa, with a GDP per capita of US$25,229 in 2015.
Policy on foreign land ownership relaxed
Non-Seychellois can now buy privately-owned land, provided they meet a number of criteria and are granted sanction by the government, following recent policy changes. The new policy also allows non-Seychellois to buy a long term lease for a development on state-owned land. This applies to all the outlying islands.
"In keeping with improving the "Ease Of Doing Business" in Seychelles the current mandatory requirement under the Immovable Property (Transfer Restriction) Act for Non-Seychellois to apply for and obtain sanction to occupy and or rent business premises will be dispensed with altogether on tenancies and leases of a maximum duration of 2 years," said the government.
Exchange rate fluctuations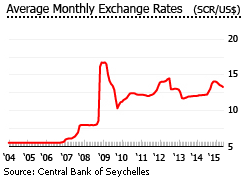 The Seychelles has long suffered from current account problems, due to long-standing overvaluation of the currency. In November 2008, a balance of payments crisis forced the Seychelles to abandon its fixed exchange rate regime, and move to a floating exchange rate.
After overshooting in 2009, the Seychelles rupee has settled at around half its previous value. In May 2015, the value of the SCR improved moderately to reach US$1 = SCR13.33, according to the Central Bank of Seychelles (CBS).
Worryingly, the country's current account deficit widened to about 22% of GDP in 2014, from 15.5% in 2013. In addition, the country's general government debt is fairly high at 61.3% of GDP at end-2014.
Tourism flourishing
Tourism accounts for 70% of the country's revenues and contributes about 25% of GDP. In 2014, there were about 232,667 tourist arrivals in Seychelles, up just a percentage point on a year earlier, according to the country's National Bureau of Statistics (NBS). Europe accounted for almost three-fourth of all visitor arrivals.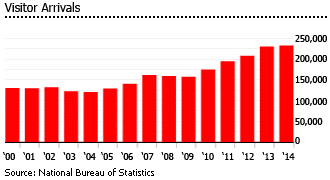 During the first seven months of 2015, tourist arrivals surged 17.2% compared to the same period last year.
WTO membership to buoy economic growth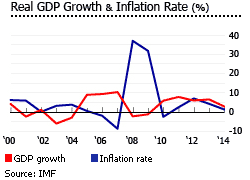 Seychelles became the 161st WTO member on April 26, 2015, which is expected to boost economic growth. Seychelles' growth slowed sharply in 2014 to just 2.9%, after average annual growth of 6.6% from 2010 to 2013, according to the International Monetary Fund (IMF).
The economy is expected to grow by 3.5% this year and by 3.8% in 2016.
"WTO membership ensures that Seychelles will contribute to on-going multilateral negotiation processes to ensure that we can create more opportunities for wealth creation and prosperity while also defending the countries' approach to development," said Seychelles Minister of Finance, Trade and the Blue Economy Jean Paul Adam.
In Q1 2015, the jobless rate stood at 5.4%, according to the NBS. Average monthly earnings were SCR10,141 (US$781) in Q1 2015, up 3.1% a year ago.
Seychelles saw dramatic inflation during the post-depreciation years of 31.8% in 2009, and 37% in 2008, but this phase seems to be over: in July 2015, consumer prices rose by just 2.6% from a year earlier, according to the NBS.
Mortgage market stagnating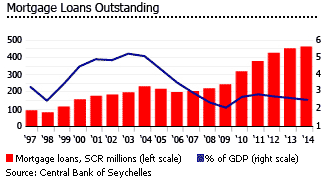 In recent years the mortgage market has been growing, despite high interest rates and a lack of banking competition - though as a percentage of GDP, the market has stood still in recent years. In May 2015, outstanding mortgages rose by 13.2% to SCR481 million (US$37.06 million) from the same period last year, according to the Central Bank of Seychelles (CBS).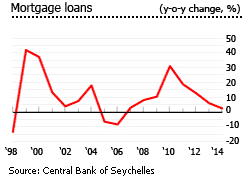 The average lending rate offered by depository institutions was 12.3% in May 2015, up from 11.54% in the same period last year, according to the CBS. Interest rates on housing loans offered by leading commercial banks ranged from 7% to 10%.
The Seychelles isn't adequately housing its foreign workers
Seychelles has at least 13,413 expatriates living and working in the Seychelles, according to the Seychelles Ministry of Labor and Human Resources. Most work in construction or tourism. Indians top the list with than 8,000 workers, followed by Madagascans with about 1,024 workers. Most live in the three populated islands of Mahe, Praslin and La Digue.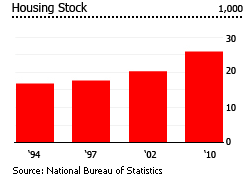 In a bid to ensure that foreign workers have both good working and living conditions, the government of Seychelles last year revealed new plans to nuild adequate housing for foreigners working in the country. There is also a demand-side reason: the construction sector contracted by 6% in 2013 because of a lack of foreign direct investment, according to CBS.
Seychelles has a total housing stock of about 26,000 units, up 29% from 2002, according to the NBS. Of which, about 84% are in good repair, 9% are fair while the remaining 7% are in a poor state.
Around 69.3% of the population own the dwellings in which they live, up from 66.3% in 2002. On the other hand, about 10% rent their dwelling from the government, and another 9.1% rent privately, according to the 2010 Housing and Population Census.
There was a 4% increase in home ownership in 2014, mainly on Ile Perseverance and Eden Island, according to the Central Bank of Seychelles (CBS). At least four major new housing projects also began that year, sponsored by the United Arab Emirates (UAE) Government, which contributed SCR72.3 million (US$5.57 million), the Chinese Government amounting which contributed SCR21 million (US$1.62 million) and the Indian Government which contributed SCR66.2 million (US$5.1 million).
Seychelles - More data and information