Kenya's housing market is now struggling
Kenya's housing market is cooling rapidly, amidst falling demand caused by constrained credit access, coupled with the continued oversupply of high-end residential developments.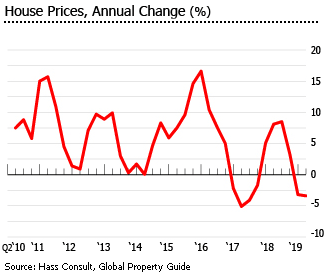 During the year to Q3 2019, the Hass Composite Property Sales Index, a measure of asking sales prices of residential properties, fell by 3.4%, in sharp contrast to a y-o-y rise of 8.1% during the same period last year, based on a report released by HassConsult Limited. It was the second consecutive quarter of y-o-y price declines after falling by 3.2% in Q2 2019.
Quarter-on-quarter, residential property prices increased slightly by 0.9% in Q3 2019.
By property type:
For detached houses, prices fell by 7% y-o-y in Q3 2019, in sharp contrast to an 8.8% rise a year ago
For semi-detached houses, prices rose by 6% y-o-y in Q3 2019, a deceleration from last year's 11.8% growth
For apartments, prices dropped 1.7% y-o-y in Q3 2019, in contrast to a 1.3% rise a year earlier
The Hass index is based on 4,000 to 6,000 properties tracked across Kenya, which are collected from multiple estate agencies and all publicly available house sales, including in property magazines, property websites and the national media.
Several Nairobi suburbs registered nominal house price rises. Nyari Estate, one of the most secured upmarket neighborhoods in Kenya and in close proximity to many diplomatic establishments, saw the biggest rise in house prices of 12.4% during the year to Q3 2019. It was followed by Ridgeways (10.6%), Loresho (9.5%), Muthaiga (8.6%), Karen (6.2%), and Gigiri (5.2%).
Modest to minimal price increases were recorded in Westlands (4.8%), Runda (4.8%), Spring Valley (4.7%), Donholm (4.3%), Kitisuru (4.1%), Lavington (3.7%), Kileleshwa (3.1%), Kilimani (0.9%), and Eastleigh (0.5%). Langata, home to many housing developments and known for its gardens and parks, was the only Nairobi suburb which registered a nominal house price decline of 3.8% during the year to Q3 2019. However when the 4.7% inflation rate in Nairobi in end-Q3 2019 is taken into consideration, real house prices have actually declined in half of Nairobi suburbs during the year to Q3 2019.
Despite the recent decline, house prices in the capital are still 4.4 times higher than in 2000. The average value of a residential property in the HassConsult database in surged to KES 31.2 million (US$ 304,777) in September 2019, from just KES 7.1 million (US$ 69,356) in December 2000. The average price for a 1-3 bedroom residential property is currently KES 14.4 million (US$140,666), while the average price for a 4-6 bedroom residential property is KES 39.1 million (US$ 381,948).
In Kenya, most property purchases are for cash. Because of this, the mortgage market remains underdeveloped and credit access is extremely constrained. Currently, the size of the mortgage market was equivalent to just over 3% of GDP and there were fewer than 25,000 mortgage loans outstanding - highlighting the inaccessibility of housing finance.
"The real estate sector, similar to, other segments of the economy is challenged by the lack of liquidity as a result of the amendment of the Banking Act in 2016 that introduced interest rate caps," said Sakina Hassanali, Head of Research and Marketing at HassConsult. "We have seen access to credit by developers and buyers become difficult as commercial banks have become conservative at lending."
Property transactions are now falling by double-digit figures.
Moreover, the oversupply of high-end properties is expected to slow the housing market further. Some of the latest developments currently selling off-plan include: Cytonn Investments' Applewood property in Karen, selling at KES 180 million (US$ 1.76 million); Entim Sidai's two-storey maisonettes in Karen, selling at KES 120 million (US$ 1.17 million); and HassConsult's Enaki in Gigiri, offered for KES 80 million (US$ 781,000).
Yet Kenya's economy remains robust. In 2018, the economy expanded strongly by 6.3%, up from a 4.9% growth in 2017 and the highest growth in eight years, according to the International Monetary Fund (IMF) – making it one of the fastest-growing economies in Sub-Saharan Africa. The economy is projected to expand by a healthy 5.6% this year and by another 6% in 2020.
Foreigners can freely buy 'commercial class' land in Kenya. This type of land is for income or revenue-making purposes.
A shift to smaller, lower priced properties
As the affordability of detached houses has deteriorated over the past 18 years, homebuyers have been shifting to lower priced property types. Apartments took up 55.6% of sales in 2018, sharply up from just 23.5% in 2001. Semi-detached houses accounted for 29.2% of sales in 2018 while detached houses accounted for about 15.2% of the market, a significant change from 2001, when semi-detached houses made up around 25% of sales and detached houses more than half.
According to HassConsult in its Q3 2019 report, there is "high demand for low middle-income housing in far-flung Nairobi's metropolis as tenants opt for cheaper units in the wake of the prevailing high cost of living and uncertainty in the economic environment."
"Continued dominance of the apartments in the housing market is a clear demonstration of the predominance of the middle-income segment of the population," said the Kenya Bankers Association (KBA).
Marginal land price rises
Land prices in Nairobi rose slightly by 1.7% during the year to Q3 2019, according to HassConsult. Loresho, one of the capital city's affluent residential area, registered the biggest y-o-y rise of 9.4% in Q3 2019, followed by Kitisuru (8.2%), Langata (7.9%), Spring Valley (5.5%), Nyari (5.2%) and Karen (4%).
Upperhill had the country's most expensive land in Q3 2019, at an average price of KES 545.7 million (US$5.33 million) per acre, followed by Kilimani, Parklands and Westlands, with average prices of KES433 million (US$4.23 million), KES418.7 million (US$4.09 million) and KES418.5 million (US$4.09 million), respectively.
NAIROBI LAND PRICES, Q3 2019

Nairobi Suburbs
y-o-y change (%)
Change from 2007
Average value (in mil KES per acre)
Average value (in mil USD per acre)
Loresho
9.4
5.86 Fold
93.2
0.91
Kitisuru
8.2
6.53 Fold
90.9
0.89
Langata
7.9
6.13 Fold
66.0
0.64
Spring Valley
5.5
4.49 Fold
168.3
1.64
Nyari
5.2
6.35 Fold
105.8
1.03
Karen
4.0
7.95 Fold
62.2
0.61
Eastleigh
2.9
6.29 Fold
302.3
2.95
Ridgeways
2.8
6.63 Fold
76.8
0.75
Westlands
1.7
5.71 Fold
418.5
4.09
Kilimani
1.6
6.49 Fold
433.0
4.23
Kileleshwa
1.5
7.56 Fold
310.7
3.04
Muthaiga
1.0
6.64 Fold
176.1
1.72
Parklands
0.4
5.38 Fold
418.7
4.09
Lavington
-0.2
5.72 Fold
237.3
2.32
Gigiri
-0.9
6.80 Fold
239.2
2.34
Donholm
-2.0
7.38 Fold
68.6
0.67
Runda
-2.2
6.13 Fold
84.7
0.83
Upperhill
-2.3
9.10 Fold
545.7
5.33
Source: HassConsult
Developers and homeowners are struggling
Real estate was among the sectors that recorded the highest growth in non-performing loans (NPLs) last year, as both developers and homeowners are now struggling to repay their loans, according to the Central Bank of Kenya. As a result, an increasing number of repossessed homes are now being sold at reduced prices.
For instance leading mortgage lender Housing Finance Group reported KES 652 million (US$ 6.37 million) loss in 2018 and another KES 97 million (US$ 950,000) in the first six months of 2019. The company recently listed for auction KES 2.5 billion (US$ 24.4 million) worth of houses in an effort to clean its loan portfolio. To entice buyers, HF Group has slashed prices by as much as 30% in a promotion called "Shika Nyumba" (get a house). Most of the houses on sale are located in Nairobi and its surrounding areas and are listed for KES 3.4 million (US$ 33,200) to KES 300 million (US$ 2.93 million).
Another embattled developer, Suraya Property Group, has recently faced a storm of complaints from buyers due to project delays. One of its flagship projects – Lynx Royal Apartments – has been auctioned. Some homeowners are demanding refunds while others have sought the help of the Directorate of Criminal Investigations for a probe into the matter. In June 2019, Suraya was able to secure KES 1.6 billion (US$ 15.63 million) financing from a consortium of four banks to complete some of its pending housing projects.
"Things got worse and the auctions were more [in 2018] compared to 2017," said auctioneer Stephen Kang'ethe. "The irony is that there are no buyers even for property being put up for auction. Things are bad. There is no money."
Falling demand is forcing some developers to offer promotions to attract buyers, including price discounts, reduced downpayments and other freebies.
"Demand is both constrained by oversupply in some segments and also due to would-be-buyers experiencing very limited access to credit," said Johnson Denge of Cytonn Investments.
In Q1 2019, the total value of residential building plans approved dropped 10.3% y-o-y to KES 33.05 billion (US$ 322.84 million), according to the Kenya National Bureau of Statistics (KNBS). Likewise during the first eight months of 2019, cement production and consumption, another indicator of the state of the construction sector, fell by 2.7% and 0.5% respectively.
Rents are stabilizing
Nationwide residential rents rose slightly by 0.8% y-o-y in Q3 2019, to an average of KES 149,886 (US$ 1,464) per month, according to Hass Consult. This is a sharp slowdown from annual rises of 3.3% in Q2 2019, 8.7% in Q1 2019, 8.6% in Q4 2018 and 4.7% in Q3 2018.
Rents have increased by almost four times since 2001.
Among Nairobi suburbs, Westlands recorded the biggest rent increase during the year to Q3 2019 of 5%, followed by Kilimani (3.2%), Lavington (2.9%), Runda (2.5%), Eastleigh (2.4%), and Kileleshwa (2.2%). Other suburbs with minimal rent rises included Gigiri (1.6%), Muthaiga (1.1%), and Nyari Estate (0.5%).
But rents are now falling in other Nairobi suburbs, particularly in Loresho, which recorded a rent decline of 3.5% during the year to Q3 2019, followed by Karen (-2.2%), Spring Valley (-1.5%), Ridgeways (-1.1%), Kitisuru (-1.1%), Langata (-0.8%), and Donholm (-0.6%). Though in real terms, rents are now falling in almost all of the capital city's suburbs.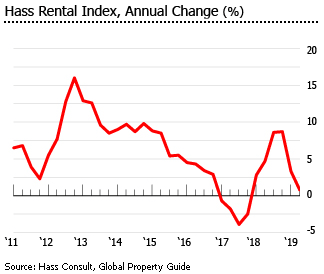 "Asking rents for a modern apartment may cost as little as Sh23,400 and this bodes well for many tenants who are now preferring affordable units as they take caution to save in the wake of job losses cross all sectors," said Sakina Hassanali, Head of Research and Marketing at HassConsult. "Notably, as the cost of living soars, the lower middle class is opting to pay slightly more in transport but less in rents."
In Q3 2019:
The average rent for a 1-3 bedroom residential properties stood at KES 80,229 (US$784) per month
The average rent for 4-6 bedroom residential properties was KES 227,506 (US$2,222) per month
Kenya has a large rental market, with about 84% of Kenyans are currently renting houses.
Acute shortage of affordable housing
Despite the crisis at the upper end, there is huge demand for low-end housing.  More than 200,000 homes need to be built a year, but only 50,000 new units are being built annually, according to Lands Cabinet Secretary Jacob Kaimenyi, leaving around 150,000 Kenyans un-housed every year with middle-income earners and students in urban areas most affected.
Currently, Kenya's housing deficit is estimated at around two million units, according to Africa Housing Finance Yearbook 2019.
In Nairobi, more than 67% of all residents live in informal settlements. The proportion of owner-occupied households in the urban areas currently stands at just 18%, compared to 82% in rural areas.
The huge demand and supply gap is aggravated by property developers concentrating on building houses for the high-income earners, says Elizabeth Nkulu of Cytonn Investments. Based on World Bank estimates, 83% of the existing housing supply is for high income and upper middle-income segments, 15% for lower middle income segment and only 2% is intended for the low-income population.
To ameliorate the situation, the government, with the help of the private sector, has recently launched an ambitious housing development project. In 2018, the National Housing Corporation (NHC) established the Affordable Housing Initiative, as part of the government's 'Big Four' agenda. The program aims to deliver 500,000 affordable housing units by 2022. Prices for these units range from KES 600,000 (US$ 5,861) for a studio apartment to KES 3 million (US$ 29,305) for a three-bedroom apartment.
The housing initiative includes the following components:
The Kenya Mortgage Refinancing Company (KMRC) was established with a primary function of providing long-term mortgage loans at low interest rates.
Stamp duty tax exemption for first-time homebuyers and a 15% corporate tax rate relief for developers who provide at least 100 affordable housing units were year were introduced.
The National Housing Development Fund (NHDF) was established, which acts as a saving trust for employees who plans to purchase a residential property. Employees and employers are required to contribute 1.5% (3% in total) of the employee's monthly salary (capped at KES 166,000 or US$ 1,622 per month) to the Fund.
Nairobi has also introduced an Urban Renewal Programme in 2017 to redevelop several old residential estates, in an effort to improve the access to low-cost, affordable housing in the city. Accordingly, more than 100,000 new units are to be constructed through the comprehensive plan to accommodate about 650,000 people. The first phase of the programme involves the construction of about 10,200 units in various estates including the Jeevanjee, Pangani, Bachelor Quarters, and Old and New Ngara.
Mortgage market remains undeveloped
Kenya's undeveloped mortgage market is one of the primary reasons for its acute housing shortage. Currently, its size is just above 3% of GDP and there were fewer than 25,000 mortgage loans outstanding.
In a recent report, the World Bank commended the role of Savings and Credit Cooperatives (Saccos) in providing affordable housing finance. The share of Saccos-financed housing in Kenya is estimated at about 90%, since banks do not consider housing finance to be attractive.
"Saccos provide a credit for housing finance that is much more accessible and is provided at a cheaper rate as compared to what many banks can offer," said Mehnaz Safavian of World Bank.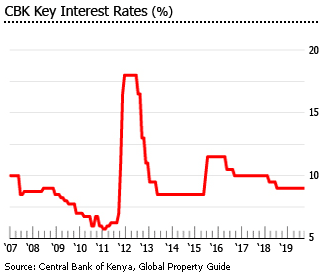 Chetan Hayer of real estate developer Nirbhau Group notes that financing remains very costly in Kenya, not just for buyers but for developers as well. "We need to reform the way that mortgages are structured to ensure funding can be released during construction, not just when properties are completed," said Hayer.
In addition, mortgage rates remain high, currently at around 12% to 15%.
Economy growing strongly, but public debt also rising rapidly
Kenya's economy expanded strongly by 6.3% in 2018, up from 4.9% growth in 2017 and the highest growth in eight years, according to the International Monetary Fund (IMF) – making it one of the fastest-growing economies in Sub-Saharan Africa.
Kenya's economy is projected to expand by a healthy 5.6% this year and by another 6% in 2020, based on IMF estimates.
In September 2014, Kenya suddenly joined the ranks of middle-income countries due to the 'rebasing' of its economic statistics, which resulted in a 25.3% upward revision of Kenya´s GDP in 2013, from a previous estimate of US$42.6 billion, to about US$55.2 billion, according to the KNBS. The reassessment makes it the 9th largest economy in Africa, surpassing Ghana, Tunisia and Ethiopia. The country's real GDP growth rate in 2014 was also revised upwards to a robust 5.7%, from an earlier estimate of 4.7%. In addition, Kenya´s GDP per capita was also increased to US$1,246, from just US$994 in 2013. In 2018, GDP per capita stood at US$1,831.
But Kenya's increasing public debt is a major concern. In June 2019, the country's public debt surged to KES 5.89 trillion (US$ 57.54 billion), up 15.2% from a year earlier, as the Treasury goes on a borrowing spree to fund the government's infrastructure projects and repay existing creditors, according to the Central Bank of Kenya. In fact, debt levels more than tripled in a span of just six years.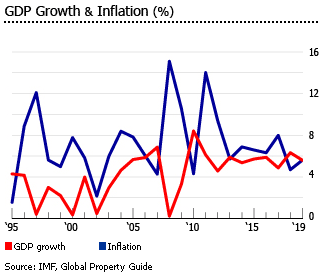 The country incurred KES 975.8 billion (US$ 9.53 billion) loans in FY 2018/19. Much of the debt is owed to China, which has extended loans to fund projects such as the Standard Gauge Railway. As a result, the budget deficit increased to 7.4% of GDP – higher than the Treasury's target of 6.8%.
In October 2019, the country's lawmakers approved the Treasury's plan to raise the borrowing cap from 50% of GDP to an absolute figure of KES 9 trillion (US$ 87.9 billion) in the FY 2019/20, giving the government more room for additional borrowing.
Public debt currently stands at 62% of GDP and could hit 70% of GDP in the coming years if the government will continue to borrow at the current rate, said the World Bank.
The IMF warned last year that Kenya's risk of defaulting on its debt had increased from low to moderate due to rising refinancing risks.
The dark side of the economic picture
Kenya's GDP may be growing rapidly, but so too is its population. The country has an average population growth rate of about 2.8% annually in the past decade. As a result its GDP per capita growth figures are quite poor. From 2008 to 2018, Kenya's real GDP per capita grew by just 2.4%, on average, per year. In other words, for most people real economic progress has been very much less than the bare GDP figures would suggest.
Currently, Kenya's GDP per capita was estimated at US$1,830 in 2018, according to the IMF.
Why has economic growth lagged? According to a World Bank report Kenya's development has been held back by stagnating agriculture and manufacturing industries, falling exports, and a low household savings rate that can be tapped for investment. And of course there is rampant government corruption.
That's why Kenya's poverty index remains high, despite a decline in recent years. The country has still one of the highest number of slums in Africa. Kibera, 6.6 kms from the city centre, is considered the largest slum in Nairobi, and the largest urban slum in Africa.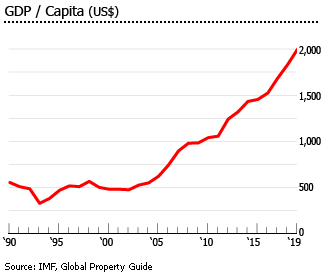 About 16.4 million Kenyans, or more than 36% of the population, live below the poverty line. In fact in the remotely populated northeastern parts of Kenya, poverty rates remain above 70%. Around 80% of all jobs are in the low-paying, less productive informal sector.
Kenya also has the highest unemployment in East Africa. Kenya´s youth unemployment now stands at 26.2%, about 9x higher than neighboring Uganda and almost 7x that of Tanzania, according to the United Nation's 2018 Human Development Index (HDI) report. The country has one of the world´s highest dependency ratios at 71.2%, mainly due to the large number of youths (children under 15 years) in every Kenyan family.
Uhuru Kenyatta, the son of Kenya's founding president Jomo Kenyatta, took up his father's mantle to become head of state in April 2013. He was re-elected for a second term in the August 2017 general election, but after opposition protests the Supreme Court declared the election null and void because of irregularities. Kenyatta was also declared winner of the October re-run, which was boycotted by the opposition. Food security, universal health coverage, manufacturing and affordable housing are the four development linchpins that Kenyatta's administration has pledged to focus on during his final term in office.
A new destination for foreign investors
Despite all these, Kenya has witnessed an increasing interest from foreign homebuyers in recent years. Foreigners generally prefer the area within an arc from Nairobi's south west to north east.
In the Parklands area of Nairobi, demand is high and property is being snapped up by moneyed Asian investors. Because of security concerns and the recent breakdowns in the provision of the basic utilities, there is increased demand for accommodations within secure compounds with their own water supply and back-up generator.
"Kenya´s property market has potential for higher rates of return compared to other jurisdictions. It is also relatively easy for foreign investors to enter Kenya´s real estate sector," said Nathan Luesby of Jenga Web Ltd.
Foreigners can freely buy ´commercial class´ land in Kenya.
The country has showed impressive improvements in transparency mainly due to the increased regulation of the real estate market as Kenya aims to become an economic hub for East Africa, according to JLL. Private companies and other international advisors increasingly provide consistent data for the Kenyan real estate market.
In 2013, Real Estate Investment Trust (REITs) structure and tax dispensation for companies were introduced, and the country´s listed property market has developed considerably over the past few years. Since the introduction of REITs, international investors, particularly from South Africa, have flocked into Kenya´s property market.
Foreign homebuyers on the coast north of the port city of Mombasa are mostly British and Italian, according to Neil McRae of Langata Link Real Estate. In the southern part, foreign buyers are predominantly Swiss, French, and German. Investors from the United States, Canada and South Africa tend to buy real estate in Nairobi for business purposes.
Kenya's most attractive residential areas
A quick tour of high-end residential neighborhoods, including Gigiri, Runda, Muthaiga, Lavington, Karen, Machakos County, Kajiado County, Nyali, and Shanzu.
Gigiri
Gigiri is home to the country's largest expatriate community and is one of the capital's poshest suburbs. It houses the UN Environmental Programme, making it the only African city to host a major UN body. Gigiri's Village Market hosts the International Civil Aviation Organization Base for Eastern and Southern Africa.
Runda, Muthaiga, Lavington, and Karen
These locations host rich Kenyans and high net worth individuals, though recently, more townhouses have been built here rather than villas and mansions.
Machakos County (East Metro)
Because of skyrocketing house prices in the city centre, people are now moving to areas on the outskirts of Nairobi, such as Athi River in Machakos County. Under the Nairobi 2030 Master Plan, Machakos County will be developed as a dormitory town for Core Nairobi.
Konza Techno City
Dubbed as "Africa´s Silicon Valley", Konza Techno City will become the country's single largest property development. Begun in January 2013, the US$14.5 billion project is scheduled for completion by 2030.
Kiambu (North Metro)
Kiambu County has seen many developments since the road connecting it to Core Nairobi was expanded. An example is Tatu City, begun in 2013 with an estimated cost of US$2.5 billion.
Kajiado (South Metro)
Kajiado County is home to some of the country's richest people, especially those who work in the city centre. Its poshest neighborhoods include Ngong, Kiserian, Kitengela, and Ongata Rongai.
Nyali
A popular tourist destination. Nyali, a high-end residential area in Mombasa City, has some of Kenya's most expensive homes, and numerous high-class hotels and long white sand beaches.
Shanzu
Shanzu is an affluent neighborhood in Mombasa, with high-end residential developments. It is popular for its pristine beaches, numerous hotels, bars, and restaurants.
Security remains a serious problem in Kenya. Violent criminal attacks, including burglaries, home invasions, kidnappings, and carjackings, can occur any time in any location. Only selected places are suitable for housing, especially for foreigners.
Sources: