Covid-19 hurts Ghana's high-end property market
After years of lacklustre growth, Ghana's housing market is now gaining momentum, boosted by strong economic growth, and the influx of non-resident Ghanaians and foreign homebuyers, according to local real estate experts.
"Ghana's economic growth and increasing supply of prime real estate assets make it one of Africa's most interesting markets for investors," said JLL. "The capital, Accra, is well placed as a hub for business and travel in West Africa and we expect a pick up in the real estate market to reflect that in the mid-term."
Ghana is predicted to become the world's fastest growing economy this year, with an estimated GDP growth of 8.8% - double the pace of the emerging economy average and well ahead of world growth, according to the International Monetary Fund (IMF).
Demand is stable, especially in the high-end market. Based on figures from Broll Ghana, there have been about 85,000 residential property transactions, for both sales and rentals every year, over the past decade.
Ghana has seen a steady stream of European and American passport holders of African descent arrive at Kotoka International airport in recent years, as a response to the country's resource boom and strong manufacturing growth. They collect their possessions from shipping containers at Tema port and search for homes in Accra's popular residential areas. They come for what seem like the limitless opportunities in what has often been seen as one of Africa's best-run countries. Ghana's mining sector, specifically gold mining, has witnessed a massive influx of multinational mining companies – increasing the demand for expat accommodation further.
Accra, the capital, has undergone major transformation, witnessing a number of luxury gated villa developments, high-end apartments, western styled retail developments, and five-star hotels over the past decade, according to Broll Ghana. Currently, prices for fully-furnished three-bedroom houses in Accra range from US$100,000 to US$500,000 – about 15% higher than in rest of Ghana.
Most high-end residential properties are in Accra´s traditional prime nodes: Airport Residential Area, Cantonments, Labone, Roman Ridge, and Ridge. However the newer residential communities in Airport Hills, Burma Hills, East Legon Hills and East Airport are becoming increasingly popular.
Penthouses and townhouses are the most expensive property types in Accra, with their sales prices ranging from US$450,000 to US$2.5 million in the first half of 2019, according to Broll Ghana. For high-end apartments, the average sales price currently ranges from US$85,000 to US$620,000.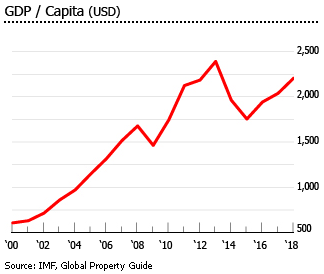 JLL warns that Ghana remains a relatively risky prospect for investors. "The primary risks for all African investments are currency weakness which stems from poor fiscal management by the government and an over-reliance on the export of commodities to support fiscal buffers," said Tom Mundy of JLL EMEA.
There are no restrictions on foreigners buying property in Ghana. However, there are four forms of land ownership, some of which cannot be privately owned. Each involves differing modes of acquisition. These are: Government Land, Vested Land, Customary/Stool Land, and Family/Private Land.
Potential buyers should first consult the Ghana Investment Promotion Center regarding procedures, and to be directed to the appropriate agencies involved in legally acquiring property, since identifying legal ownership can be a problem.
Moderate rental yields
A four-bedroom executive house located in a prime location in Accra may rent for an average of US$4,500 per month, giving a gross rental yield of 8% to the owner, according to Knight Frank. This is in line with a research conducted by Global Property Guide, which shows that a 200 sq. m house would cost about US$150,000 (GHS 812,250), and would rent for around US$750 (GHS 4,061) per month, giving a gross rental yield of around 6 to 8%.
For expatriates, three-bedroom residential properties are typically offered for a monthly rent of US$3,750 to US$5,000.
In Accra, the capital, rents for two-bedroom houses range from US$300 to US$1,500 per month, depending on location, according to Ghana Investment Promotion Centre (GIPC). At the Airport Residential Area, three-bedroom furnished apartments are rented for US$2,000 to US$5,000 per month.
In the western port town of Takoradi, three-bedroom homes rent for an average of US$5,000 per month.
The rental market in Accra is relatively large with 37.5% of all households renting (only 22% for Ghana as a whole). Only about 40.4% of households in Accra own their houses (57.4% for Ghana), while another 20.5% live rent-free (19.5% for Ghana). The remaining 1.6% of housing is employer-provided (4.5% for Ghana).
Ghana's gross rental income tax is withheld at 10%. Capital gains are taxed at 15% with a 5% gift tax imposed on the transfer of properties.
High-end residential developments continue to increase
Residential construction activity continues to increase, with most developers resorting to off-plan sales, according to Broll.
The high-end market is dominated by major developers, including Devtraco Plus, Gold Key Properties, Taysec, Clifton Homes, Imperial Homes, Capemay, Trassaco, Wondaworld Developers and Manet. New players such as Shandonia Properties and China State Hulong Ghana Limited are looking to enter the market.
In the first half of 2019, some of the notable high-end developments coming into the market include Hammond Court by Gold Key Properties, Henrietta's Residences and Nova by Devtraco Plus. Other new developments include Embassy Gardens Phase C, Apartment 24, Signature, Platinum Place, Pine Court, and Rivonia Heights. About two-thirds of these developments are located at the Airport Residential Area and Cantonments.
As a result, building costs continue to rise strongly. In 2018, the prime building cost index (PBCI) surged 14.8% from a year earlier, following rises of 16% in 2017, 12.8% in 2016 and 14.8% in 2015, according to Ghana Statistical Service.
Currently, the total stock of high-end developments in the traditional prime nodes stands at more than 3,000 units, according to Broll. Over 700 additional units are expected to be added to the country's stock within the next two years.
Mid-end market is robust
Demand in the mid-end market is robust, dominated by locals priced out of the high-end market. Sales prices range from US$56,000 to US$350,000 while residential rents vary from US$100 to US$1,000 per month, according to Broll.
Mid-end properties are typically built in suburbs at the peripheries of major towns where land values are still relatively low. Notable developers in this market segment include Green Sun Villa Limited, Regimanuel Grey Limited, Devtraco, Primrose Properties and Westhills Ridge Company Limited. Some of the major upcoming mid-end developments include Eden Heights, Ramser Tower and Bijou Homes.
MID-END DEVELOPMENTS IN THE NEXT TWO YEARS

Name
Location
Developer
Type
Bedrooms
Completion period
No. of Units
Ramsar Tower
Sakumono
Primrose Properties
Apartments, Penthouses
1,2,3,4
3-9 months
24
Eden Heights Phase 1
Weija
Westhills Ridge Company Ltd.
Apartments, Penthouses
2,3
18-24 months
850
Bijou Homes
Appolonia
GHL Bank Ltd.
Semi-Detached
1,2
9-24 months
2,000
Source: Broll Ghana
Shortage of affordable housing
Ghana has an acute shortage of affordable housing, because of rapid population growth. Greater Accra´s population has risen from 2.9 million people in 2000, to almost 5 million people today, as people have flocked to the capital in search of work, according to Ghana Statistical Service.
The fact that private developers concentrate on the construction of high and mid-end properties makes things worse. It leaves government and quasi-governmental institutions to meet the needs of the low-end market. Ghana currently has a total shortfall of more than 1.7 million affordable housing units, according to the Ministry of Works and Housing.
"Every year we are only able to deliver to the market about 40,000 [housing units]," said parliament minority leader Osei Kyei-Mensah-Bonsu. "Per year we require about 110,000, i.e. about 30% of housing needs. So there is always a deficit of about 60,000 to 70,000 per year."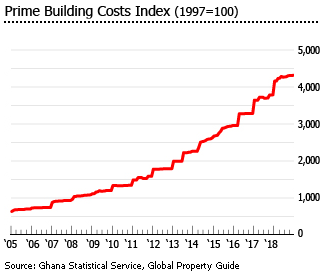 In September 2018 thee government signed an MOU with the United Nations Office for Project Services (UNOPS) to build 100,000 low-end units at Afiaman near Amasaman in Accra at a cost of US$5 billion.  In February 2019, the government entered a private-public partnership (PPP) with Hungarian company Solin to build 10,000 affordable houses across the country. The government´s  Sanglemi Housing Project also added over 1,500 affordable units to the market in H1 2019.
Private developers are now starting to see the potential of the market. For instance, Rehoboth Properties Limited, known for its mid-end housing developments, has recently ventured into the low-income market with the development of Rehoboth Knightsbridge, situated in Kwabenya, Accra, with a sales price of US$26,500 per unit, according to Broll.
"In the longer term, Ghana is one of several African markets with potential for investment in affordable housing," said JLL. This is supported by other local real estate experts. As property consultant Peter Tsikata noted: "..there is a huge demand for affordable homes but we don't have enough supply. Developers are not developing a whole lot of that, because they do not have the funding."
Small mortgage market
Ghana's mortgage market remains small, but outstanding mortgage loans for the purchase of residential property have increase dramatically in recent years, due to strong economic growth and improved legal conditions, according to the Housing Finance Network. The size of the mortgage market is estimated to have grown from 2.5% of GDP in 2004 to 3.9% in 2006 and to about 10% in 2018.
Ghana Home Loans (GHL), the only specialized mortgage provider in the country, together with the Housing Finance Company Bank (HFC), are the largest mortgage lenders in Ghana.
The loan-to-value (LTV) ratio is typically 80% of the property value. In GHL, the maximum term period for home purchase mortgage loans for first-time buyers is 15 years for dollar-denominated loans and 10 years for cedi loans.
Complicated titling system
There are no restrictions on foreigners buying property in Ghana. However, there are different kinds of land – Government Land, Vested Land, Customary/Stool Land, and Family/Private Land – and some of which cannot be privately owned.
To acquire Government Land or Vested Land, an application must be filed with the Executive Secretary of Lands Commission or the Regional Lands Officer, depending on the location of the land.
Customary Land belongs to different Stools in Ghana, who have the authority to grant the particular customary land for which they are responsible. The 1992 Constitution states that there must be no free hold interest granted in land.
Customary Land granted to private individuals or families before the 1992 Constitution is now considered private land. In this case, the buyer has to go directly to the owner of the land.
Total round-trip transactions costs, i.e., the cost of buying and selling a property, range widely from 8.25% to 16% of the property price, due to the multiplicity of land titling issues. The seller pays the 5% real estate agent's commission. The buyer pays the stamp duty ranging from 0.25% to 1%, and legal fees ranging from 3% to 10%.
Ghana to become the world's fastest growing economy in 2019
Just a few decades ago, Ghana was in deep economic crisis, impoverished and suffering famine. Fast-forward today, Ghana is now hailed as a model for African growth and is predicted to become the world's fastest growing economy in 2019, with a projected GDP growth of 8.8% - double the pace of emerging economies and well ahead of world growth, according to the World Economic Forum.
Ghana's strong growth in recent years is primarily driven by its top three main export commodities – oil, cocoa, and gold. It is aided by the government's various reforms, including trade liberalization, price deregulation, privatization, and the elimination of exchange rate distortions.
The economy expanded by 5.6% in 2018, after 8.1% growth in 2017, according to the International Monetary Fund (IMF).
Ghana's budget deficit target for 2019 is 4.2% of GDP, compared to a shortfall of 3.8% of GDP in 2018. Gross debt is expected to reach 62% of GDP this year, slightly up from 60% of GDP in 2018, according to the IMF.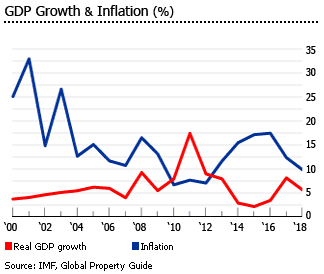 Ghana exited a four-year extended credit facility program with the IMF in April 2019, pledging to maintain fiscal discipline. The government raised US$3 billion in Eurobonds in March 2019.
Despite these improvements, Ghana (pop. 29.6 million, GDP/cap US$2,200) remains a very poor country. Formerly known as the Gold Coast, it was the first country in sub-Saharan Africa to gain independence from Britain in 1957.
After independence there was a long power struggle, after the socialist one-party state established by independence leader Kwame Nkrumah was followed by a series of military coups. Jerry Rawlings overthrew the government in 1979, and gained popularity by instituting price controls. He moved the country towards an increased role for the private sector, relinquished power to an elected government headed by President Hilla Limann (1979-81), but soon overthew Limann. He then abolished the constitution, suppressed dissent, and established a program of self-sufficiency and austerity, while surviving four coup attempts. He won free presidential elections in 1992 and 1996, serving until 2001.
In the presidential election of 2000, Rawling´s National Democratic Congress sponsored John Atta-Mills, but he was narrowly defeated by the conservative New Patriotic Party, whose candidate John Kufuor became president in 2001. The economy had expanded under Rawlings, averaging 4% annual GDP growth from 1992 to 2000. The recovery of global gold and cocoa prices (the country's major export commodities) helped in the early 2000's. But it was Kufuor´s government which was highly successful, bringing economic growth, halving the level of poverty, introducing free medical care and free meals in schools.
When Kufuor gave up power in 2008 the National Democratic Congress´ John Atta Mills won the election. But in 2012 Mills died and power passed to his vice-president John Dramani Mahama, who won the 2012 election.
His term was not a success. In July 2014, thousands of Ghanaians demonstrated street protests against the government's mismanagement of the economy. The economy grew by 2.9% in 2014 and by 2.2% in 2015, after annual GDP growth rates of 7.9% in 2013, 9% in 2012, 17.4% in 2011, and 7.9% in 2010, according to the International Monetary Fund (IMF).
In the December 2016 presidential elections opposition leader Nana Akufo-Addo beat Mahama, tapping an electorate fed up with a faltering economy and ready for change.
The next presidential and parliamentary elections will be held in December 2020.
Cedi continues to depreciate
The Ghanaian Cedi (GHS) continues to lose value against major currencies. In the first nine months of 2019, the cedi depreciated by a cumulative 9.3% against the US dollar, reaching an average monthly exchange rate of GHS 5.435 = USD 1 in September 2019. The cedi has lost about 75% of its value against the US dollar over the past nine years.
Likewise, the cedi depreciated by 6.9% against the British pound and by 6.1% against the euro during the year to September 2019, according to the Bank of Ghana.
The cedi is expected to firm up during the remainder of 2019, amidst increased foreign reserves. Ghana's gross international reserves (GIR) rose from US$7 billion in December 2018 to US$8.2 billion in August 2019 (equivalent to 4.1 months of import cover), thanks to the country's US$3 billion Eurobond issuance in March 2019 – the largest ever in Ghana's history.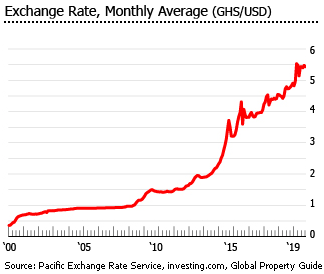 Moreover in September 2019, Ghana Cocoa Board signed a cocoa loan syndication with 24 banks in Paris, France to help finance cocoa purchase for the next crop season. Based on the cocoa loan's first tranche inflow of US$600 million, the reserves are expected to increase to about US$9.4 billion initially and to possibly reach US$10 billion before the end of 2019, as the final tranches are released. The second tranche of US$500 million will be released in November and the remaining US$200 million in December.
Sources: