Botswana's thriving housing market
Botswana's residential property market, while relatively underdeveloped, seems to offer huge growth potential. This beautiful country offers marvelous wildlife tourism, with excellent all-year weather, and its thriving diamond mining industry gave it the world's highest average growth rate from 1966 to 1999, transforming it into a middle-income country with a per capita GDP of almost US$8,000 in 2018.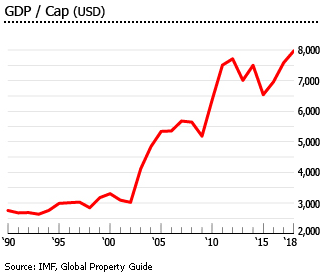 However the imposition of a 30% transfer tax on foreign property buyers will dampen demand.  But this has not yet stalled the rise in house prices.
That´s partly because Botswana is rated as one of the top 5 most attractive investment destinations in Africa by the Africa Investment Index 2018 published by Quantum Global Research Lab, due to its improved credit rating, favourable current account ratio, import cover, and ease of doing business, and it is rated one of Africa´s freest economies by Heritage's 2019 Index of Economic Freedom.
The Botswana Government actively seeks out foreign investment and is happy to sell land to foreigners. Only tribal land and state land cannot be sold to foreigners, and in most areas of Gabarone (and indeed Botswana) land can be bought.
Booming real estate market
In the first quarter of 2019, the average price of residential property rose by 11.4% to BWP 852,529 (US$78,430) from the same period last year, according to Bank of Botswana's Monetary Policy Report October 2019. Quarter-on-quarter, residential property prices rose 11.1% in Q1 2019.
Land prices are rising too, though inexpensive by international standards. Freehold land within the city centre of Gaborone had an average price of BWP1,320 (US$121) per square metre (sq. m.) in 2018, according to CAHF. This means that a small plot of 300 sq. m. in the city would cost around BWP396,000 (US$36,400).  Land in rural and urban villages is still cheap, with prices ranging from BWP 230 (US$ 21) to BWP 260 (US$ 24) per sq. m.
High rental yields in Gabarone and Francistown at 8%
The relative lack of housing supply has led to high rental yields in Botswana, according to Global Property Guide research, suggesting that yields of 6.5% to 9.5% can be enjoyed on residential property in Gaborone and Francistown. This is supported by a recent research conducted by Centre for Affordable Housing Finance in Africa (CAHF), which shows that rental properties in the city centre currently offer high gross rental yields of 7.9%. Residential properties located outside the city centre also offer healthy rental yields of about 5.5%.
According to the World Bank's Ease of Doing Business 2020, the whole process of registering property in Botswana may take 27 days to complete the four procedures. This compares to an average of 51.6 days to complete 6.1 procedures for sub-Saharan Africa. The process costs around 5.1% of the value of the property. To increase tenure security and improve transparency on land and property ownership, the Ministry of Lands and Housing has recently implemented a nationwide land registration system.
New higher property transfer duty may scare off foreign buyers
In August 2019, the Transfer Duty Act was amended in a bid to encourage homeownership among the local population, particularly for young families. Some of the important changes include:
It exempts citizens from paying transfer duty under certain circumstances, such as when a person acquires a residential property for the first time to be used as own home.
It raises the exemption threshold from BWP 200,000 (US$18,400) to BWP 1 million (US$91,998).
However, the new law raises the transfer duty for non-citizens from just 5% to 30%, which is expected to dampen foreign demand.
"This is the highest transfer duty in the world," said RDC Properties' executive chairman Guido Giachetti. 
Interest rates are falling
An average mortgage rate of 6.13% was offered in August 2019 by non-bank financial corporations, unchanged from a year earlier - far below the mortgage rates of between 15% and 17% seen in 2008. Commercial and merchant banks offered average rates of 8.27%, according to the Bank of Botswana.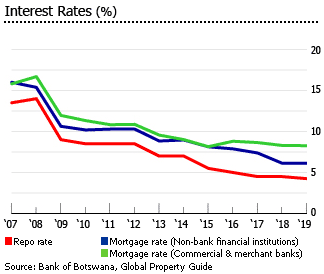 Mortgages are available for up to 25 years, or up to the age of 60 years.
There were about 16,500 outstanding mortgages from banks in 2018, with an average size of BWP 800,000 (US$ 73,600). There were also an additional 7,000 mortgages outstanding from Botswana Building Society (BBS), the National Development Bank (NDB), and the Citizen Entrepreneurial Development Agency (CEDA).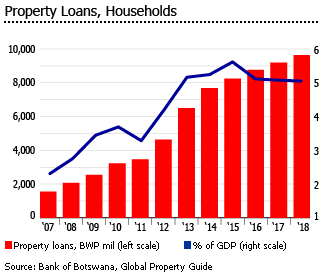 In August 2019, outstanding property loans to households were BWP 9.83 billion (US$904.3 million), up 3.4% from the same period last year, according to the Bank of Botswana. This accounts for 21% of the banking sector's loan portfolio. About 6.2% of mortgage loans were non-performing loans (NPLs).
Inadequate housing supply
The supply of ready-built housing units in Botswana is very low, with most people building their houses on their own. About 47.5% of households in the country live in their own self-built houses while 26.5% live in rental or institutional accommodation, according to the 2017 Demographic Survey Report. Only 2% of households live in a house they purchased.
There were about 649,806 housing units in Botswana, half of which were detached houses, according to Statistics Botswana.
There are currently more than 685 property developers in the country but only about 50 of them are registered with the Registrar of Companies. Most of these private developers cater to the upper middle and high-income households only, offering a two-bedroom, 45-sq. m. house at a price of BWP 650,000 (US$ 59,800).
As a result, the low-income segment is underserved, with a housing backlog of about 36,000 units.
Government-sponsored housing
In an effort to solve the housing shortage, the government established the Botswana Housing Corporation (BHC), which is now the country´s primary housing developer.
BHC´s housing units are typically offered to low-income households at interest-free loans, repayable over a period of 20 years. BHC´s smallest housing unit, measuring 58 sq. m on a plot of 400 sq. m or larger, is priced from BWP400,000 (US$ 36,800) with a minimum mortgage installment of BWP5,000 (US$ 460).
The government has launched several housing programs in recent years:
Youth Housing and Installment Purchase Scheme: launched in 2016, the program helps buyers among the youth and first-time homeowners with a monthly income between BWP 3,000 (US$ 276) and BWP 7,000 (US$ 644). The program aims to build 750 affordable housing units.
The Tenant Purchase Scheme gives BHC's sitting tenants an opportunity to purchase a house being rented out to them through a loan with a maximum repayment period of 25 years at an interest equivalent to prime rate plus 3%.
Public Officers Housing Initiative: BHC's housing project for civil servants, with the first 200 houses constructed in 2015. The housing units have a capped cost of under BWP 153,000 (US$ 14,076).
Self Help Housing Agency (SHHA): a subsidized loan for the purchase of affordable housing in urban areas, available to low and middle-income households with an income of BWP 4,400 (US$ 405) to BWP 36,400 (US$ 3,349) per year. The loan is payable for 20 years at zero interest.
Economic growth to slow, as diamond demand weakens
After three of the world's richest diamond mines were found, Botswana´s GDP per capita grew by 240% from 1980 to 2005, one of the highest growth rates in the world.
Botswana is now the world's biggest diamond producer by value and the second largest by volume (next to Russia). Diamond mining accounts for a third of GDP, and around 70% to 85% of all exports.
Debswana Diamond Company, a partnership between the government of Botswana and De Beers Group of Companies, produced 24.1 million carats of diamonds in 2018, up 6% from a year earlier, buoyed by strong demand from the US, China and India. Debswana is the biggest contributor to Botswana's government revenues.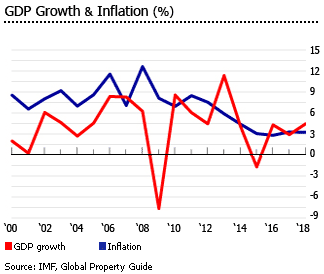 The economy grew by an annual average of 6.9% from 2010 to 2014. The economy contracted slightly in 2015 by 1.7% due to falling diamond prices.  In 2018, Botswana's economy grew by 4.5%, up from the previous year's 2.9% expansion and the highest growth since 2013.
However during the year to Q3 2019, Debswana's diamond production fell by 2% y-o-y to 17.4 million carats, amidst faltering demand. During the same period, De Beers has thus far recorded diamond sales of just US$3.21 billion, sharply down from US$5.39 billion and US$5.31 billion by the corresponding period in 2018 and 2017.
As such, the government recently revised its GDP growth forecast for 2019 to 3.6%, down from its earlier estimate of 4.3%.
"After a relatively good performance in 2018, the economy is facing headwinds in 2019 related to weaknesses in the diamond market, a severe drought, and slower growth in neighbouring countries," said Papa N'Diaye of IMF.
Unemployment is high. During 2018, the overall jobless rate stood at 17.9%, slightly up from 17.6% a year earlier.
In October 2019, inflation slowed to 2.4%, down from 3% in the previous month and the lowest level this year, according to the Bank of Botswana. Inflation in Botswana averaged 8.3% in 2000-2013 before falling to an average of 3.4% in 2014-2018.
President Mokgweetsi Masisi's ruling party, Botswana Democratic Party, extended its 53-year grip on power after winning 38 out of the 57 national assembly seats during the general election held last October 23, 2019. Masisi vowed to focus on job creation and to continue fighting widespread corruption.
Sources: