Australian house prices continue to rise, albeit at a much slower pace, amidst weakening demand mainly due to rising interest rates.

Nationwide house prices rose by 10.77% (5.2% in real terms) during the year to August 2022, to an average of AU$ 738,321 (US$495,836), according to CoreLogic Australia, down from the previous year's 20.11% y-o-y increase and the lowest growth recorded since February 2021.

The slowdown is more evident in the country's eight major cities, with the median dwelling price rising by 7.63% y-o-y (2.2% in real terms) to AU$ 808,287 (US$542,824) – the first month of single-digit growth in 16 months.

"The annual trend in housing values is rapidly levelling out," said CoreLogic.

"Despite the recent weakness, housing values across most regions remain well above pre-COVID levels. Home values in all capital cities and rest-of-state regions, bar Melbourne, remain 15% or above the levels recorded in March 2020, implying most home owners have a significant equity buffer before their home is likely to be worth less than what they paid," CoreLogic noted.

Adelaide saw the biggest annual growth, with its median dwelling price rising by 21.8% during the year to August 2022, followed by Brisbane (17.5%), Canberra (7.8%), Darwin (6.3%), Hobart (5.8%), and Perth (4.9%). In contrast, Sydney and Melbourne saw their dwelling prices fall by 2.5% and 2.1%, respectively.

Sydney has the most expensive housing in the country, with a median price of AU$ 1,066,493 (US$716,007) in August 2022, followed by Canberra with a median price of AU$ 909,748 (US$610,773).

In contrast, Darwin and Perth have the cheapest housing in Australia, with median prices of AU$ 512,531 (US$344,096) and AU$ 561,781 (US$377,160), respectively.

Both demand and supply are falling. In the three months to August 2022, national sales activity dropped 14.8% as compared to the same period last year, with Sydney, Canberra, and Melbourne registering sales declines of 35.4%, 18.9% and 16.5%, respectively, according to CoreLogic. This was in sharp contrast to 2021's total dwelling sales which reached 653,000 units – about 40% above the decade's average and the highest annual sales on record.

"…we are expecting to see less buying activity as higher interest rates and low sentiment continue to weigh on demand," said CoreLogic. "Should this scenario play out, the net result will be an accumulation of advertised supply that could further weigh down values."

Dwelling approvals plunged 22% y-o-y to 108,495 units in the first seven months of 2022, in contrast to annual increases of 22.6% in 2021 and 6% in 2020, according to the Australian Bureau of Statistics (ABS).

House prices in Australia surged 52.3% (35.6% inflation-adjusted) from 2011 to 2017. To cool the market and address risks caused by high household debt, the government tightened lending restrictions and imposed higher taxes on housing purchases by foreigners. These measures resulted in a 9% (-11.2% inflation-adjusted) decline in house prices from Q4 2017 to Q2 2019.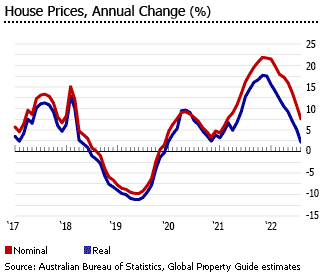 When the impact of these market-cooling measures started to wane, the housing market regained its momentum in 2020, with house prices rising by 4.3% (3.5% inflation-adjusted), despite the pandemic. During 2021, house price growth accelerated by a huge 27.5% (23.2% inflation-adjusted).

Australia's economy grew by 4.7% in 2021, fully offsetting the 2.2% contraction recorded in 2020 during the onset of the Covid-19 pandemic. The economy is expected to grow by another 3.25% this year, buoyed by continued growth in household consumption and a recovery in services exports, according to the Reserve Bank of Australia (RBA).