Israel's housing demand reviving very strongly
Despite the coronavirus crisis, Israel's housing market remains robust, buoyed by strong fundamental demand. In the first three quarters of 2021, the total number of dwelling transactions in Israel surged by almost 39% y-o-y to 39,363 units, following growth of 20% in 2020 and 48% in 2019, according to the Central Bureau of Statistics (CBS). Transactions soared 55.5% in Tel Aviv and by 25.5% in Jerusalem.
As a result of surging demand, coupled with weak residential construction, house prices continue to rise. The average price of owner-occupied dwellings in Israel rose by 6.9% during the year to Q3 2021 to ILS 1,680,400 (US$ 540,683), its second biggest y-o-y increase since Q2 2015. When adjusted for inflation, prices rose 4.6%.
Source: Central Bureau of Statistics
Yet quarter-on-quarter, nationwide dwelling prices fell slightly by 0.3% (-1.1% inflation-adjusted) in Q3 2021.
Among Israel's major cities, Netanya saw the biggest house price growth during the year to Q3 2021, with prices rising by 38.1%. It was followed by Beit Shemesh (18.5%), Ramat Gan (17%), Bat Yam (12%), Kfar Saba (10.2%), Rishon Lezion (8.3%), and Tel Aviv (7.5%). Modest to minimal house price rises were seen in Bnei Brak (5.8%), Ashkelon (5.6%), Rehovot (4.9%), Jerusalem (4.5%), Holon (4.3%), Ashdod (2.4%) and Petah Tiqwa (1.9%).
Only Beer Sheva and Haifa recorded house price falls during the year to Q3 2021, of 1.3% and 5.3%, respectively.
The country's most expensive residential area is Tel Aviv, where the average price of owner-occupied dwellings was ILS 3,443,200 (US$ 1,107,880) in Q3 2021. It was followed by Ramat Gan at ILS 2,475,600 (US$ 796,546), Kfar Saba at ILS 2,378,800 (US$ 765,400), and Netanya at ILS 2,369,500 (US$ 762,407). Beer Sheva had the cheapest housing in Israel, with an average price of ILS 1,031,800 (US$ 331,990).
Israel has experienced dramatic house prices rises in the past decade (2011 excepted), despite domestic political uncertainty, security threats, and the global financial meltdown. Israel's house prices have risen by 118% (82% in real terms) from 2006 to 2017.
The main reason for the surge in house prices until 2017 was a supply shortage, due to low construction volumes. Other factors fueling the house price boom included the central bank's expansionary monetary policies, and the lack of alternative investment options.
"Real estate accounts for 19% of gross domestic product directly and another 13% indirectly," says Elli Kraizberg, a professor at Bar-Ilan University. "Real estate accounts for not less than 40% of the public's total wealth."
However since summer of 2011 when thousands of Israelis set up protest camps over worsening housing affordability, home prices have been top of the government's agenda.
The government, which controls most of Israel's land, boosted dwelling starts to about 54,200 annually in 2015 to 2020 – the highest since 1997 – to address the supply shortage.
The Finance Ministry increased purchase taxes and introduced an additional levy on owners of three or more apartments. As a result, investment transactions dropped sharply from 40% of total transactions in early 2015, to 15% recently.
Since 2015, the government has intensified its sale of land at discounted prices to contractors, who must then sell apartments at below-market prices.
Israelis who do not own a home may vie for apartments through a lottery system. Since its inception by end-2015, at least 60,000 households have won the lottery, but only 18,000 have actually exercised their right to purchase an apartment at a reduced price.
In July 2017, the government approved a plan to strengthen the country's long-term rental market, including the introduction of tax breaks to encourage the construction of rental units.
In October 2021, the government unveiled its plan to crack down on unauthorized vacation rental apartments and bring back the purchase tax on apartments to 8%, as part of its comprehensive plan to cool the housing market.
As a result, house prices fell by 0.9% (-1.9% inflation-adjusted) in 2018 and increased by just a minimal 1.6% (1.2% inflation-adjusted) in 2019. However in 2020, the housing market strengthened again despite the pandemic, with prices rising by 5.5% (6.2% inflation-adjusted).
Israel's economy is projected to expand strongly by 7.1% in 2021, fully offsetting the 2.2% contraction seen during 2020 and the biggest growth since 2000, according to the IMF's October 2021 forecast.
HOUSE PRICES IN ISRAEL, ANNUAL CHANGE (%)
Year
Nominal
Inflation-adjusted
2008
4.10
-0.48
2009
22.35
18.14
2010
17.04
14.22
2011
0.04
-2.40
2012
5.82
4.12
2013
7.38
5.40
2014
7.21
7.42
2015
5.99
6.88
2016
4.97
5.26
2017
3.04
2.73
2018
-0.88
-1.94
2019
1.62
1.18
2020
5.50
6.24
Sources: Central Bureau of Statistics, Global Property Guide


Recent history: house price rises cause social protests
During the global crisis Israel enjoyed amazing double-digit house price rises. Tel Aviv housing rose by 41% between Q1 2008 to Q4 2009! Only the Northern district registered a single-digit house price growth of 4.7%. Israel's average home price rose by 24.2% between Q1 2008 to Q4 2009.
Despite Bank of Israel rate hikes until the key rate reached 3.25% in June 2011, average house prices in Israel rose almost 13% from Q1 2010 to Q2 2011.
One result was a social protest movement, which began in July 2011 with a Facebook group protesting Israel's rising cost of living (specifically housing costs) as well as the worsening condition of public services.
CHANGES IN AVERAGE PRICE OF DWELLINGS (%)
Israel
Tel Aviv
Center
South
Jerusalem
North
Haifa
Second intifada (Q3 00-Q2 03)
-6.47
-16.60
6.77
11.96
-3.86
1.57
-10.34
(Q2 03-Q1 06)
28.09
25.50
10.21
-0.78
36.77
0.07
-0.68
Israel Hezbollah War (Q1-Q4 06)
-11.60
-12.60
-12.12
8.93
-6.05
-8.00
-10.26
(Q4 06-Q4 07)
4.90
22.37
16.22
6.84
5.05
-4.40
-8.47
Global economic crisis (Q1 08-Q4 09)
24.20
41.27
34.61
29.10
20.13
4.66
29.85
(Q1 10-Q2 11)
12.99
8.26
20.34
15.26
14.23
51.46
23.54
Israeli social justice protests (Q3 11-Q1 12)
0.53
-3.06
0.21
2.77
-1.22
5.13
9.82
(Q2 12-Q4 17)
31.60
40.70
34.2
33.90
29.70
31.50
35.5
Govt cooling measures (Q4 17-Q4 19)
7.00
-17.40
14.40
6.20
-20.20
-0.80
6.80
COVID-19 pandemic (Q1 2020-present)
3.64
2.42
12.12
6.26
9.43
6.79
2.02
Sources: Central Bureau of Statistics, Global Property Guide
Nationwide house prices rose by a meagre 0.53% from Q3 2011 to Q1 2012, falling in Tel Aviv (-3.06%) and Jerusalem (-1.22%). House prices in the country then rose 31.6% from Q2 2012 to Q4 2017, with all districts registering double-digit increases over the period. Israel's housing market has been unscathed by the Syrian civil war.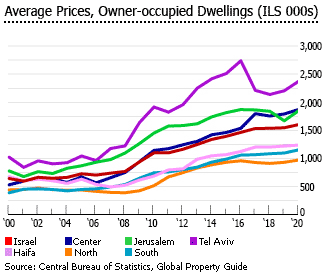 However Israel's housing market started to slow by end 2017, after the government intensified its cooling measures. In 2018-19, house prices fell sharply in Jerusalem (-20.2%) and Tel Aviv (-17.4%). Yet nationwide house prices continued to rise by 7%, as the sharp price decline in the two major cities was offset by the continued rise in house prices in other districts.
Despite the COVID-19 pandemic, nationwide house prices grew by another 5.5% during 2020.
Property sales surging
After registering a strong growth of about 48% in 2019 and 20% in 2020, demand remained strong in 2021, despite the coronavirus outbreak. In the first three quarters of 2021, the total number of dwelling transactions in Israel rose strongly by almost 39% to 39,363 units, according to the CBS.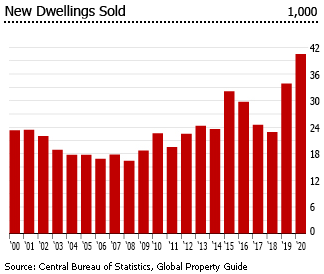 Residential property sales have risen in all districts in the first three quarters of 2021, especially in Tel Aviv and Central District.
In Tel Aviv, housing transactions soared 55.5% y-o-y to 9,622 units during the first three quarters of 2021.
In the Centre, transactions rose by more than 50% y-o-y to 10,150 units.
In Haifa, transactions rose by almost 37% y-o-y to 4,712 units.
In the Northern district, transactions increased 30.7% y-o-y to 3,181 units.
In Jerusalem, transactions rose by 25.5% y-o-y to 3,440 units.
In Southern district, transactions rose 23.4% y-o-y to 7,408 units.
In Judea and Samaria area, transactions increased by a modest 4.2% y-o-y to 851 units in the first three quarters of 2021.
Residential construction activity continues to fall
Residential construction remains weak, amidst the imposition of pandemic-related restrictions. Dwelling completions fell by 7% y-o-y to 48,491 units during 2020, the biggest decline since 2003, according to figures from the Central Bureau of Statistics. About 28% of all completions last year were in the Central District, followed by Tel Aviv (18.8% share), Southern District (15.6%) and Haifa (15.5%).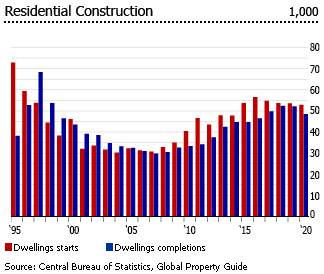 Dwelling starts also fell slightly by 1.2% in 2020 to 52,844 units, following declines of 0.2% in 2019, 2.1% in 2018 and 3.2% in 2017. Yet, dwellings under construction rose by 3.8% last year, at 127,728 units.
The weakness of the construction sector continued this year. Dwelling completions fell by another 11.7% y-o-y to 22,235 units in H1 2021, according to the CBS. Likewise, dwelling starts dropped 2.7% y-o-y to 25,567 units.
Mortgage interest rates falling, amidst record-low key rate
In November 2021, the Bank of Israel kept its key rate unchanged at a record low of 0.1%, following a 15-basis point rate cut in April 2020 to cushion the economic impact of the coronavirus outbreak.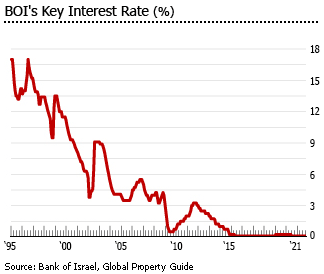 "The Israeli economy's process of recovery from the crisis continues," said the central bank. "However, there are still challenges to economic activity. The Committee will therefore continue to conduct an accommodative monetary policy for a prolonged time, in accordance with the pace of growth, employment, and the path of inflation."
As a result, mortgage interest rates are also falling. In November 2021, the average mortgage rate in Israel was 2.13%, down from 2.84% a year earlier, according to the Bank of Israel.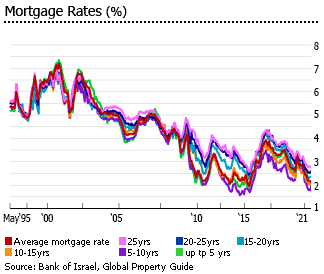 Mortgage interest rates by loan term:
Up to 5 years: 1.95% in November 2021, down from 2.81% a year earlier
From 5 to 10 years: 1.93%, down from 2.79% a year earlier
From 10 to 15 years: 2.07%, down from 2.51% a year ago
From 15 to 20 years: 2.36%, down from 2.76% a year ago
From 20 to 25 years: 2.59%, down from 3.09% a year ago
More than 25 years: 2.8%, down from 3.13% a year earlier
Mortgage market continues to expand
Buoyed by falling mortgage rates, the mortgage market continues to expand strongly. In the first ten months of 2021, new mortgages drawn for residential purchases totaled ILS 92.89 billion (US$29.9 billion), up more than 48% from the same period last year.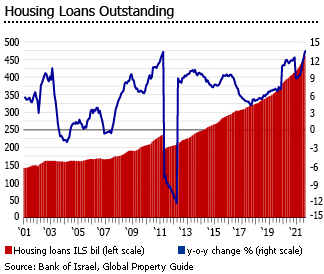 As a result, total housing loans outstanding rose by 13.5% to ILS 468.1 billion (US$150.9  billion) in Q3 2021 from the corresponding period last year. Over the same period:
For residents, who accounted for more than 98% share, the amount of housing loans outstanding rose strongly by 13.7% y-o-y to ILS 460.5 billion (US$148.5 billion).
For non-residents, housing loans outstanding increased by 5% y-o-y to ILS 7.6 billion (US$2.5 billion).
Due to the continued strong growth of housing credit, Israel's mortgage market has actually expanded to almost 30% of GDP in 2020, up from 26.8% of GDP in 2019. However, this is still considered as a modest level of borrowing in a developed country.
The increase in housing loans unlikely to threaten financial stability
Despite strong growth, Israel's mortgage market remains fundamentally healthy. The measures of risk inherent in housing debt have risen slightly in recent years, but they are still relatively low compared to other countries, according to the central bank.
"From mid-2020, the volume of new mortgages has grown at a high pace, in view of the increase in the volume of transactions.  In parallel, there was an increase in average mortgage size, and the share of mortgages taken out at high LTV rates continued to increase," said the BOI in its H1 2021 Financial Stability Report.
"However, the level of housing debt in the economy is low by international comparison, and the restriction on LTV rates is relatively conservative compared with other advanced economies. Furthermore, the financial system's resilience to risk from the housing market is considered high."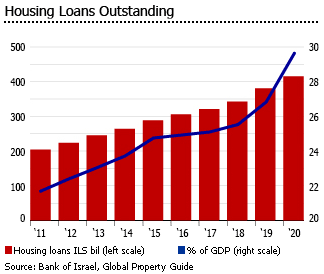 While housing credit constitutes a significant portion of total household credit in Israel, such is viewed as conservative as it is generally secured by collateral - the home.
Housing credit in Israel is expected to continue rising strongly in the coming months, mainly driven by healthy housing demand due to the low interest rate environment and the reduction in tax rate on the purchase of an investment dwelling.
Poor yields; modest rent increases
Over the past two decades the country's homeownership rate has been gradually declining, and more households are renting, due to the shortage of affordable housing. Currently, the homeownership rate is about 66%, down from 68.8% in 2008 and 73% in 1995.
However gross rental yields on apartments in Tel Aviv are very low, supporting the view that properties are somewhat overpriced. Yields range from 2.6% to 3.1%, based on Global Property Guide research, with smaller apartments having higher yields.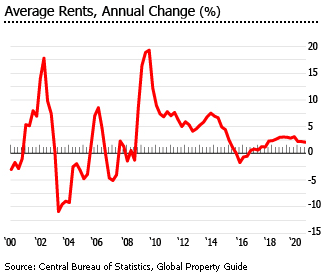 Nationwide rents increased 3.1% during 2020, to an average of ILS 4,050 (US$ 1,300) per month.
By residential district:
Tel Aviv has the most expensive rents in the country at an average of ILS 5,130 (US$1,647) per month last year, up 3.6% from a year ago
In Jerusalem, the average rent increased 2% y-o-y to ILS 4,292 (US$1,378) per month
In the North, the average rent rose by 5.2% y-o-y to ILS 2,500 (US$802) per month
In Haifa, the average rent rose by 2% y-o-y to ILS 2,857 (US$917) per month over the same period
In the Center, the average rent increased 2.4% y-o-y to ILS 4,182 (US$1,342) per month
In the South, the average monthly rent rose by 3% y-o-y to ILS 2,916 (US$936)
Economy stabilizing; unemployment remains high
The pandemic has caused quite high unemployment - the seasonally-adjusted unemployment rate was % in October 2021, up from 4.7% the previous year and 3.6% two years ago, according to the CBS.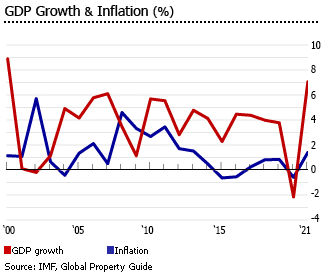 Nevertheless  the Finance Ministry projects 7.1% GDP growth this year and another 4.7% in 2022. in Q3 2021, the Israeli economy grew modestly by an annualized rate of 2.4%, following growth of 13.7% in Q2 and a decline of 2.2% in Q1, according to the Central Bureau of Statistics. Over the same period:
Private spending rose slightly by 0.7%, sharply down from 33.5% growth in Q2
Fixed investment increased 14.8%, faster than the 5.6% growth in the previous quarter
Exports rose by 7.5% while imports increased modestly by 2.7%
Government spending declined 2.3% in Q3, in contrast to a 1.3% increase in Q2
Economic growth averaged 3.8% annually from 2010 to 2019.
The budget deficit surged to 11.7% of GDP in 2020, sharply up from 3.7% in 2019, 4.3% in 2018 and 2.1% in 2017 - the highest level since 1996.
The shortfall is projected to fall to 7% of GDP this year and to 3.4% of GDP in 2022, as the situation gradually improves.  The debt-to-GDP ratio soared to 71.1% in 2020, sharply up from 58.5% in 2019 and 59.3% in 2018.
The annual inflation rate slowed to 2.3% in October 2021 from an eight-year high of 2.5% in September 2021, and still within the BOI's target range of 1% to 3%.   Inflation averaged 0.4% from 2012 to 2020.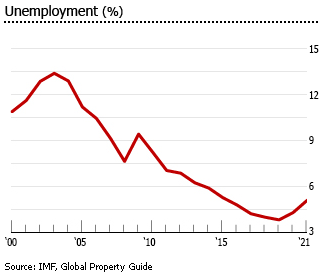 In June 2021, a new coalition led by Naftali Bennett from the Yamina party and Yair Lapid from Yesh Atid obtained the required votes – 60 out of 120 Knesset members – in favour of the new government. The coalition agreement includes a rotation government, whereby Bennett would serve as Israel's PM until 2023, after which Lapid would assume the role until 2025.
Yet political analysts predict that the new government, which consists of eight parties ranging from left to the far right, is very fragile and could easily break due to enormous ideological differences. For the first time, a Palestinian party, the United Arab List, is also a member of the coalition government.
Sources:
Israel - More data and information