Chile's housing market is recovering from VAT introduction, helped by low interest rates
August 01, 2017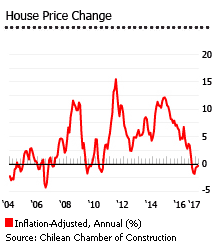 In January 2016, VAT of 19% was imposed on sales of properties in Chile by "habitual sellers" such as real estate companies, or persons who sell their properties in less than a year.
The VAT on new properties added around 4% to 11% to the price of new properties, making older homes more attractive.
House prices in Greater Santiago fell by 1.8% in 2016, due to the implementation of VAT and weak economic growth. Nation-wide home sales dropped by 34.3% to 53,309 units, with the biggest price declines for mid- and lower-priced homes (demand for high-end properties remained robust). Construction also fell, with housing starts down almost 36% in 2016.
However the market is now bouncing back. During the year to Q1 2017 home sales in Greater Santiago rose by 46% to 7,324 units, according to the Chilean Chamber of Construction (CChC). The average "real" price of new apartments in Greater Santiago did fall - but by just 0.4% during the year to March 2017, according to the CChC. However in Central Santiago, new apartment prices rose by 6.4% during the year to March 2017, and in Western and Southern Santiago by 3.4% and 2.8%, respectively (all figures 'real', i.e., inflation-adjusted). New apartment prices in Eastern Santiago remained flattish, with a real price increase of 0.9%.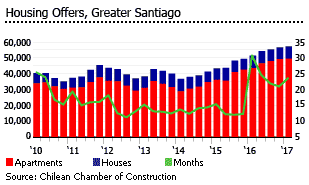 This "pause" came after a long boom. Chile's home prices rose 67% from 2004 to 2016. Even during the global financial crisis of 2009 there was only a small decline of 0.7% (from May to September 2009). In 2010 the earthquake hit house prices. But in 2011, house prices bounced back, rising 9.5%, followed by 5.5% growth in 2012, 4.2% in 2013, and 11.7% in 2014, as strong demand accumulated in the northwest and southern areas of Greater Santiago from the beginning of 2014, mainly in the apartment market.  In 2015, house prices in Greater Santiago rose 4.4%.
Any individual or corporate body can acquire and own real estate in Chile, whether or not they are residents. However there are some restrictions regarding land located near the boundaries of the country. Chile has strong legal protection of property rights.
The Chilean economy opened the first quarter of 2017 with 0.1% y-o-y growth, the country's weakest performance since 2009. Exports declined by 4.9% y-o-y, due to a sharp contraction in copper production caused partly by a strike at BHP Billiton's Escondida copper mine from February to March 2017.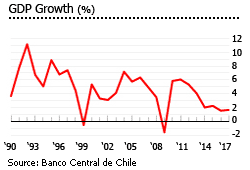 The Central Bank forecasts the economy will expand between 1% and 1.75% in 2017, and between 2.5% and 3.5% in 2018.
Chile is an upper-middle income economy with a track record of sustained growth, its GDP having grown at an annual average of 5.6% from 1990 to 2007, among the highest growth rates in the world. Strong growth continued from 2008 to 2012, with an economic contraction of only 1.6% in 2009, with the global financial crisis. Chile then rebounded with 5.8% growth in 2010, despite the earthquake. From 2011 to 2013 there was average growth of 5.7%.
However since then the economy has been hit by the decline in global demand for mining products. In 2014 GDP expanding by only 1.9%, in 2015 by 2.3%, and in 2016 by only 1.6%.
Interest rates on mortgage loans have been falling since 2009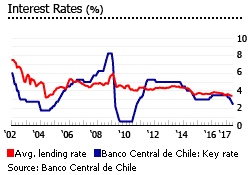 In response, the Central Bank has lowered interested rates - which should boost the housing market.
In May 2017, the Central Bank of Chile reduced the benchmark rate by 25 basis points to 2.5%, the fourth consecutive rate cut since the beginning of 2017. The bank also changed its stance to 'neutral' from 'expansionary'. According to EuroAmerica's economist Luis Felipe Alarcon, the central bank is likely to keep the current rate on hold until at least Q1 2018. From May 2010 to June 2011 the central bank made twelve consecutive rate hikes from 1.75% to 5.25%, and has reduced rates in steps since that time, except for a couple of hikes in late 2015.
The average market rate on housing loans has been much more stable than the central bank rate. It was relatively unchanged from 2006 to 2008 at around 5%, and then floated down to around 4% from 2009 to first half of 2014. Since the second half of 2014, the average housing loan interest rate has been around 3.70%. In April 2017, the average housing loan interest rate was 3.42%, down from 3.79% in April 2016.
Moderate yields
Chile has a small but competitive rental market. Currently, gross rental yields in Santiago and Viña del Mar are moderate, according to Global Property Guide research in November 2015. Apartment rental yields in Santiago city range from 4.26% to 5.20%.
Rental yields in Viña del Mar were lower than in Santiago, ranging from 3.89% to 4.95%. The lower yields may be due to the stronger demand for ownership in coastal cities compared to the capital.
Amid the implementation of the new VAT on properties in 2016, the property agency Engel & Völkers Chile had a 30% increase in the rentals they handled from a year earlier, as opposed to a more than 5% drop in the number of sales, according to Engel & Völkers Chile's head of real estate, Jorge Mira Olivos. "What we're seeing now is a market trending toward more of a rental market than a sales market". 
Expanding mortgage market
Chile's mortgage market is one of the most developed in Latin America. From 11.2% of GDP in 2001, the mortgage market doubled to 23.9% of GDP in 2016. The country's outstanding mortgage loans increased in 2016 by 9.6% y-o-y to CLP 39.9 trillion (US$ 59.3 billion), according to the Central Bank of Chile. Most mortgages are fixed rate with maximum LTV ratios of around 75% to 80%, which helps contain the banking system's credit risk.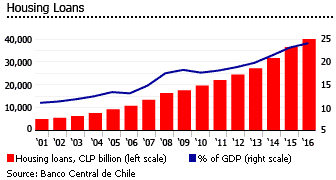 Chile's banks do not usually lend to foreigners, even to those with a resident's permit. Banks have strict lending criteria which are almost impossible for foreigners to satisfy. These tight controls on mortgage lending may have reduced the country's exposure to the global financial crisis.
Lower housing starts in 2016
After the February 27 2010 earthquake centred on Valparaiso, there was a large-scale reconstruction effort and the housing ministry (Ministerio de Vivienda y Urbanismo de Chile or MINVU) allocated US$2.5 billion worth of subsidies, and committed to rebuilding 220,000 homes. The earthquake, the sixth largest ever recorded, affected six regions of central and southern Chile inhabited by around 12 million people or around 75% of Chile's population.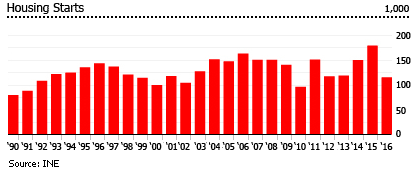 After that, housing starts rose - recovering to 179,402 units in 2015. However in 2016, housing starts posted a sharp decline by 35.7% to 115,411 units, amid declining house prices.
Chile's successful housing program
Chile may seem to have enough land to house its 17 million people, but most arable land is concentrated in the Central Valley.
A housing shortage still exists in Chile, but has been reduced by a very successful housing policy. The Ministry of Housing and Planning (Ministerio de Vivienda y Urbanismo or MINVU) was created in the 1970s, which has dominated the housing sector since. It is the country's largest real estate firm, and its second largest mortgage bank.
The special law Decreto con Fuerza de Ley 2 (DFL-2) encouraged affordable housing of less than 140 square metres (sq. m). DFL-2 properties are exempt from income tax, and enjoy 50% off the Real Estate Tax for corresponding periods, according to land area.
Fiscal discipline, strong economic management
In May 2010, Chile became OECD's first Southern American member, highlighting reduction of poverty from 45% in the late 1980s to around 14% in 2009. There were other advances, such as strengthening of state institutions and fighting corruption.
Fiscal discipline is one of the pillars of Chile's solid international image. From 2000 to 2012, Chile recorded an average budget surplus of 1.7%, reaching a record high of 8.8% of GDP in 2007. The budget surplus not only transformed Chile from a debtor to a creditor country, but also placed the country in solid position to weather global economic volatility.
During the 2009 recession, the Chilean government increased spending by 16%, availing of funds specially set aside from sales of copper profits. A fiscal stimulus program worth around 2.4% of GDP was implemented, which led to a fiscal deficit of around 4.7% of GDP by the end of 2009. The deficit narrowed to 0.5% of GDP in 2010 as the economy recovered.
Chile posted a fiscal surplus of 1.3% of GDP in 2011, followed by a surplus of 0.6% in 2012. However, there followed three years of fiscal deficits: 0.6% in 2013, 1.6% in 2014, and 2.2% in 2015, due to the decline of income from Chile's main export commodity, copper.
In 2016, the fiscal deficit was estimated to be around 3.1% of GDP and is expected to widen further to 3.3% of GDP in 2017, according to Finance Minister Rodrigo Valdés.
Currently, Chile's unemployment is subdued, at 6.7% as of April 2017, despite its restrictive and complicated labour laws, and relatively generous social benefits.
Chile's annual inflation rate in May 2017 was 2.6%, down from 4.2% in May 2016. The central bank predicts that average inflation in 2017 will be around 2.6%.
Chile is set to elect a new president in November 2017, which marks the end of Michelle Bachelet's term as president. Front runners include former president Sebastián Piñera, representing the conservative Chile Vamos coalition, and centre-left candidate Senator Alejandro Guillier.
Chile - More data and information