By end-September 2020, Brazil's confirmed Covid-19 cases had climbed to about 4.78 million. With more than 143,000 deaths, the coronavirus pandemic has killed more people in Brazil than anywhere else outside the US. Yet Brazil's housing market is showing signs of improvement.

In August 2020, Brazil's FIPEZAP house price index rose by 1.45% from the previous year, its 19th consecutive month of y-o-y growth and its best performance since November 2015. However when adjusted for inflation, nationwide house prices remain 0.97% down during the year to August 2020.

During the year to August 2020:

In Sao Paulo house prices rose by an average of 2.83%, the biggest y-o-y rise in almost five years. However when adjusted for inflation, that translates to a minuscule 0.39% rise.
In Rio de Janeiro, house prices fell by 0.73% (-3.09% inflation-adjusted), the smallest y-o-y nominal price decline since October 2015.

Demand is rising thanks to historic-low interest rates, after slumping due to the COVID-19 pandemic. In July 2020, Sao Paulo State Housing Union (Secovi-SP) recorded 4,341 new residential units sold in the city of Sao Paulo, up by 32.3% from a year earlier.

Coronavirus-related restrictions have caused residential launches in São Paulo to plummet 44.4% y-o-y, in sharp contrast to huge annual rise of 49.6% in 2019, according Secovi-SP.

In 2019, the Brazilian economy grew by 1.1% from a year earlier, following expansions of 1.3% in both 2017 and 2018 and declines of 3.3% in 2016 and 3.6% in 2015. The government projects a GDP contraction of 4.7% this year, the biggest decline in more than a century.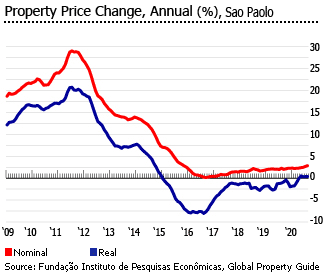 Foreign individuals and nonresidents may invest in urban and rural properties in Brazil through direct ownership from abroad, or through resident companies or partnerships. To be able to buy a property, a tax registration number from the Cadastro de Pessoa Fisica (CPF) is required.

However there are restrictions on investments in rural properties. Foreign individuals who intend to migrate to Brazil may acquire rural properties directly from abroad only if they come to live in Brazil within three years from the date of acquisition. In addition, rural properties acquired by foreign companies must be destined for the implementation of agricultural, industrial or settlement projects and these activities must be related to the companies' purposes.


Analysis of Brazil Residential Property Market »
Brazil: rental yields low, prices falling
Prices have begun to move strongly down in Brazil, and in terms of US dollars the downward move is much greater because of the decline of the Brazilian Real by 30% over the past three years, with some recovery since the beginning of 2017.

Gross rental yields - what you can earn from an apartment before tax and other expenses - have continued to move down, and in most parts of Sao Paolo and Rio being a landlord generates a much less attractive return-on-investment than it did a few years ago. In Rio, yields of 3.5% to 4.5% are typical, in Sao Paolo apartment yields are rather higher. These are not very attractive returns.

Unfortunately, this year our researchers were not able collect rents figures, so we rely in this explanation on yields figures from last year.
Rental income tax can be high in Brazil
Rental Income: Nonresidents earning rental income in Brazil is taxed at a flat rate of 15%.

Rental income earned by nonresidents who reside in low-tax territories are taxed in Brazil at a special rate of 25%.

Capital Gains: Capital gains tax is levied at a flat rate of 15%.

Inheritance: Inheritance and gift taxes are imposed at progressive rates depending on the value of the inheritance. The maximum tax rate is 8%.

Residents: Residents are taxed on their worldwide income. Income tax is levied at progressive rates, up to 27.5%.
Total transaction costs are moderate in Brazil

Total roundtrip transaction costs, i.e., the amount it costs to buy and sell a property, amount to between 9% and 14% of the value of the property. The real estate agents' fee is usually 5% to 6%.

Registration requires no less than 14 separate procedures. The process can be completed in about 47 days.
Brazil's landlord and tenant law is pro-landlord
Rents: The initial value of the rent can be freely agreed between the landlord and the tenant under Law 8.245/91, known as Lei do Inquilinato.

The landlord is generally protected by a guarantor i.e., a third person responsible for paying any unpaid rental debts of the tenant.

Tenant Eviction: Evicting non-paying tenants can be difficult, as the courts tend to be saturated. The duration of eviction suits varies by State.
Brazilian Real falls to all-time low
Brazil's economy had improved a little over the past three years, with real GDP growing by an annual average of 1.3%. However the outlook is now uncertain, as the pandemic has caused economic activity to plunge in recent months.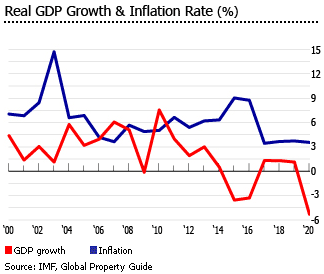 In Q2 2020, the Brazilian economy shrank by 9.7% q-o-q, the steepest on record, following a decline of 2.5% in Q1.
During the year to Q2 2020:
Industry fell by 12.3%
Services fell by 9.7%
Fixed investment was down by 15.4%
Household consumption dropped 12.5%
Government spending fell by 8.8%
The government projects a GDP contraction of 4.7% this year, the country's biggest decline in more than a century.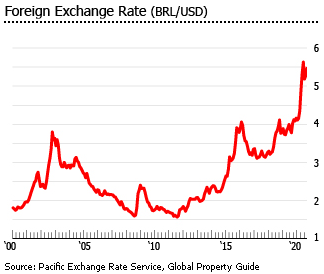 In Q2 2020, nationwide unemployment surged to 13.3%, up from 12.2% in the previous quarter and the highest level in three years.
In August 2020, the Brazilian Real (BRL) depreciated to an all-time low of BRL 5.4678 per US dollar, losing more than 26% of its value against the dollar from a year ago, amidst the coronavirus-fuelled economic crisis.