Brazil's housing market is now showing signs of improvement, buoyed by rising property demand and supply. In November 2022, Brazil's FIPEZAP house price index rose by 6.34% from a year earlier, up from y-o-y increases of 5.29% in 2021, 3.67% in 2020, and zero growth in 2019, according to figures released by Fundação Instituto de Pesquisas Econômicas (FIPE). The past two months had been its biggest y-o-y price growth since December 2014.

However when adjusted for inflation, nationwide house prices rose by a meager 0.42% over the same period.

The national figure in fact conceals large variations in local house price movements. During the year to November 2022:

In São Paulo, house prices rose by an average of 5.19%, the biggest y-o-y rise in more than seven years. However when adjusted for inflation, prices actually declined slightly by 0.68%.
In Rio de Janeiro, house prices rose by a modest 2.33% but actually fell by 3.37% in real terms. Yet it is important to note that the city's y-o-y house price growth has never exceeded 3% since early-2015.
In Brasilia, house prices rose by a modest 2.38%, but actually declined by 3.32% when adjusted for inflation. It was a sharp deceleration from y-o-y increases of 8.66% in November 2021 and 9.05% in November 2020.

Residential sales and construction activity are rising. In the first three quarters of 2022, the total number of residential sales in São Paulo rose by 7.9% y-o-y to 50,728 units and launches increased by 4.3% to 51,715 units, according to Secovi-SP.

There is also a renewed interest by foreign investors on Brazilian real properties recently, which is expected to boost the housing market further in 2023. Foreign individuals and nonresidents may invest in urban and rural properties in Brazil through direct ownership from abroad, or through resident companies or partnerships. To be able to buy a property, a tax registration number from the Cadastro de Pessoa Fisica (CPF) is required.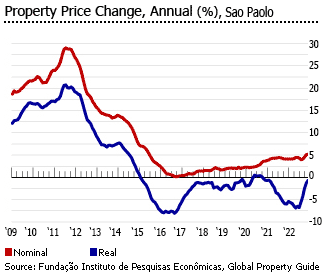 However there are restrictions on investments in rural properties. Foreign individuals who intend to migrate to Brazil may acquire rural properties directly from abroad only if they come to live in Brazil within three years from the date of acquisition. In addition, rural properties acquired by foreign companies must be destined for the implementation of agricultural, industrial or settlement projects and these activities must be related to the companies' purposes.

The wider economy continues to expand, albeit at a much slower pace. During 2022, the Brazilian economy is estimated to have expanded by a modest 2.8%, a slowdown from its 2021 growth of 4.6%, based on figures from the International Monetary Fund (IMF).