Brazil's high inflation makes it appear that house prices continue to rise. But it's an illusion. In July 2021, Brazil's FIPEZAP house price index rose by 5.13% from a year earlier, its biggest y-o-y nominal increase since April 2015. However when adjusted for inflation, nationwide house prices were actually down by 3.57%.

In August 2021, nationwide inflation surged to 9.68%, the highest reading since February 2016, as the reopening of the economy, coupled with global supply issues, weaker currency and severe drought, pushed up consumer prices. In August 2021, the Central Bank of Brazil raised its benchmark Selic rate by 100 basis points to 5.25%, its fourth consecutive rate hike this year in an effort to rein in inflationary pressures.

The national figure in fact conceals large variations in local house price movements. During the year to July 2021:

In São Paulo, house prices rose by an average of 4.45%, the biggest y-o-y rise in six years. However when adjusted for inflation, prices actually declined 4.2%.
In Rio de Janeiro, house prices rose by a modest 2.62% but actually fell by 5.88% in real terms. Yet it is important to note that this is actually the city's best performance since June 2015.
In Brasilia, house prices rose by a huge 10.12%, which translates to a 1% increase when adjusted for inflation. It was the city's second best showing since in more than nine years.

After slowing last year, property demand has continued its recovery, propelled by the economic recovery which began in 2017.  In May 2021, residential sales in São Paulo reached 5,883 units, up 44.1% from the previous month and by a whopping 144.6% from a year earlier, according to a report released by Secovi-SP. In the first five months of 2021, new residential sales surged 66% y-o-y to 23,098 units.

Obviously Covid has had a large impact.  In 2020, the Brazilian economy contracted by 4.1% from a year earlier, the biggest annual decline in activity since 1990.  However recently, the IMF upgraded its 2021 economic growth forecast for Brazil to 5.3%, from its initial projection of a 3.7% expansion.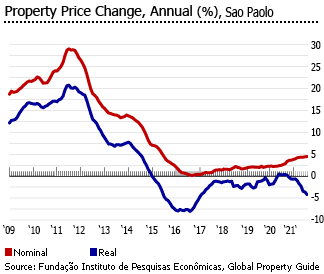 Foreign individuals and nonresidents may invest in urban and rural properties in Brazil through direct ownership from abroad, or through resident companies or partnerships. To be able to buy a property, a tax registration number from the Cadastro de Pessoa Fisica (CPF) is required.

However there are restrictions on investments in rural properties. Foreign individuals who intend to migrate to Brazil may acquire rural properties directly from abroad only if they come to live in Brazil within three years from the date of acquisition. In addition, rural properties acquired by foreign companies must be destined for the implementation of agricultural, industrial or settlement projects and these activities must be related to the companies' purposes.