Ukraine's housing market improving, as country normalises
Lalaine C. Delmendo | August 12, 2020
After falling an amazing 72% from their peak in Q3 2008, apartment prices in Kiev, Ukraine are now stable or mildly rising. The Ukrainian economy has been recovering as the conflict with Russia calms. These have been significant reductions in corruption as rated by the World Bank's ease of doing business tables. And since April 2019 the country has had a new president, the comedian Vladimir Zelenskiy, who has promised many things.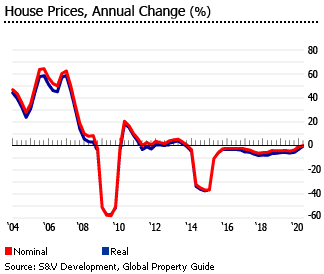 Existing apartment prices in Kiev were up by 0.39% during the year to Q2 2020 (steady in real terms), to US$ 1,035 per square metre (sq. m.), following y-o-y declines of 3.34% in 2019, 4.03% in 2018, 6.02% in 2017, 1.61% in 2016, 2.31% in 2015 and a huge 36.62% drop in 2014, according to S&V Development.
During the latest quarter, existing apartment prices rose by 0.39% (0.93% in real terms).
Likewise, newly-built apartment prices in Kiev increased 0.43% y-o-y in Q2 2020 (0.1% in real terms), to US$930 per sq. m.. On a quarterly basis, newly-built apartment prices rose by 0.43% in Q2 2020 (1% in real terms).
Residential property prices had been falling for more than six years, particularly in 2014 (with prices plunging 36.6%) because of the hryvnia's devaluation due to the Russian war.
Ukraine's economy grew by a healthy 3.2% in 2019 from a year earlier, following y-o-y expansions of 3.3% in 2018, 2.5% in 2017, and 2.4% in 2016.
This year, Ukraine's economy is projected to contract by a 7.7% before bouncing back with a 3.6% growth in 2021, due to the economic fallout from the COVID-19 outbreak, according to the International Monetary Fund (IMF).
Despite the pandemic, the National Bank of Ukraine (NBU), the country's central bank, remains positive on the outlook of the housing market.
"The pandemic has had a noticeable impact on the housing market, albeit short-lived and limited," said the central bank in its June 2020 Financial Stability Report. "Unlike in previous crisis episodes in Ukraine, this time no large-scale market transformation is expected. The market will go back to equilibrium as quarantine restrictions are gradually relaxed. Despite the crisis, housing demand will remain high but is unlikely to return to growth in the near future."
"Analysts project that prices will continue to rise, spurred by a weaker hryvnia and low developer margins. Developers also are optimistic. A survey of developers conducted in May showed that almost half of them – twice as many as in February – expected an increase in housing prices," noted the central bank.
There are no major restrictions on foreigners buying property in Ukraine. All secondary residential transactions (i.e., resales) are in US dollars, while primary sales are quoted in hryvnia, but still paid in dollars.
Land prices are rising
All regions, except Donetsk, registered land price rises during the year to Q2 2020, based on figures from S&V Development.
In Kiev region, land values rose by 2.1% (1.7% in real terms) to US$1,421 per 100 sq. m.
In Odessa region, land prices rose by 3.4% (3% in real terms) to US$2,200 per 100 sq. m.
In Lviv region, land prices rose by 2.2% (1.9% in real terms) to US$909 per 100 sq. m.
In Dnipropetrovsk region, land prices increased 1.6% (1.3% in real terms) to US$1,120 per 100 sq. m.
In Kharkiv region, land prices increased slightly by 1.2% (0.8% in real terms) to US$931 per 100 sq. m.
Donetsk region is the only region to register a y-o-y decline of 8.3% (-8.7% in real terms) to an average of US$1,088 per 100 sq. m.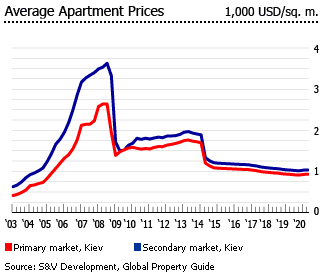 Rents are rising gradually
Kiev apartment rents have been falling since the onset of the global crisis. From 2012 to 2019, rental rates in the capital city plunged about 45%, based on figures from S&V Development. But this year, the rental market has shown signs of improvement.
In August 2020:
For one-bedroom apartments, rents were US$276 per month in August 2020, up 1.5% from August 2019
For two-bedroom apartments, rents were US$374 per month in August 2020, up 1.9% a year earlier
For three-bedroom apartments, rents were US$444 per month in August 2020, up 1.8% a year ago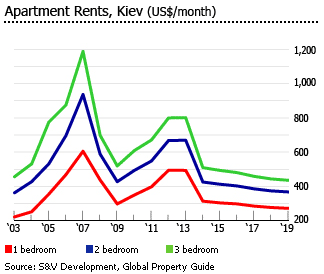 The most costly location in Kiev is Shevchenkivskyi District, with rents for three-bedroom apartments of around US$591 per month in August 2020, followed by Pecherskyi District (US$560 per month), and Obolonskyi District (US$457 per month).
In recent years, most rent quotations have switched to the national currency, hryvnia, to protect landlords from currency fluctuations.
Residential construction is rising
The number of apartments in Ukraine rose by 1.6% to 17.38 million units in 2019, according to the State Statistics Service. This means about 280,000 extra apartments units – the biggest growth since 1995.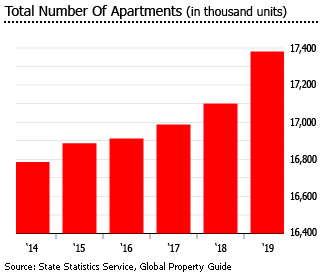 Likewise, the total area of housing stock increased by 1.8% y-o-y to 1.01 billion sq. m. over the same period.
Securing construction permits has become dramatically easier
While corruption remains Ukraine's number one problem, the ease of doing business, especially securing construction permits, has noticeably improved in recent years.
According to World Bank's Ease of Doing Business reports, Ukraine was ranked 64 out of 190 countries in 2020 – sharply up from rank 71 in 2019 and from rank 112 in 2014. This is mainly due to a reduction in the number of mandatory licenses and permits, particularly in the construction sector, and due to a simplified tax system.
In terms of ease of obtaining construction permits, Ukraine has moved from rank 140 in 2014, to as high as rank 20 in 2020. Securing construction permits in Ukraine now requires 10 procedures, takes 72.5 days and costs 4.4% of the property value.
Despite the huge improvement, corruption still exists. Those with direct ties to high ranking officials, who are prepared to pay large bribes, usually come out as winners in land allocations. As such, it is not surprising that there are only a few builders in the market. New developments in major cities are typically dominated by two to three companies, whose management is directly linked to the local authorities. In Kiev, nearly 70% of the new residential buildings are built by companies that belong to the KyivMiskBud holding company, in which the Kyiv City State Administration has a large stake.
Interest rates are falling
In June 2020, the average interest rate for housing loans stood at 15.3%, down from 18.3% in a year earlier, according to the National Bank of Ukraine.
By currency:
Interest rates on US$-denominated housing loans, which account for about 65% of total housing loans, fell to 7.2%, from 9.4% in the previous year.
The average interest rate on hryvnia-denominated housing loans was 15.6% in June 2020, down from 18.7% in June 2019.
The average interest rate for housing loans denominated in other currencies also fell slightly to 7% in June 2020, from 7.1% a year ago.
Interest rates on housing loans in Ukraine are usually fixed for the entire loan term. In May 2019, around 93% of loans had loan terms of 5 years or more, and almost 78% of those were loans for 10 years or more.
However, housing loans are frequently prepaid before maturity, and it is not uncommon that a 10-20 year loan to be paid within 3 - 5 years.
"Nowadays homebuyers seek loans instead of traditional long-term mortgages, opting for bridge financing where they already have 80-90% of a property's value in cash and intend to repay their loan in 6-12 months," says Vestor.Estate's co-founder Tim Louzonis.
Mortgage market has been shrinking
From its peak of 10.8% of GDP in 2009, Ukraine's mortgage market has shrunk to less than 1% of GDP in 2019, according to estimates from the Global Property Guide.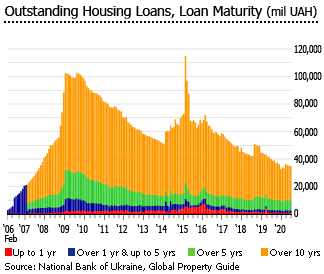 Despite the recent decline in interest rates, total outstanding loans for house purchases were down sharply by 13.4% y-o-y to UAH 34.77 billion (US$1.26 billion) in June 2020, according to the central bank.
By original maturity:
Up to 1 year: housing loans were down 28.4% y-o-y to UAH 690 million (US$24.94 million) in June 2020
1-5 years: housing loans fell slightly by 0.1% y-o-y to UAH 1.75 billion (US$63.33 million) over the same period
5-10 years: loans dropped 8.1% y-o-y to UAH 7.23 billion (US$261.4 million) in June 2020
Over 10 years: loans fell by 15.1% y-o-y to UAH 25.09 billion (US$ 907.1 million) in June 2020
By currency:
US$-denominated housing loans were down by 19.4% y-o-y to UAH 22.48 billion (US$812.71 million) in June 2020
Hryvnia-denominated housing loans increased 1.7% y-o-y to UAH 10.63 billion (US$384.31 million) in June 2020
Euro-denominated housing loans fell by 6.9% y-o-y to UAH 737 million (US$26.64 million) over the same period
Housing loans denominated in other currencies fell by 8.2% y-o-y to UAH 916 million (US$33.11 million) in June 2020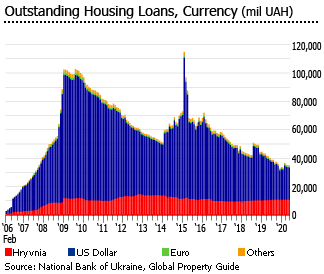 The dark years of crisis and war – and then recovery
Ukraine enjoyed an economic boom during the decade 2000-2007 with an average GDP growth of 8% per year, setting off a massive property boom. The hryvnia rose because of the economic growth and foreign investment, but inflation and interest rates began to rise too.
The logical conclusion was - borrow dollars on low interest rates, buy Ukrainian property as it rises, then sell and repeat. Easy money.
For a long time it worked. The hryvnia appreciated as economic growth accelerated, and as foreigners invested in Ukraine. The country lived off its massive steel industry (42% of exports). Foreign buyers - Britons, Americans, Emiratis, Cypriots, Kiwis and Canadians - as well as wealthy elite Ukrainians, pushed house prices up by an average of 40% to 55% p.a. from 2004 to 2007. In fact, property prices rose by a total of 442% from 2002 to 2007 (373% in real terms).
Currency inflows increased the money supply excessively, resulting in inflation. Ukraine experienced double-digit inflation from 2004 onwards, and in May 2008 inflation peaked at 31% y-o-y. As a result, Ukraine priced itself out of export markets, imports grew to be much bigger than exports, and the current account deficit expanded to 7% of GDP in 2008.
As the contagion from the global financial crisis spread in 2008, the hryvnia lost over 50% of its value against the US dollar, leading to a loss of consumer confidence in banks and mass withdrawals. Depositors rushed to withdraw their savings from banks and the government was forced to unveil a bank bailout.
Meanwhile, demand for Ukraine's main product, steel, plummeted. Ukraine's GDP contracted 15.1% in 2009.
The orange revolution of 2004, and the election of Yanukovych
On top of this came political chaos. The country's tragedy is that the Orange Revolution of 2004, which resulted in a clear victory for the Western-oriented Viktor Yushchenko (with 52% votes) over the pro-Russian Viktor Yanukovych, never bore fruit. Yushchenko proved an ineffective leader. He quarreled deeply with his former ally Tymoshenko, who he saw as corrupt and accused of being a covert friend of Russia.
The result of the split in the pro-Western party was the election of a pro-Russian president, Victor Yanukovych, who decided to put off an association agreement with the European Union (EU), which would have provided funds contingent on reforms. Instead, Yanukovych signed an agreement with Russia, which eventually led to his ouster as president in February 2014. He was temporarily succeeded by Oleksandr Turchynov.
Following Yanukovych's ouster, protests by pro-Russian and anti-revolution activists escalated into an armed conflict between the Ukrainian government and the separatist forces of the self-declared Donetsk and Luhansk People's Republics.
Russia subsequently seized Crimean peninsula and launched insurgency to occupy parts of eastern Ukraine. A ceasefire, called the Minsk Protocol was reached in September 2014, but completely collapsed in January 2015. In February 2015, a new ceasefire agreement, Minsk II, was signed – but unfortunately, has never been implemented. Thousands have been killed in the past five years.
The political crisis adversely affected the economy, which contracted by 0.03% in 2013, 6.6% in 2014 and by another 9.8% in 2015.
Two pro-European presidents: Poroshenko and Zelensky
Amidst the conflict, Petro Poroshenko, a pro-European chocolate tycoon, emerged victorious in the May 2014 Presidential elections, and in October 2014 his party obtained the majority of seats (132 seats) in parliament.
In February 2014 the National Bank of Ukraine announced that they would set a floating exchange rate in accordance to IMF's requirements. This resulted in an around 70% depreciation of the hryvnia against the US dollar in 2014 and 2015. In 2016 the depreciation of Ukrainian hryvnia continued, and it traded at an average of UAH 25.5 = US$1 in 2016, a decline of around 80% on the previous year. This had a catastrophic effect, as a large proportion of housing loans are denominated in US$, and were now impossible to repay. Out of Ukraine's total outstanding housing loans, only 17% were denominated in UAH by end of 2016, while 79% of loans were denominated in US dollars.
In the past three years, the currency has been more stable, with the average monthly exchange rate at UAH 26.71 per US$1 on June 2020, almost unchanged from UAH 26.5 per US$1 in June 2019 and UAH 26.2 per US$1 in June 2018. The currency's recent stability is mainly attributed to the central bank's stabilization measures, as well as the optimism regarding the approval of IMF funds.
The economy returned to growth after three years of turmoil. The economy expanded by 2.4% in 2016, 2.5% in 2017, 3.3% in 2018 and by another 3.2% in 2019.
2019: Zelensky elected president with a 73% vote share
However voters were tired of the continued conflict with Russia and tired of the continual dominance of Ukrainian politics by corrupt links between oligarchs and politicians.
In April 2019, television comedian Volodymyr Zelensky won the presidential run-off in a landslide victory over Poroshenko. Despite the fact that Zelenskiy has never held any elected office before, voters were willing to take a risk.
In his inaugural address, Zelensky vowed to end the Russian-backed insurgency in the east of the country and announced early parliamentary elections in an effort to capitalize on his popularity.
In September 2019, Russia and Ukraine swapped prisoners captured in the wake of Moscow's seizure of Crimea and intervention in the Donbass, a move that shows both countries' willingness to engage in peace negotiations. In December 2019, Zelensky met Russian President Vladimir Putin for the first time and agreed to implement a complete ceasefire in eastern Ukraine by the end of 2019.
However like Poroshenko, President Zelensky is also pushing for Ukraine's membership to both the European Union (EU) and the North Atlantic Treaty Organization (NATO) – a move that has been strongly opposed by Kremlin.
But 18 months after assuming office Zelensky's popularity is slipping. A problem is his previous friendship with oligarch Ihor Kolomoisky, who had fled to exile in Israel after a $5.6 billion hole in the ledgers of the bank he had founded. Kolomoisky owns the media station Zelensky worked for, backed his election campaign, and appears to have socialized with him, drunk with him, and been visited abroad by him no less than 13 times while Zelensky was a candidate. Publicly Zelensky has now severed all connection with the oligarch.
Economy to contract, unemployment rising
This year Ukraine's economy is projected to contract by 7.7% due to COVID-19 before bouncing back with 3.6% growth in 2021, according to the International Monetary Fund (IMF).
In June 2020, the IMF approved an 18-month US$5 billion standby arrangement for Ukraine to help cope with the coronavirus outbreak.
"The new program aims to help Ukraine to cope with COVID-19 pandemic … while safeguarding achievements to date and advancing a small set of key structural reforms, to ensure that Ukraine is well-poised to return to growth when the crisis ends," the IMF said.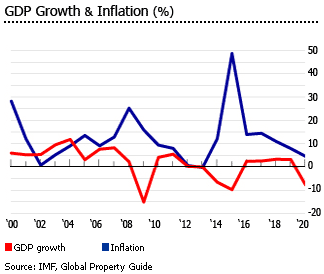 Unemployment is expected to peak at 11.5% in Q2 2020, sharply up from 8.2% a year earlier, according to NBU Governor Yakiv Smolii.
Annual inflation was 2.4% in June 2020, up from 1.7% in the previous month but sharply down from 9% a year earlier, according to the State Statistics Service of Ukraine. For the full year of 2020, inflation is expected to be around 4.7% - close to the central bank's target of 5%. Inflation averaged 18% in the past six years.
Sources:
Ukraine - More data and information