Ukraine's housing market is stabilizing, but is still very weak
August 01, 2017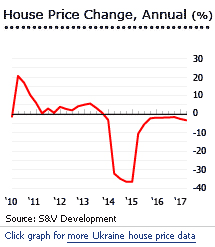 House prices have been stabilizing in Ukraine as the hryvnia has steadied, and as the economy has begun to recover - and though the trend is still down, the decline in house prices has recently been much more gradual.
Secondary market apartment prices in Kiev fell by 3.3% during the year to Q2 2017, to an average price of US$ 1,131 per square metre (sq. m.). Newly-built apartment prices fell by 3.3% y-o-y to an average of US$ 1,016 per sq. m., down 61% from their peak of US$ 2,638 per sq. m. of June 2008.
This followed a massive decline in house prices in 2014 and 2015, attributable to the Ukrainian hryvnia´s loss of value due to a series of devaluations over the past two years due to the war. House prices are 68.8% below the September 2008 peak of US$3,627 per sq. m, according to S&V Development.
"Despite the year-on-year drop, available figures indicate that apartment sales actually picked up in 2016. Registered sales-purchase agreements for the first six months of 2016 were about 15% higher than in the same period in 2015," says AIM Realty Kiev´s co-founder Tim Louzonis.
There has also been increased interest in Kiev´s properties from foreign investors, although many have postpone their purchases until 2017.
"There are no obvious reasons to expect a significant rise in rental rates or sale prices in 2017, but much will depend on the hryvnia exchange rate," says Louzonis. "The Ukrainian real estate market is not particularly hot right now, but there are reasons to be cautiously optimistic about the prospects for the coming year."
The Ukrainian economy is recovering from a deep recession, with GDP rising by 2.3% in 2016, according to the State Statistics Service. This followed economic contractions of 9.8% in 2015, 6.6% in 2014, and 0.03% in 2013.
In 2017, properties with sizes exceeding 60 square metre (sq. m.) (for apartments) and 120 sq. m. (for houses) will be subjected to a real estate tax rate of up to 1.5% of the minimum monthly salary for each exceeding sq. m., down from the previous maximum rate of 3%. The reduction was due to the impact of the increase of minimum wages from UAH 1,378 to UAH 3,200 in the beginning of 2017. Thus, for an extra 1 sq. m., the property owner will now pay a maximum annual tax of around UAH 48, up from a maximum tax of UAH 41.34 in 2016.
While the new tax rate applies this year, the property taxes due for 2017 will be paid by Ukrainians in 2018.
There are no major restrictions on foreigners buying property in Ukraine.  All secondary residential transactions (i.e., resales) are in US dollars, while primary sales are quoted in hryvnia, but still paid in dollars.
Recovering from bust and war
The Ukraine enjoyed an economic boom during the previous decade (2000-2007) with GDP growth of 8% p.a.. This set off a massive property boom. The hryvnia rose because of the economic growth and foreign investment, but inflation and interest rates began to rise too. The logical conclusion was - borrow dollars on low interest rates, buy Ukrainian property as it rises, then sell and repeat. Easy money.
For a long time it worked. The hryvnia appreciated as economic growth accelerated, and as foreigners invested in Ukraine. The country lived off its massive steel industry (42% of exports). Foreign buyers - Britons, Americans, Emiratis, Cypriots, Kiwis and Canadians - as well as wealthy elite Ukrainians, pushed house prices up by an average of 40% to 55% p.a. from 2004 to 2007.
Currency inflows increased the money supply excessively, resulting in inflation. Ukraine experienced double-digit inflation from 2004 onwards, and in May 2008 inflation peaked at 31% y-o-y. As a result, Ukraine priced itself out of export markets, imports grew to be much bigger than exports, and the current account deficit expanded to 7% of GDP in 2008.
As the contagion from the global crisis spread in 2008, the hryvnia lost over 50% of its value against the US dollar, leading to a loss of consumer confidence in banks and mass withdrawals. Depositors rushed to withdraw their savings from banks and the government was forced to unveil a bank bailout.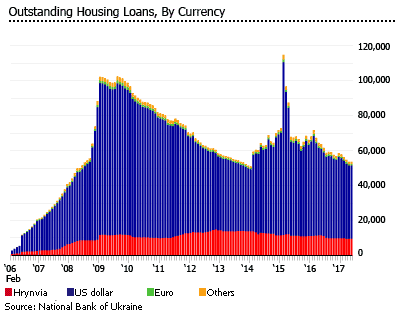 In late 2008, the global financial crisis affected homebuyers from US and UK, causing foreign demand to plunge. Meanwhile, demand for Ukraine´s main product, steel, plummeted. Ukraine´s GDP contracted 15% in 2009.
On top of this came political chaos. The country´s tragedy is that the Orange Revolution of 2004, which resulted in a clear victory for the Western-oriented Viktor Yushchenko (with 52% votes) over the pro-Russian Viktor Yanukovych, never bore fruit. Yushchenko proved an ineffective leader. He quarreled deeply with his former ally Tymoshenko, who he saw as corrupt and accused of being a covert friend of Russia.
The result of the split in the pro-Western party was the election of a pro-Russian president, Victor Yanukovych, who decided to put off an association agreement with the European Union (EU), which would have provided funds contingent on reforms. Instead, Yanukovych signed an agreement with Russia, which eventually to his ouster as president in February 2014. He was temporarily succeeded by Oleksandr Turchynov.
Following Yanukovych´s ouster, protests by pro-Russian and anti-revolution activists escalated into an armed conflict between the Ukrainian government and the separatist forces of the self-declared Donetsk and Luhansk People´s Republics. A ceasefire, called the Minsk Protocol was reached in September 2014, but completely collapsed in January 2015. In February 2015, a new ceasefire agreement, Minsk II, was signed.
Amidst the conflict, current president Petro Poroshenko, a pro-European chocolate tycoon, emerged victorious in the May 2014 Presidential elections, and in October 2014 his party obtained the majority of seats (132 seats) in parliament.
In February 2014 the National Bank of Ukraine announced that they would set a floating exchange rate in accordance to IMF´s requirements. This resulted in an around 70% depreciation of the hryvnia against the US dollar in 2014 and 2015. In 2016 the depreciation of Ukrainian hryvnia continued, and it traded at an average of UAH 25.5 = US$1 in 2016, a decline of around 80% on the previous year. This had a catastrophic effect, as a large proportion of housing loans are denominated in US$, and are now impossible to repay. Out of Ukraine´s total outstanding housing loans, only 17% were denominated in UAH by end of 2016, while loans denominated in US dollars got a huge share of 79%, making the country highly exposed to foreign currency risk.
In 2017, the currency has been more stable, even reaching a high of UAH 20.52 per US$1 on May 7, 2017. The currency´s recent stability is mainly attributed to the central bank´s stabilization measures, as well as the optimism regarding the approval of IMF funds.
Hryvnia is now a floating currency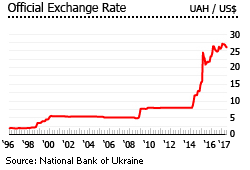 Around 57.8% of Ukrainian CEOs expect the exchange rate will be within the range of UAH 26 to UAH 29 per US$1 in the next 12 months, according to the National Bank of Ukraine´s (NBU) Q2 2017 Business Outlook Survey. Based on the survey, the average exchange rate in 2017 is projected to be at UAH 28.68 = US$1.
Mortgage market has been shrinking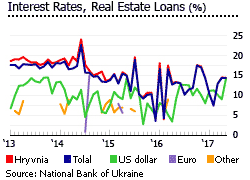 Interest rates on hryvnia real estate loans were 14.4% in May 2017, up from 13.4% in May 2016. Interest rates on US$-denominated housing loans rose to 14.2% in May 2017, from 9.4% in the previous year, according to the National Bank of Ukraine.
From its peak of 10.4% of GDP in 2009, Ukraine´s mortgage market has shrunk to about 2.5% of GDP in 2016, according to the National Bank of Ukraine. Loans for house purchases were down by 15.9% during the year to March 2017 to UAH 53.61 billion (US$ 2.06 billion).
Yet there are now modest signs of recovery. According to a report by the National Bank of Ukraine in the third quarter of 2016, interest in mortgages and the quantity of approved mortgages is slowly growing. However mortgage financing still does not exceed 5% of purchases (versus less than 2% in 2015).
Interest rates on housing loans in Ukraine are usually fixed for the entire loan term. In 2016, almost 90% of loans had loan terms of 5 years or more, and 77% of those were loans for 10 years or more.
However, housing loans are frequently prepaid before maturity, and it is not uncommon that a 10-20 year loan is paid within 3 - 5 years.
"Nowadays homebuyers seek loans instead of traditional long-term mortgages, opting for bridge financing where they already have 80-90% of a property´s value in cash and intend to repay their loan in 6-12 months," says Louzonis.
Rents are rising
Realtors estimate that rents have risen in 2016 due to factors such as the devaluation of hryvnia, economic growth, and higher utility costs. "In 2016 there was an increase of about 20%, but there are no exact statistics," says Arthur Pilipchuk, of the Association of Realtors of Ukraine (ASNU). Previously rental rates had fallen by as much as 50% since the onset of the global crisis. Most rent quotations have switched to the national currency, hryvnia, to protect landlords from currency fluctuations.
In Kiev, rents are more than twice Ukraine´s average. In July 2017, the average rent for a one-bedroom Kiev apartment was around UAH 7,526 (US$ 289) per month, according to S&V Development; two-bedroom apartments rent for around UAH 10,208 (US$ 392), while three-bedroom apartments rent for UAH 12,161 (US$ 467) per month.
The most costly locations outside Kiev include Odessa, with rents of around UAH 5,257 (US$ 202) per month, and Lviv at UAH 4,000 (US$ 154). Rents are way cheaper in Donetsk and Luhansk, where one-bedroom apartments can be rented for UAH 1,000 (US$ 38) per month.
Corruption and the housing supply
The total volume of construction in Ukraine rose by 28.2% to UAH 73.7billion (US$ 2.83 billion) in 2016, according to the State Statistics Service. Residential construction increased by 29.5% to UAH 18 billion (US$ 690.96 million), while non-residential construction was up by 34% to UAH 20.1 billion (US$ 770.78 million).
Securing a construction permit in Ukraine is mired in corruption. Those with direct ties to high ranking officials, who are prepared to pay large bribes, come out as winners in land allocations.
According to the 2017 Ease of Doing Business report by the World Bank, Ukraine was ranked 140th out of 190 countries for the ease of obtaining construction permits. Real estate developers need to obtain project documentation which includes town planning documentation, official project requirements, and the construction project itself, receipt of construction work permits and the start of the building construction.
It is not surprising that there are only a few builders in the market. New developments in major cities are typically dominated by two to three companies, whose management is directly linked to the local authorities. In Kiev, nearly 70% of the new residential buildings are built by companies that belong to the KyivMiskBud holding company, in which the Kyiv City State Administration has a large stake.
Trade blockade in Donbass has hindered Q1 2017 growth; economy to slow in 2017
Ukraine´s outlook remains positive, and the National Bank of Ukraine (NBU) expects 3.2% growth in 2018. In April 2017, the country was able to obtain funds from the International Monetary Fund (IMF), after the latter approved a US$ 1 billion loan payment to Ukraine.
However these economic forecasts are highly subject to revision. Earlier this year, the NBU expected 2.8% GDP growth in 2017, but has now reduced its growth forecast to 1.6% due to a cargo blockade on the separatist-held eastern regions, Donetsk and Luhansk.
The blockade arose because separatists had seized control over steel and coal companies in the East, prompting Ukraine´s anti-terrorist operation (ATO) in January 2017 to prevent freight trains from delivering commodities to these areas. Two months later, President Petro Poroshenko suspended trade links to the eastern Donbass region: "It is to be in effect until the occupiers return stolen Ukrainian factories to Ukrainian jurisdiction," the President declared.
The blockade pulled down GDP growth to only 2.5% y-o-y in the first quarter of 2017, half the 4.8% y-o-y growth achieved the previous quarter. Exports contracted by 0.4% y-o-y, which was very disappointing after a sharp rise of 9.7% y-o-y in Q4 2016.
Inflation is rising again, and stood at 15.6% in June 2017, significantly higher than 6.8% in June 2016. The NBU projects inflation of 9.1% in 2017 and 6% in 2018.
Unemployment worsened in the first quarter of 2017, rising to 10.1%, up from 9.9% in Q1 2016, according to the State Statistics Service, after unemployment of 9.1% in 2015, 9.3% in 2014, 7.2% in 2013, 7.5% in 2012, and 7.9% in 2011.
In December 2015, Ukraine defaulted its US$ 3 billion debt to Russia. However the dispute was taken to the High Court in London, and was won by Russia in March 2017, which might actually force Ukraine to repay the defaulted debt.
"We take the decision with respect but we have grounds to consider that it doesn´t take into consideration economic and military aggression against Ukraine and its people that Russia has constantly done since 2014," said Finance Minister Oleksandr Danylyuk. The Finance Minister also stated that Ukraine will appeal the decision and will continue to defend its position.
Ukraine is pushing for North Atlantic Treaty Organization (NATO) membership by 2020, and is aiming to complete the necessary reforms required for its application. "Today we clearly stated that we would begin a discussion about a membership action plan and our proposals for such a discussion were accepted with pleasure," said President Petro Poroshenko in a joint press conference with NATO secretary general Jens Stoltenberg in July 2017. Inevitably, this move has been strongly opposed by the Kremlin. 
Ukraine - More data and information